Trend Watch: Turquoise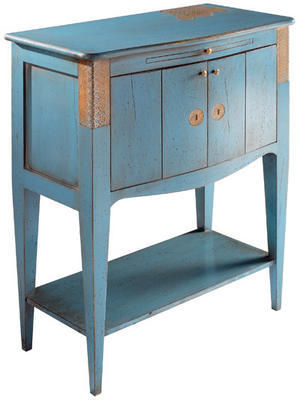 A colour suggestive of the sea and the sky, luminous turquoise is lighting up the world of interiors
A colour suggestive of the sea and the sky, luminous turquoise is lighting up the world of interior design. Pantone, the authority on colour standardisation for the design industry, has declared turquoise (15-5519 TCX to be exact) its colour of the year for 2010:
'Combining the serene qualities of blue and the invigorating aspects of green, Turquoise evokes thoughts of soothing, tropical waters and a languorous, effective escape from the everyday troubles of the world, while at the same time restoring our sense of wellbeing.'
Although I can't help thinking Pantone's choice is as much to do with the financial climate as the tropical climate, turquoise has long held a special position in many cultures as a colour of healing and protection, associated with faith and truth, and inspired by water and sky; a colour with restorative powers, representing both security and escape. Created as a gift for his newborn nephew, named Vincent, and painted in the last year of his life, Van Gogh's Almond Blossom, with its vivid yet calming turquoise background, epitomises the therapeutic associations of turquoise with renewal and hope.
It's these colour associations along with the versatile combination of both warm and cool undertones that make turquoise such a fabulous colour in the home. It can be used to create zingy accents in a colour scheme of neutrals and browns; it complements reds and pinks; livens up greens and dark blues; makes a striking statement paired with yellows, and a luxurious atmosphere with gold. Both soothing and invigorating, turquoise is a beautiful choice for spa-inspired bathrooms and inviting bedrooms. It makes a stylish accent colour in the kitchen used for appliances or worktops, and will stimulate the senses for an uplifting living room.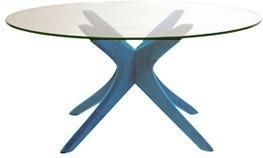 A quick spin round Furnish reveals the extraordinary versatility of turquoise in terms of colour combinations, styling and room function. Starting in the heart of the home, Alessi's Bird Kettle and Parrot corkscrew, and The Contemporary Home's Carved Jug, Wine Glasses and Tumblers, will brighten up your kitchen, whatever your favourite tipple. And if you're after a perfect colour match, Pantone's Mugs and Espresso Cups are available in subtle Duck Egg and vivid Turquoise. The Orvetto Egg Recycling Bin from BODIE and FOU, in a striking yellow, brown, and blue colourway will make this (rubbish) task a pleasure. And to finish off the kitchen, a Kartell Fly pendant light in Petrol Blue would look fabulous over a breakfast bar or dinner table.
In the living room, add a splash of colour with Heal's Tuareg Rug and Tullgarn Drum lampshade in turquoise and gold. The spectacular Fin Chair at BODIE and FOU, upholstered in turquoise velvet, is luxuriously large and with it's dramatic feathered back, makes a stunning high-style statement. The iconic Eames RAR rocking armchair, DSW side chair and DAW armchair are all available in a beautiful Ocean Blue. And Johnny Egg's Daphne Coffee Table and Lamp Table in Teal Blue from Heal's have fabulously fun flocked legs and contemporary glass tops. But it's in soft furnishings that the variety of colour combinations to be had with turquoise become apparent. Margo Selby's Algarve and Bailey cushions in sumptuous silk feature turquoise teamed with oranges, browns and yellows, and with blues, greens and silvery greys.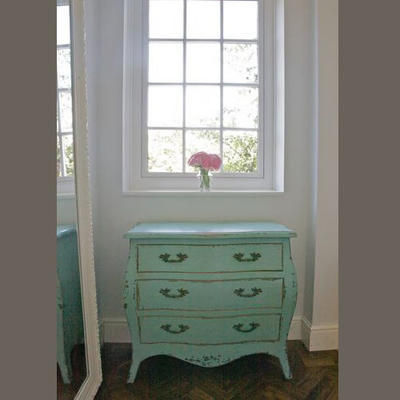 For bedrooms and bathrooms, the Sea Shore Chest in aqua blue from the French Bedroom Company has capacious drawers to store towels or clothes. And the delicate Minima Jar with matching tumblers from 95% Danish is perfect for the bedside table. The Doux Billets De Clement cabinet from Sweetpea & Willow provides elegant storage for toiletries and trinkets, while the Aqua Marine furniture range includes console tables, chests and chairs. Accessorise with a contemporary turquoise City Vase or a traditional Crackle Bowl from Oliver Bonas.
This really is the tip of the iceberg when it comes to turquoise furnishings. There's an ocean of choice to dip into, full of turquoise treasures to enliven your home and sooth your spirits.