How to create... a retro living room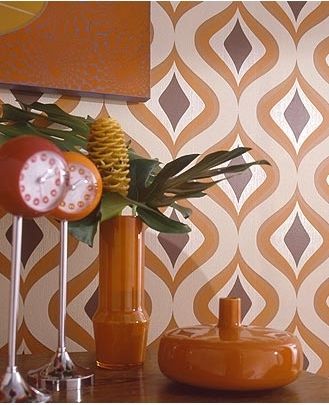 Create your own retro living room with our suggestions ranging from bold wallpaper to quirky furniture pieces and accessories.
If you often find yourself reminiscing and wishing that you could travel back to the 1950's or 60's, then a retro interior may be exactly what you're looking for. Interior design during this period was very kitsch, and in interior design today, this style is reproduced but with a unique and quirky twist. Why not take inspiration and go all-out with the great range of retro products, available on Furnish and from other suppliers, to bring a retro feel to your own living room.
You don't need travel back in time in order to give your living room a groovy, retro makeover. With a bit of imagination and the great freedom of choice there is with a vast array of products to help bring a burst of bold colour and dizzy patterns to your home. Bring an outdated but fresh and modern look to your lounge with Trippy wallpaper from Graham & Brown. The psychedelic pattern is symbolic of the post-war 50's and 60's when there was a transition in design to brighter and bolder colours. Or decorate your walls with Illuminate wallpaper, made by Harlequin at wallpaper direct which features a selection of stylised lampshades including the 50's iconic Artichoke light.
Retro art was a huge inspiration to what soon became known as pop art; one of the most popular art movements that revolutionalised design in the twentieth century. The quirky Fat owl cushion from Hunkydory Home is an example of how iconic designs from Andy Warhol can inspire you to experiment with pattern and colour in your lounge. This handmade funky owl print in blue and mustard, and combined with apples and pears, is a perfect accessory to add some fun to your new retro décor. Unikko fabric from Marimekko uses a bold floral pattern in bright and vibrant colours which would work well as cushion covers or for an even bolder statement use it to cover your sofa. There is also more in the selection of fabrics and textiles from Marimekko that would suit this look.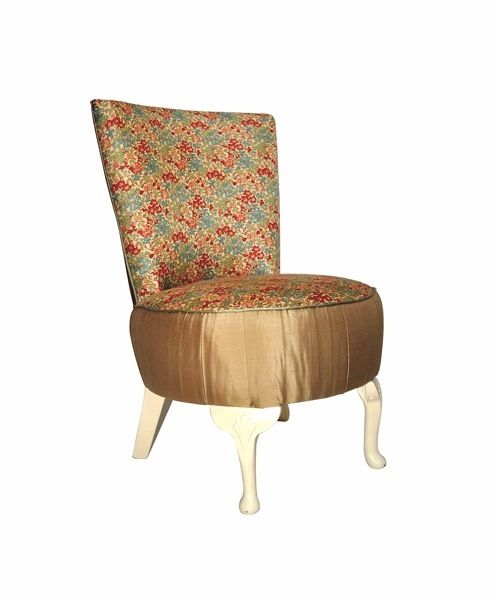 Most retro furniture that you get today from markets are not authentic pieces from the past, however there are still some real vintage, classic pieces out there waiting to be found. The Old Cinema [http://www.theoldcinema.co.uk/] offers a collection of period antiques from around the world, and their 1970's Retro G-Plan Sideboard, made from teak, is a must for anyone who loves one off pieces. This type of furniture doesn't come cheap, but you get what you pay for and I certainly wouldn't mind spending my precious pounds on the Libby II chair from thebaobabtree.co.uk. Abstract design, polished chrome and rounded corners all define retro furniture, so if you'd prefer to go retro with more of a modern twist, the Round art deco side table from Graham and Green could be for you. It is connected by four curvy, stylised mirror stems which modernise your room whilst also serving as a timeless glass furnishing, neutral enough for you to experiment with bolder colour elsewhere.
For a retro look with clean, finished modern lines for your living area then laminate surfaces and vinyl are great and practical materials to achieve just this. Why not try Amtico Linear Graphite effect vinyl tiles from flooringsupplies.co.uk, their warm palette and detailed stripes create a funky yet sleek retro feel making them the perfect choice for your living room. Add texture and dimension to your room with the Dahlia rug from BODIE and FOU. The design uses traditionally retro geometric patterns but gives it a modern revamp with vibrant colour and expression.
In my opinion, a retro living room would not be absolute without one of these; the 1950's Silver Dreyfuss telephone by Wild and Wolf from Heal's which encompasses this iconic decade. It comes with an authentic heavyweight handset, and so as not to disappoint, it even has an original bell ring. If you like to be reminded of times gone by take a look at the Newgate Postmaster Architecture wall clock from Heal's. This pop art inspired piece celebrates everyday objects and turns them into iconic symbols. It uses retro style numbers that aren't fixed so you can choose any combination you would like, making it both a playful and kooky accessory for your home. These characteristics are typical of the retro style yet they emphasise how advanced modern technology has become. Products such as these illustrate how contemporary, retro design can be just as much about nostalgia and abstraction as they are about modernising your home in an inventive way. The Orla Kiely multi-stem rug from Heal's is perfect for decorating your living room floor with a simple yet effective retro design. It has such a subtle yet intrepid colour palette which, with its mixed pattern design, creates a classic appearance for your living space. It is also made from luxurious soft New Zealand wool that feels incredibly comforting underfoot.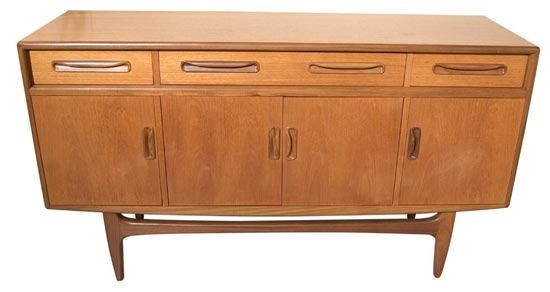 Light up your retro inspired lounge with Hunkydory Home's Vintage flowers drum pendant lampshade. You can't afford to be shy with pattern when it comes to being retro, and with this original 1970's floral fabric in shades of vibrant yellow, orange and brown, your room will be transformed from dull and boring into something from 'That '70's Show'. If however, you'd prefer a more subtle approach, then you are bound to love the polished chrome used to produce the Floss chandelier 2097 from Utility, which is a common feature of retro designs. Its futuristic name is a reflection of its modern, sleek finish yet it also has a timeless appearance and its bold statement size gives it a real sense of belonging to a devoted 50's retro living room.