Interview: Sharyn Dunn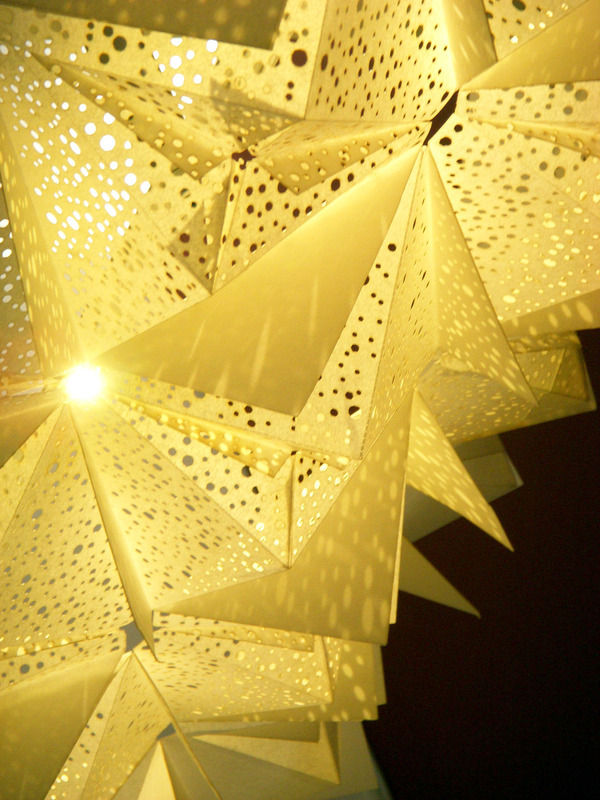 Fresh from exhibiting her work at this year's Grand Designs Live Exhibition, I interviewed Sharyn Dunn to find out more about her designs.
If three-dimensional designs attract your attention, and you are interested in designs that will bring a dynamic visual experience to your interior then you will love Sharyn Dunn's work. I first saw Sharyn's work at this year's Grand Designs live exhibition and I was immediately intrigued to find out more. Sharyn is a new designer with a passion for 3-D design. So far, she has created a selection of wall sculptures, chandeliers, and free standing pieces. Her designs are created from a synthetic form of parchment which is chlorine free and also recyclable. With such interesting and unique work, I interviewed Sharyn to find out where she gets her inspiration from, and what direction she hopes to take her designs in in the future.
When and how did you first start experimenting and creating designs with paper/parchment?
I first started experimenting with shapes, repetition and folding during the first year of my degree and found I couldn't design anything flat, it had to be 3D.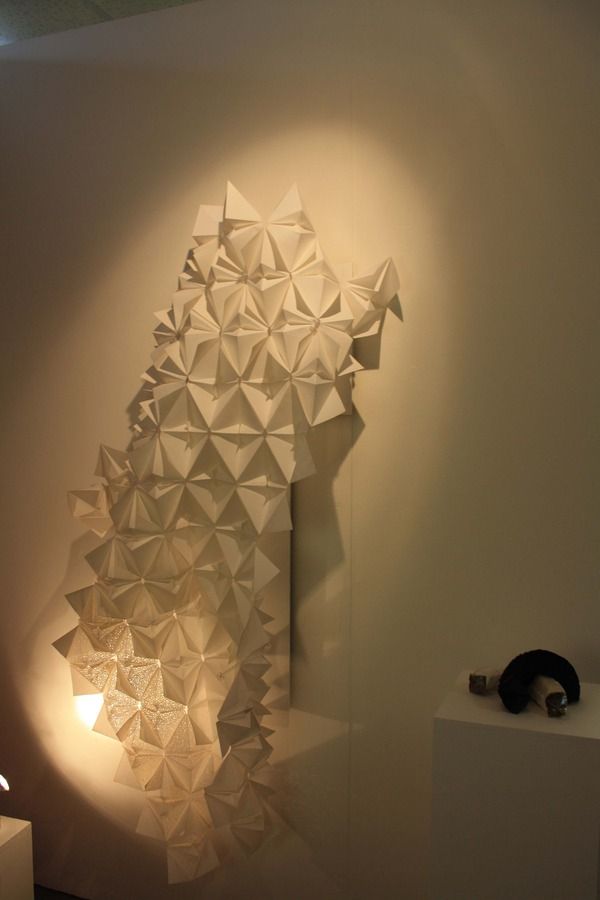 Have you been inspired by any other designers/designs?
My inspirations come from a combination of the natural organic shapes we find in nature such as shown in the works of Ernst Haeckel natural forms, his illustrations of the natural world I find fascinating, with their repetitions and some geometric forms. The modern day designers and architects such as Zaha Hadid, Frank Gehry, Tord Boontje and Shiguro Ban have also formed part of my research.
How environmentally friendly are your designs?
All of my paper works are currently made from wood-free pulp papers which are ph neutral and chlorine free and are a modern day form of parchment.
What is the first design you made and how have you progressed from that?
I discovered the shape I currently use by chance as part of an exercise in taking a shape e.g. a star and then by folding, twisting, rotating, stacking, bending etc, any way I could to move it from a flat piece of paper. The first thing I made was an etched metal and paper book, which I chose to display using lighting to accentuate the folds and detail. This led me on to folding a little more and altering the shape slightly, resulting in a range of flat pack lighting.
From there I moved onto my larger paper sculptural pieces I currently make. By introducing various 'piercing' and 'embossing' into the designs, this allows the light to shine through adding more interest to the geometric shapes.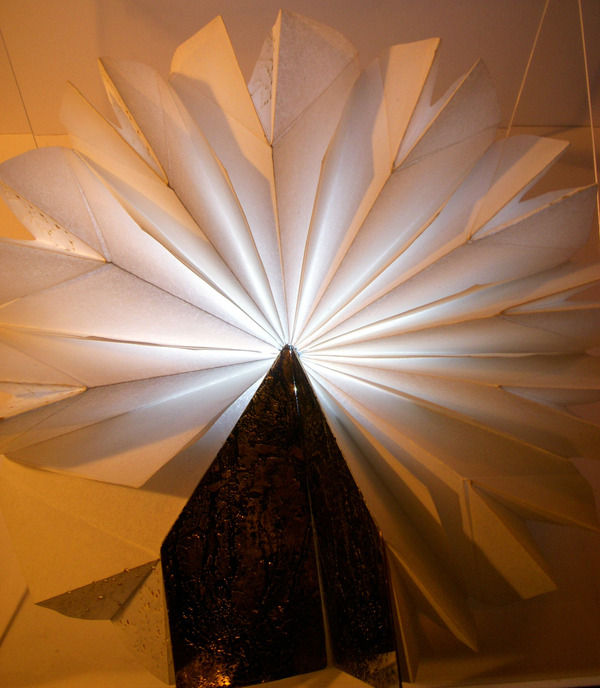 Where can your designs be used in the home?
My current work ranges from a chandelier to various sized wall pieces and free standing sculptures. I take commissions for any required size or area in the home and they can also be used in a commercial environment.
What type of visual experience do you hope to achieve with your designs?
When the viewer moves around the work the visual experience is one of dynamic shapes and angles, highlighted by tailored lighting, which encourages you to look further. Coupled with the quality of light used, and the effect it gives, I hope the viewer is generally intrigued by what they see, is it paper? fabric? holes? shadows? Just inviting them to look a little more.
What direction do you hope to take your designs in, in the future? Do you want to experiment with other materials?
What do I hope for the future? I'm hoping my designs will get larger, they need more space! I can attach and wrap them to or around virtually anything such as around a doorway, over a table or down a table leg for example. I currently use a heavy parchment, but I'm moving into other materials now with a paper-like appearance and also stainless steel is on the horizon.
For more information about the designs you can email Sharyn at sd-psdblue@hotmail.co.uk.