Buyer's guide to sofas

Comfort comes in all shapes and sizes so read our buyers guide to find the right sofa for you.
Your sofa will be one of the biggest investments you make for your home, but there's no need to worry because there's a wide variety of versatile designs to accommodate your needs. You don't have to sacrifice style to find something that's both comfortable and cosy. Whatever design you choose it can enhance your space whether it's a versatile modular sofa or a simple yet idyllic loveseat. This guide aims to help you make the right choices for your room as well as for your own personal comfort.
Large sofas
If you have a spacious living space then you have the perfect opportunity to indulge in a large sofa. Measuring your space is a good idea before you buy, and make sure that your sofa isn't going to dwarf your other furnishings. Large sofas are great as corner units, for example The Flexform from the Long Island Corner Sofa Group. This has removable upholstery in either fabric or leather, which makes it easier to clean and more durable. The Ligne Roset Togo is an iconic design made from foam to provide a classic, cosy look and feel.
Pros: Good for families and they work well as a feature piece in a larger living area.
Cons: Difficult to move around and can take up a lot of space.
Small sofas
Small sofas will accommodate 2 people; and if you want to give your room a more spacious feel then consider a sofa that has narrower arms. The Heal's House sofa range includes sofas with a slim arm profile and natural oak feet to give an understated elegance. For the cosiest of seats try a loveseat or 'snuggler' which is slightly smaller than a two seater sofa. For a wide selection try loveseats.co.uk, or the Loveseat or Showtime Poltrona Sofa from Leigh Harmer. This design of sofa is perfect for awkward corners and has an aesthetically pleasing shape.
Pros: They can make you room feel more spacious and they are ideal for a couple wanting to snuggle up in front of the TV.
Cons: Less seating space if you have guests; not ideal for lying down on.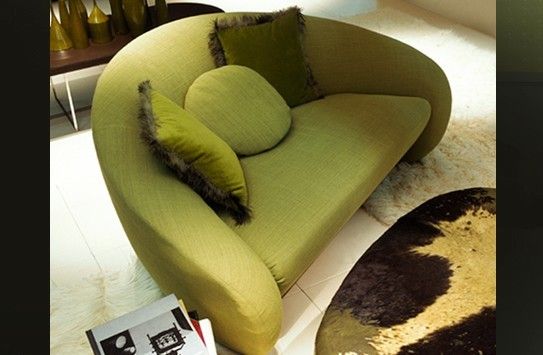 Sofa beds
Sofa beds are great for lounges, spare rooms or bedrooms, and they're superb space savers. For a fabulous variety, Go Modern supply sofa beds suitable for children's bedrooms, like the playful Fata sofa bed, or sophisticated styles like the Fusion Glam sofa bed for a glamorous living room. These foam beds are suitable for occasional use, and prove that style and comfort don't need to be sacrificed for convenience and practicality. The Milano bedding collection from Bonbon Trading is great for sofas that are simply transformed into beds without any fuss.
Pros: Ideal for convenience; comfortable for either sitting or sleeping. They are functional and great space-savers.
Cons: Depending on how much you spend, they can be quite heavy and some with hard metal bases can be uncomfortable.
Fabric sofas
Choose fabric that will suit your lifestyle; textured fabric can give a warmer feel and can be more practical because it will show less wear than smooth fabric in the long term. Popular textured fabrics include chenille, velvet, micro-fibre and boucle. The Manhattan sofa from Black Orchid Interiors is upholstered in sumptuous black velvet and features contrasting black faux suede seat cushions. Choose the colour of your sofa carefully; neutral or pastel shades are a good choice. If you go for pattern, make sure you'll love it in the long term, because styles of pattern can go out of date quickly. With a plainer sofa you can easily update the look and use bolder colour with decorative cushions and throws.
Pros: There are a wide range of colours available, and they have washable covers which makes them are a great choice for a family with young children and pets.
Cons: Stains will show up on plain fabrics.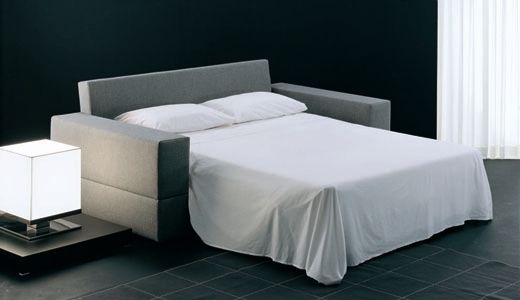 Leather sofas
Leather sofas are available in traditional or contemporary designs, and they have become an increasingly popular choice because they age well and they are easier to clean than fabric. If you have light coloured walls then darker leather, like the Lola three seat sofa from sofa.com, will make a statement, as brighter walls can often overpower furniture. Denelli Living also offers a collection of contemporary leather sofas in different styles and colours. Brown or light coloured leather will suit most rooms, and you can introduce colour with a scattering of cushions.
Pros: It is easy to clean, and although it can be expensive it is very durable. Leather is soft and it will keep you warm in the winter and cool in summer.
Cons: It needs to be treated, and they aren't ideal for families with children or pets.
Modular sofas
This type of furniture is fashionable and impressive in large rooms. You can effectively choose your sofa to be tailor-made for your own living area, but you do need a big space to accommodate them. For a grand selection of modular furniture, Utility supply sophisticated styles that can be combined in different ways to furnish your room. Our practical advice would be to try before you buy because although modern low back styles look nice they may not provide you with the best back support. The B&B Italia Andy Sofa is designed to meet a host of comfort and posture requirements with a range of features that allow you to turn this sofa into an adaptable chaise longue or even a bed. Ligne Roset's collection of upholstery includes modular designs from established and emerging designers, giving you a stylish and modern look combined with the luxurious comfort of a large sofa.
Pros: Flexible and multi-functional because it can be used in large or smaller configurations.
Cons: You need a large space to fit it in and they can cost a lot.
With such a wide range on the market, you are literally spoilt for choice when it comes to finding the perfect sofa for your home. From modular sofas to loveseats, leather to fabric there really are so many options to suit your style, and ultimately to enhance your way of living in the most comforting way possible.