Interview: Chris Sneesby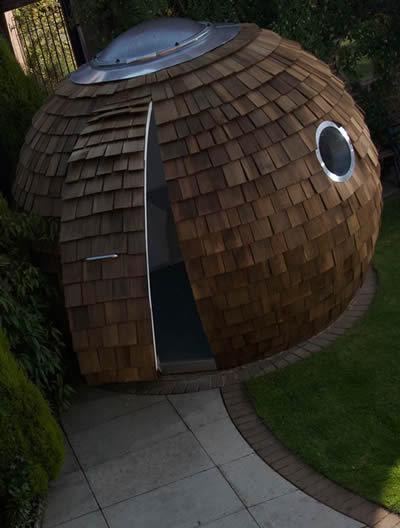 We interview Chris Sneesby, designer of the futuristic Archipod.
The first impression you get from the Archipod is that it could be something out of the future, with its modern and distinctive look.From the outside it looks like it could naturally be a part of your garden like a shed or a tree house, and its spherical shape makes it an interesting and flattering addition to your garden. It has a unique appeal that draws you inside, where I was pleasantly surprised, having been in a prototype of the Archipod myself, to find that it feels extremely spacious. The Pod has a generous amount of light that enters through the roof dome making it feel bigger and more comfortable.
I met Chris at this year's 'Grand Designs' live exhibition and I was immediately intrigued to find out more about the Archipod. I interviewed him to find out where he gets his inspiration from, and what new and exciting ideas he has for the future of the Archipod.
How has your background and experience helped you create Archipod?
I have worked previously for Yorkon, part of the Portakabin Group, for over 13 years, which gave me a lot of experience in the way buildings can be built offsite in controlled conditions and installed.
Who is your main target buyer for the Archipod, and what type of market research did you do prior to building your design?
My main target was the increasing number of people that want to work from home, but are looking for a high quality working environment rather that a glorified shed. I figured the only effective way of doing market research was to build a prototype, get it on a website and see what interest it generated. The power of the internet is phenomenal – within three weeks of the website being launched, it was on the front page of the Danish Financial Times Website – I had people calling me from Copenhagen to see if I would export them.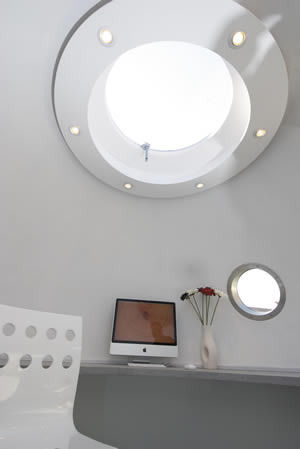 What makes Archipod unique from anything else?
I think mainly the look of it – a sphere is probably the most difficult shape to make from flat materials, which dissuades people from having a go at it. I also approach it from the angle of making it as good a quality and interesting as possible, rather than compromising the design by making it easier or cheaper to build.
How have you ensured that the pod is environmentally friendly?
I have used fairly traditional and environmentally friendly materials such as timber and plaster rather than plastics or GRP to make the structure. I also made it as efficient to heat as possible by putting plenty of insulation in.
What benefits do you believe that the pod offers to people who will use it as an office/work environment?
It is a warm, quiet and well lit space to work in. Most importantly, there are no distractions such as you get working in the house. People often suggest bigger portholes so that they can see into the garden - I tell them that if they want to look at the garden, then they should focus on their work, and look at the garden when they finish earlier and can relax with a glass of wine. Another advantage is that if you are running a business from it, the cost can be offset as part of the business – it is much more difficult to do this if you build an extension on the house to use as an office.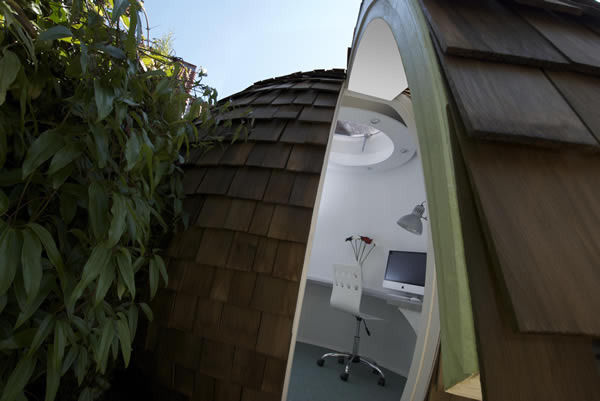 How well is the pod insulated and how sound-proof is it?
The insulation exceeds that required by Building Regulations – There are two lots of insulation, one of which is loose rockwool in the wall panel, which also acts as a good absorber of sound coming from outside.
How much does the Archipod cost? Does the buyer need to have planning permission?
Prices start at around £12,000 plus VAT. Planning Permission should not be required as it would normally come under Permitted Development, but the customer should always check this with their Local Authority first.
What ideas do you have for the future of Archipod? Do you want to expand and use different materials?
There are lots of ideas for the future – probably too many to mention. We are looking at a bigger pod, and the possibility of joining them together. We are also looking at different claddings such as copper sheeting and painted render.
The Pod is designed primarily to be used as a garden office, but its adaptability opens up opportunities for you to use it as anything from a studio, hobby room, or even a playroom. With such an innovative design, I think that the Archipod will pave the way for future living that will rely on money and energy saving sources.
For more specific information and frequently asked questions about the Archipod, take a look at www.archipod.co.uk or email info@archipod.co.uk.