10 ways with…Paint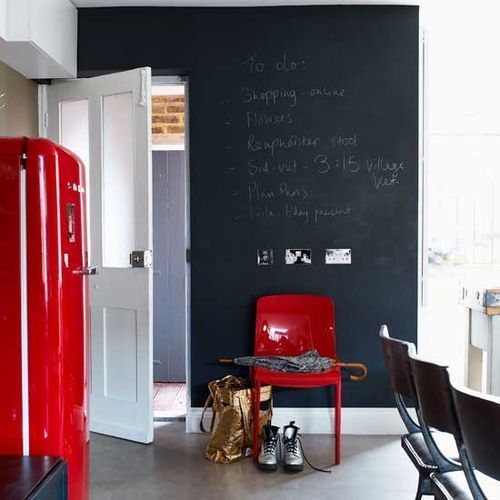 Revamp your décor with a splash of paint.
The surface preparation might be a bore, but in this weather you won't be watching it dry for long. There are few things more satisfying than a freshly painted room, but with our 10 ways, there are plenty more options with paint. Time to get the overalls out.
1. Feature Wall
A feature wall is a great paint option, particularly if you want to go for bold colour. It'll lift the room, add drama and create a natural focal point. Use a paler shade of the same colour on the other walls, or complementary wallpaper, to make sure your scheme ties together. Accent walls are particularly appropriate in modern homes and open plan spaces. Use the feature wall to zone your space, for example if your dining room flows into your living room. An accent wall will add life to a stairwell and a sense of drama used behind the bed. Colour-blocking is also a huge trend at the moment in both fashion and interiors. Get the look at home with a bold feature wall teamed with accessories in the same colour or sofas and chairs in a contrasting block colour.
2. Painting Furniture
As long as it's not a 20th century icon, a beautiful 17th century cabinet or some such wondrous antique, painting furniture can be a great way to revive an old piece or change it to fit in with a new decorative scheme. And if you're into the shabby chic, relaxed coastal look, then this could be the thing for you. Equally a flea-market find might be brought into the 21st century with a splash of shocking pink gloss. Painting furniture for kids' rooms, and getting them involved, is a great way to add personality to their rooms. Think about where you want the piece to go and have some fun with it. If the piece has been painted before, sand off old or flaking paint, going with the grain of the wood. If it's unpainted, use a knotting solution to seal any knots and apply a wood primer. For your topcoat, a water-based acrylic paint is less messy, environmentally friendly, and available in matt, gloss and eggshell finishes.
3. Blackboard Paint
Blackboard paint is now widely available and it's a playful, versatile medium. Use it in the kitchen for shopping lists, the hallway for reminders, home offices for to-do lists, or kids' rooms just for fun. Magnetic blackboard paint allows you to add photographs, postcards or anything else that takes your fancy. Blackboard paint adds personality and dynamism to a space, with scrawls and doodles providing an evolving record of family life. Make a bold statement in a light-filled kitchen or studio workspace with an entire wall in blackboard paint, or use it in small doses in panels or on cupboards and drawers to mark the contents. IIf your child's room is on the small side, blackboard paint looks wonderful on toy boxes or painted in cloud shapes on the wall with bright blue raindrops and a sun peeping out of the top.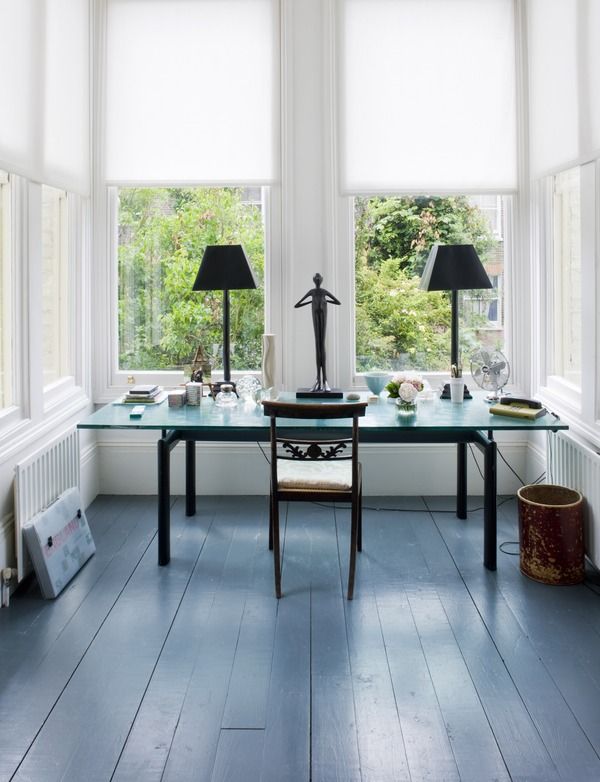 4. Floor Paint
Make a feature of your floorboards with paint. The Little Greene Paint Company has beautiful soft sheen floor paint in the full range of colours, from neutrals to brights and everything in between. Farrow & Ball has eggshell finish floor paint, also available in the complete colour range. Painting the floor will transform your room, so it's important to think carefully about the colour, taking into account the amount of light in the room, and use tester pots. Durable and hardwearing, floor paint is suitable for almost anywhere in the house, and can be a great way to brighten up kids' bedrooms, hallways and kitchens.
5. Stencils
Stencils have moved on from the sponged horrors of the 90s. But, that being said, there's a fine line between style and vile when it comes to using and choosing stencils. A great way to create a focal point, or a feature wall, it's best to use stencils as accents. For kids' rooms they're great fun, especially to jazz up furniture and toy boxes. The Stencil Library has a huge range to choose from, including Alice in Wonderland, character stencils for children, animal prints, Art Deco patterns, and classical architectural motifs. The Stencil Studio also has a useful 'How To' guide, and even stocks Banksy-style stencils, if you want to jump on that bandwagon.
6. Combining Matt and Gloss finishes
Combining a chalky matt paint on the walls with a high gloss for skirting and windows creates a crisp finish. Whichever colour you choose for the walls ensure that the gloss trim colour provides enough of a contrast. With rich wall colours a creamier trim colour, rather than bright white, will be more flattering. If you want to go for a coloured trim, rather than a neutral, choose a lighter or darker shade of the same colour as the walls, to create contrast. For a really dramatic effect, use full gloss on the walls or ceiling, using a matt finish for the trim.
7. Painting Tiles
Painting over tired or nasty looking tiles is a good way to revive your bathroom or kitchen on a tight budget. Any painting job requires surface preparation, but with tiles this is absolutely crucial. The surface must be spotlessly clean in order for the paint to adhere properly. Wash the tiles with sugar soap and rinse clean to remove any residue. Use a hand-held orbital sander with fine grit paper to lightly scuff the tile glaze and wash again to remove dust. A primer such as Ronseal's One Coat Tile Primer will prevent the topcoat paint from pealing. When applying paint, use a small gloss roller to avoid brush marks and apply several thin coats to build up adhesion in layers. Specialist tile paint is available in a limited colour range, but any latex or oil based paint is suitable for the job.
8. Using Tester Pots on Canvases
Create art that fits in with your room scheme using tester pots on canvases. Having no artistic skill, I think I'd stick to letting the kids do it. Messing around with a few pots of paint and a canvas sounds like fun, but it can be a hit and miss affair when it comes to interior design. Short of taking an Art Foundation course, there are two options for the artistically challenged. Spontaneous and simple figurative pictures can add a lively element to a room. But abstract work is more forgiving. For example, Rothko-esque fields of colour, or Pollock-style splatters, painted on several canvases can look great in a drab hallway or open plan space.
9. Paint Effects
With a roll of low-tack masking tape you can create all sorts of geometric patterns with paint. Use vertical stripes to give the illusion of higher ceilings or horizontal stripes to add width. For a subtle stripe, use two different tones of the same colour, or make a bold statement with two or more contrasting colours in varying widths. Creating a pattern with paint is a great way to create a feature wall behind your bed, brighten up a playroom or add some drama to a hallway. Whatever pattern you want to go for, and especially with spots and circles, mark it out in pencil first. With stripes, use a spirit level to make sure your lines are straight.
10. Revamping Garden Furniture
Revive a rusty patio set or a tired wooden bench with paint. With metal furniture, wash down with hot soapy water and remove any rust or flaking paint with a wire brush and coarse sandpaper. Use an anti-rust primer and paint, such as Plasti-Kote's Metal Primer and Super Spray Paint. Really easy to apply, Super Spray Paint is available in a huge range of colours. For wooden furniture, sand the item along the grain until smooth and then use a primer, such as Cuprinol's clear Wood Preserver. Cuprinol's Garden Shades and Ronseal's Woodland Trust Colours will give tired wood a new lease of life.
Get your overalls on and have some fun with paint.