Buyers Guide: Window Treatments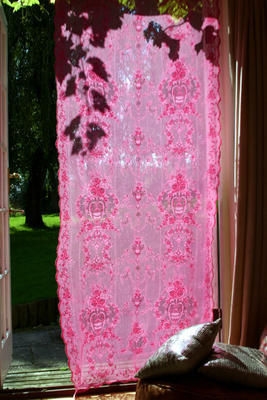 Give your windows a fresh new look and make the most of the summer sun
Windows are natural focal points, inevitably drawing the eye as the source of natural light in our homes. Window treatments are key to setting the mood of your room in terms of style certainly, but also because your choice will determine how far you can manipulate the effects of natural light. With the capacity to completely transform a room, choosing window treatments can be a daunting process. So we've put together a buyers guide to help you choose with confidence.
Curtains
Curtains are available in all manner of fabrics and styles. Heavy silks, velvets, cottons and linens are all great choices. A patterned fabric will make a feature of your window, but if you don't want your curtains to fight for attention with another focal point, go for a plainer fabric. The higher the thread count of the fabric, the better your curtains will hang. Lined curtains keep the heat in better than unlined curtains and will block out more light when closed. Lighter, breezy fabrics are great diffusers of light, making them attractive for the summer. Pleated headings give an elegant, classic look, while eyelets and tab-tops are more casual, making them great for kids' rooms and relaxed living spaces.
When choosing the length of your curtains you have three options: finishing at the windowsill, allowing the curtains to just about graze the sill; finishing below the windowsill and above the radiator (if you have one), adding between 8cm and 15cm; or dropping to the floor, adding between 1.5cm and 2cm. There's a fashion for allowing your curtains to fall in pools of fabric on the floor because it looks more 'expensive'. I have to say I think this not only looks ridiculous, but it collects dust and makes cleaning your floor more difficult. Whichever drop you go for, use a metal measuring tape and make sure that the curtain pole or track is in place, taking headings into account to avoid miscalculations. Try Designers Guild for fabulous curtain fabrics.
Pros: good insulation against heat loss; great choice of fabrics and styles
Cons: when drawn back, curtains allow less light in than blinds; thick fabrics, such as velvet, can be a bit oppressive in the summer months.
Blinds
Roman blinds fold back on themselves when raised, creating a feeling of quality and elegance, which makes them a great choice for period homes. Suitable for any room in the house, they're particularly good for living rooms and bedrooms, creating softness at the window. Roman blinds are available in a range of fabrics, which can be blackout lined, and in woven bands of wood, bamboo and jute, which gently diffuse light.
Pros: great choice of patterns and materials; elegant appearance
Cons: more expensive than roller blinds; less sleek than Venetians
Venetian slatted blinds give you sharp, clean finish making them especially good for modern homes. Being easy to clean, they're also a great option for bathrooms and kitchens. Enabling you to filter light or cut out it out completely, Venetian blinds are a versatile choice. And if you're concerned about privacy, they'll allow light in while obscuring the view from the street. They're great for awkward windows such as skylights, and they can be fitted to tilt and turn. Venetians come in a range of slat widths and are available in wood or powder-coated aluminium.
Pros: more versatile than Roman or roller; sharp modern look
Cons: metal slats may not suit period homes; less choice in terms of material and pattern
Roller blinds are a popular choice, offering simplicity and practicality. Like Roman blinds they're available in a huge choice of fabrics as well as bamboo, wood and other natural fibres. Rollers are easy to use, making them great for kids' rooms, while Teflon coated rollers are perfect for bathrooms and kitchens. Rollers can also be fitted for skylights. Sheer rollers that allow light through are a stylish alternative to net curtains in street level rooms.
Pros: simple, smooth appearance; a cheaper alternative to Romans
Cons: rollers stand further from the window than other styles; they don't lend the same softness to the room as Romans
Try Tuiss for great quality made-to-measure Venetian, Roman and roller blinds.
Sliding Panels
Sliding fabric panels are a stylish and contemporary way to dress floor-to-ceiling windows, perfect for modern homes with large expanses of glass. In feather-light fabrics, use them against glass walls and sliding patio doors to maximise on light while retaining privacy. Double-sided and weighted at the bottom to allow them to hang cleanly, sliding panels are also great to use as room dividers. Each panel moves on a separate channel of track, stacking neatly at either side of the window when open. Each panel picks up the next, and when fully closed the panels overlap to provide a screen against sunlight and nosy neighbours. The separate channels allow you to create a layered look by combining different colours, patterns and fabrics. Sliding panels are available in woven woods, and fabrics ranging from sheer voile to opaque canvas. Easy to remove and replace, the panels can be changed for winter and summer. Try Blindtrack Services for a good quality selection.
Pros: elegant, contemporary look; great for large windows, patio doors and as room dividers
Cons: panels won't give the cosy feeling of curtains; while curtains can be flung open, and blinds can be raised with a quick pull, panels can be annoying for the impatient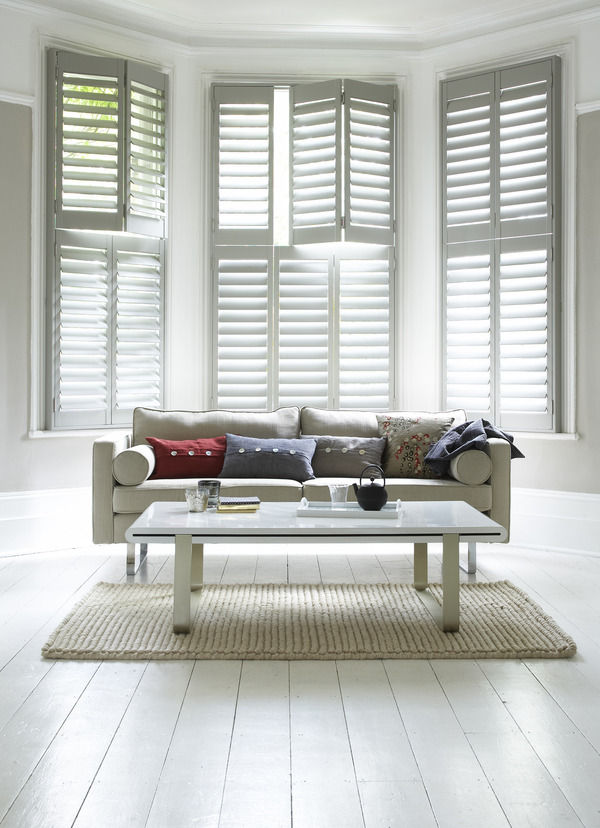 Window Film
Window film is available with a range of properties for a variety of applications. Heat control films are great for conservatories, while glare reduction films take the edge off blinding sunlight. Films with UV protection prevent fading of carpets, wood floors, curtains and artwork. Frosted and reflective films provide privacy, while anti-shatter varieties enhance safety and security. The Window Film Company offers products to meet each of these requirements as well as a professional installation service. Professional installation is recommended, especially if you have a large expanse to cover, because applying the film can be fiddly and it's easy to get irritating bubbles in the surface. The relatively small investment involved in fitting a film with UV protection is really worthwhile for the fade resistance it offers for expensive wood floors and cherished art. Frosted films are available in a range of tasteful designs and look much sleeker than traditional frosted glass. If you have boisterous kids or you're worried about break-ins, anti-shatter films are a great way to enhance security and safety without forking out for new windows.
Pros: get a range of effects without changing the windows; maximise light while retaining privacy
Cons: professional installation recommended; films can be difficult to remove
Shutters
Shutters are an elegant and classic way to dress your windows, making them particularly appropriate in period homes. Used alone, they give the window a clean, neat finish, and they can be combined with curtains to add softness. Shutters offer fantastic flexibility in terms of light filtration and privacy; slats can be tilted to the desired position, and shutters can be made either full length, in independent upper and lower sections, or café-style, covering just the bottom half of the window. When closed, shutters completely block out light, making them a practical choice for nurseries and kids' rooms. They'll make an elegant statement in the living room, and they're great for bathrooms and kitchens. Made bespoke they can be designed to fit awkward windows. Shutters are an expensive option, but a worthwhile investment because they'll last for years. Shutterly Fabulous offers a complete design and installation service, with shutters in stained or painted wood as well as a range designed by Kelly Hoppen. Shutter World also has a great range, including both slatted and solid shutters.
Pros: long-lasting and versatile; classic, elegant and airy feel
Cons: an expensive option; not the sort of window treatment you can change on a whim
Whether you want to maximise light or thwart a nosy neighbour, there's a stylish window treatment to suit your needs.