Trend watch: Tropical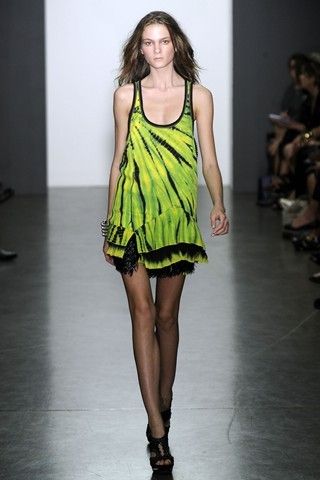 Create your own tropical paradise with our tips on how to find natural and exotic furnishings for your home.
Transforming your home into a tropical paradise is all about combining natural textures with bold patterns and prints to bring a sultry look together. With tribal themes dominating the catwalks this season, interior design has pounced on luxurious animal prints and has been influenced by African style in order to bring cultural interest to your interior. Combine the tropical hues of sea blues and greens with tribal and earthy tones to create a blissful and harmonious mood for your home.
Wallpaper
Tropical scenery evokes vibrant and exotic colours and if you want to experiment with this look in your home then have a look at aymefitzgerald.co.uk for wild but beautiful and contemporary exotic designs that can be applied to wallpapers, fabrics and cushions. Or try the garden inspired Hothouse wallpaper by Suzy Hoodless from Osborne & Little. Bold patterns such as lush foliage or bright flowers work really well on a feature wall to make a strong statement without the room feeling too busy. Alternatively, Urbane Living bamboo natural wallpapers and wall coverings bring textural drama to your walls. Bamboo papers from Farrow & Ball display an exotic pattern adapted from an iconic nineteenth century Japanese print for an ideal backdrop.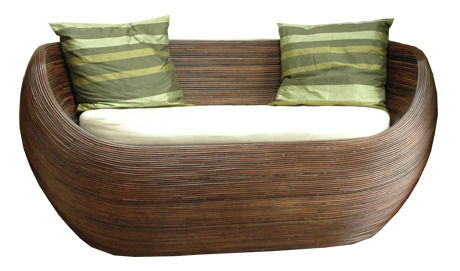 Flooring
When it comes to choosing flooring go for simplicity and a minimalistic look; avoid carpet as this will detract from the natural, al fresco feel. Wood flooring such as Urbane Living's bamboo flooring or Ipe tropical wood from ecora.co.uk is durable and stylish, and it has a modern, fresh feel. Also, use a lightweight rug made from natural materials to soften the dark tones in the flooring and bring texture and interest to your floor. Jute and sisal rugs from The Rug Lounge are perfect for giving your living room a natural, effortless look.
Furniture
To enhance the exotic and modern feel of your room, choose simple, dark wood furniture such as teak, mahogany or walnut. Dark teak, with its rich and warming tones, has an alluring appeal that makes it a statement piece in any room. The handmade ladder bookcase from Lombok is a unique statement piece. Or the irresistibly inviting handmade bamboo love seat from Puji will provide you with a place to relax in style. Conservatory style furniture that is made from bamboo, wicker or rattan, like the Port Royal Chaise Lounge in the Port Royal collection from bluebarnacles.com, is versatile to use inside or out. The Birdcage coffee table from OKA has a finely woven rattan border that also perfectly fits the tropical look.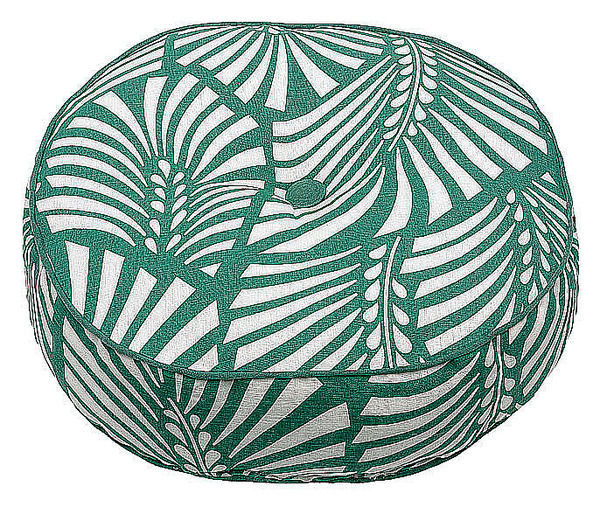 Accessories
Accessories will pull the tropical theme of your room together, but in this case it is all about quality not quantity so don't go overboard otherwise you might get lost in your very own jungle. With turquoise evoking tropical oceans, the decorative glazed ceramic Fish Vase from belongingstc.com or the striking Earthenware pot from Lombok can provide tropical detail to your home with bright blooms or lush green foliage. Cushions and fabric with animal prints, palm trees or sea shells will add a touch of playful detail. Try the Oscar Round cushion from The London Cushion Company or the Shells Porch Pillow from mainecottage.com. Also, try Tropical fabrics from The Seam Shoppe to add vibrant and exciting patterns to your interior design.
Letting natural light in to your room through your windows will enhance your décor, so avoid large curtains and thick, dark fabric. Feature lighting like the Walis Table Lamp from belongingstc.com, made from natural rattan, will create a relaxing and natural ambience.
Treat yourself to some luxurious furniture pieces and enjoy the long summer days in your own tropical paradise.