Buyers guide: Surfaces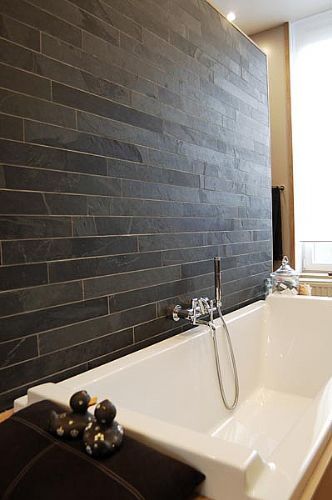 Be inspired by stylish surfaces and elegant exterior appearances for your home with our buyers guide to surfaces.
Surfaces make a huge impression on a room, and their texture and appearance can determine the style and practicality of your interior. So, whether you are going for grandeur in your hallway or a clean and sophisticated kitchen, there are plenty of ways to decorate your home with the right surface to suit your needs. This guide will consider the pros and cons and what qualities different types of surfaces have to offer in terms of practical and aesthetic features, as well as texture and tangibility.
Corian
DuPont Corian is sold worldwide and there are lots of options available with this type of surface. Have a look at www.corian.co.uk for many designs in a vast range of colours including this year's new eight metallic shades. It's a non-porous surface making it ideal for worktops, splash backs, and integral sinks in a kitchen; try this versatile surface in your bathroom for vanity tops or shower trays. Bear in mind that darker, heavier pigmented shades will show scratches and general wear and tear more easily than lighter, textured colours.
Pros: easy to clean; nonporous; resists the growth of mould, mildew and bacteria.
Cons: Not as durable as stone e.g granite.
Stone
Stone surfaces are a popular choice because of their aesthetic qualities. Traditional fireplaces are often made from stone as it adds to the grandeur and charm of the feature. Hand crafted stone has an attractive look and feel, and you can find a vast selection of natural stone fireplaces, including marble and limestone, from Heritage Stoneworks. The Single sink unit with Flemish stone from Brissi is a superb storage and decorative piece for displaying your bathroom linen and beauty products. The dark stone top and the white porcelain sink are beautifully contrasted to create a dramatic and classic look. For a good selection of natural stone tiles try Mandarin Stone who supply limestone, marble, slate and terracotta tiles.
Pros: Beautiful surface; practical and durable.
Cons: Expensive; cold underfoot.
Slate
Slate is an extremely versatile stone that gives a rustic and natural appearance to any room; it has a dramatic texture but a less formal look than marble or limestone. Slate is an excellent choice for kitchen or dining room floors because it is anti-stain and slip resistant. Ceramica & Stone have a great selection of colourful slate flooring that would work well in any modern or country house kitchen. Stone Works Ltd supply metallic, honed and riven slate; the Riven slate oyster offers depth and colourful tones ranging from yellows to greens. For a different look, try the Brazilian black slate wall cladding from Brazili Stone for a striking contemporary effect.
Pros: Good abrasion resistance and high durability; comes in a variety of natural stone colours.
Cons: Some types have to be sealed to prevent staining; needs professional installation.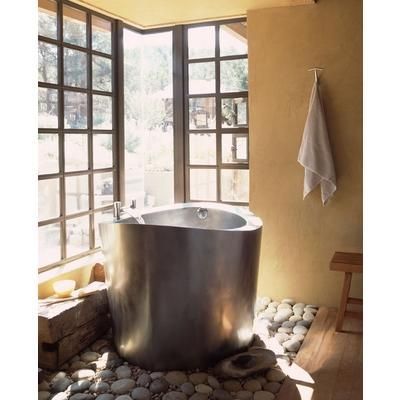 Polished concrete
Polished concrete floors have a beautiful bespoke finish because the polishing process exposes the unique grain patterns beneath the surface. Poured concrete can give you a seamless and glossy surface. The Stone Carpet Company supplies flooring that will enhance your interior and add to the grandeur and value of your home. Choose polished concrete flooring if you have a grand entrance hall or kitchen area for a polished and elegant look. Concrete countertops are also a good option for your kitchen; try White+Reid for a wide selection of shapes and sizes of worktops tailored to your room.
Pros: Energy efficient; durable; aesthetically pleasing.
Cons: Costly; can get stained, chipped or scratched.
Wood
Wood flooring is one of the most common surfaces in contemporary interiors due to its practical qualities and low maintenance. Justwoodflooring.com and urbaneliving offer naturally beautiful hardwood flooring.
Wooden work surfaces will give a warm appearance and bring a natural look to your décor. At justwoodworktops.com you can find natural wood breakfast bar tops and hardwood chopping boards in all different types of wood such as beech, oak, and walnut. The Oak Beam Table from Indigo Furniture is solidly built with a chunky and rustic appearance, and it will provide you with a surface and furniture piece that will retain its natural look for many years.
Wall panels work particularly well to bring dimension to your walls, and they look striking against a bold backdrop. The Ana carved wood wall panel in dark teak from Lombok has a beautiful geometric design. Decorative wall panels are available in a range of finishes, designs and wood grains; the Hand carved wood wall panels from Kan Thai Decor create a stunning look.
Pros: Natural beauty and character; practical, durable and stylish in a modern or traditional home.
Cons: Natural wood takes a lot of care to maintain its look.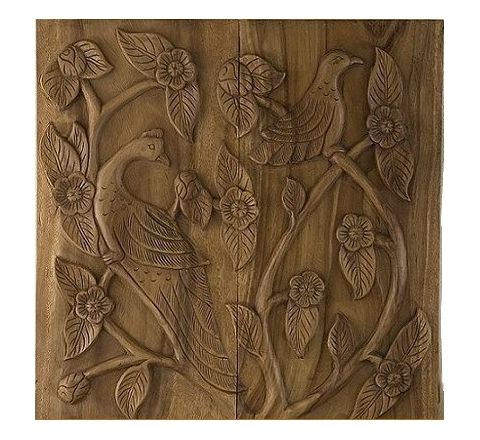 Ceramic tiles
The Ceramic Tile Company supply practical yet stylish ceramic bathroom, kitchen and floor tiles. Ceramic tiles are a popular choice for bathrooms as they will keep your walls and floors free from moisture damage. Mosaic patterns work well for detail on a bathroom or kitchen wall; in your bathroom you will need unglazed tiles for slip-resistance, and if you want your tiles to be stain-proof choose glazed tiles. Ceramic mosaic tiles from mosaictileshop.co.uk are versatile; their glazes come in a range of colours to suit your interior, and you can add pattern or floor accents by using custom tiles. The Ceramic tiles from Armstrong would suit a country house inspired kitchen, and bring a warm and welcoming feel.
Pros: Heat and stain resistant, easy to clean.
Cons: Chips easily; all tiles have grout lines so they require regular cleaning.
Stainless steel
The physical appearance of stainless steel brings a sleek and finished look which would suit any modern home. Stainless Steel wall tiles are ideal for kitchen splashbacks, and their smooth finish makes them a perfect choice for matching them with other kitchen appliances. The tiles are available in a variety of different patterns and they come in a satin or matt finish. Bring a modern and unique statement to your bathroom with the Circular Stainless Steel Japanese bath from HomePortfolio.
Pros: Hygienic; very easy to clean; high resistance to corrosion.
Cons: Cold to touch; will scratch and show fingerprints easier than other types of tiles.