How to…revamp furniture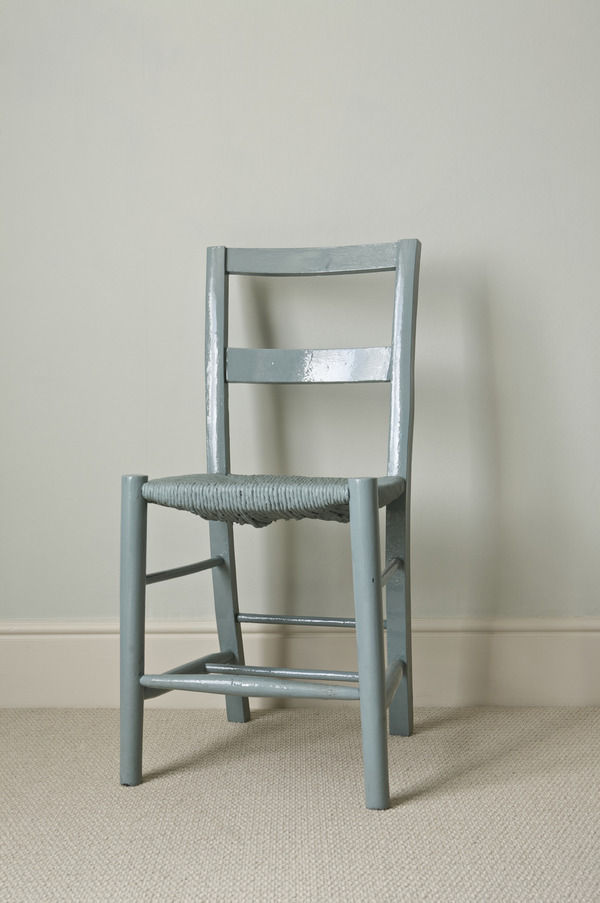 If your furniture needs a face-lift then have some fun and get creative. Our guide to revamping shows you how.
So you've got an old wooden table that's more shabby than chic, a sad looking chair with lumpy stuffing, or a flea market find that needs a bit of love. Don't despair. There are lots of fun things you can do to breathe new life into tired furniture. Get creative with our guide to revamping.
Paint
A splash of paint is probably the most obvious way to transform wooden furniture and it can work wonders to revive an old piece. As with any paint job, surface preparation is boring but necessary. If the piece already has an old coat of paint, sand off any flaking areas, going with the grain to get a smooth finish. Bare wood is porous so will need to be primed, and if the piece has never been painted seal any knots with a knotting solution. Once the surface is dry, apply a water-based acrylic paint such as Farrow & Ball's Eco Full Gloss, Estate Eggshell or Modern Emulsion. Water-based paints are environmentally friendly and far less messy than oil-based paints. For the lazy among us, me included, Plasti-Kote has everything you need to paint furniture in simple-to-use spray can form. Blackboard paint is another fantastic invention and can instantly transform kitchen cupboards, toy boxes, drawers and wardrobe doors. Magnetic blackboard paint is great for cupboards and doors, allowing you to add photos, postcards and interesting bits and pieces to your message board.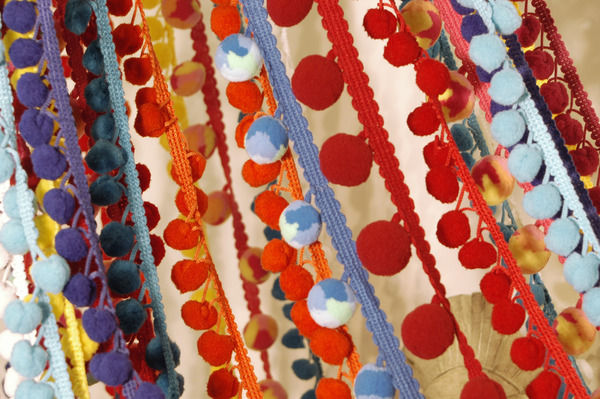 Fabric and Reupholstering
There are few things that I wouldn't suggest having a bash at, but reupholstering a button-backed chair is one of them. If you're an uninitiated upholsterer and you've got a chair or sofa with awkward curves or a button-back it's probably best to take it to a professional. However, drop-in seats on dining chairs, headboards and ottomans are pretty straightforward and great to practice on first to get a feel for the materials. If you want to go on to something more fancy after that, Nicole Fulton's book, New Upholstery, is easy to follow and will get you to the button-back stage and beyond.
For drop in seats, headboards and ottomans you'll need foam, polyester wadding, calico, spray adhesive, a staple gun and your chosen fabric. The foam goes on first, held in place with spray adhesive. The malleable polyester wadding goes on top of the foam, tugged and kneaded into the desired shape. The padding is then covered with calico to retain the shape: allow an extra 8cm and neatly fold 'hospital corners' like the bottom sheets on a bed, stapling the underside of the drop-in seat, the back of the headboard or at the sides of the ottoman. Repeat the process with your chosen fabric. If you're doing an ottoman you'll need to cover the stapled edges with a braided trim: glue it into place and fix with decorative nails. You can find advice and all the materials you may need at The Upholstery Shop.
Removable sofa and seat cushions can be re-covered simply by unpicking the original covers and following the pattern with your new fabric, sewing with the fabric inside out. To insert a zip in one side, place the two edges of the fabric right sides together and tack along the seam; stitch the ends of the seam to secure it, leaving just the tacking stitches where the zip is to be inserted; place the zip wrong side up over the tacked section of the seam; pin and stitch the ends and sides of the zip close to the teeth; remove the tacking stitches.
Trimmings
If you're daunted by the prospect of reupholstering or you happen to like the fabric on an old piece you can get really creative with trimmings. Feathers, ribbons, tassels and decorative braids can all be used to customize your furniture. Braids with little hanging pom-poms or glass beads look fabulous around the bottom of an upholstered chair. Ribbons and decorative braids can also be used to give the upholstered body of the chair a new look; choose a colour that complements the upholstery fabric for your ribbon or braid, gluing and neatly stitching it into place. If you're a bit ham-fisted with a needle, rather than attempting to hide the stitching, make a feature of it by using thicker thread and bigger needle. For inspiration with feathers, have a look at the feather-backed Fin Chair from BODIE and FOU on Furnish. You could create a similar effect with ribbons and bows. VV Rouleaux is a treasure trove of trimmings and lovely stuffs to stir your imagination.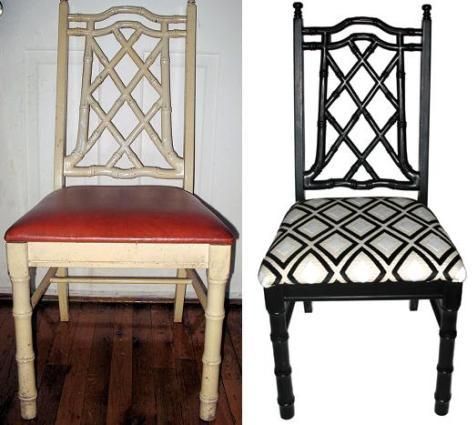 Wallpaper
My grandma used to line chests of drawers with wallpaper off-cuts and it's one of the things I still do. It's a great way to use a retro roll found at a flea market or to put wallpaper samples to good use. And it's lovely to open the drawer and have a bit of pattern in there. But you can also use wallpaper on the outside of drawers. Take the handles or knobs off the drawer fronts to paper them and either replace with prettier ones or paint the originals in a complementary colour. Seal the papered drawer fronts with a coat of PVA glue to prevent pealing, and pick out one of the colours in the wallpaper to paint the rest of the chest. You can do the same for wardrobes, lining the insides with wallpaper in a different pattern or colourway to add depth and interest.
Mouldings and Beading
Available from DIY stores such as B&Q, decorative wooden mouldings are another way to transform wardrobe doors and chests of drawers. With lengths of moulding you can create a framed panel effect on wardrobe doors. Use wood glue and tacks to fix your frame into place. Once dry you can simply paint the whole door one colour, choose a different colour for the inside and outside of the frame, or use patterned wallpaper within the frame and complementary paint outside. If you've got a plain chest of drawers you can liven it up with mouldings framing outside edges of the top of the chest and thinner beading to frame the drawer fronts. Replacing handles and knobs will complete the transformation and give your furniture a finished look.
Top 5 Revamping Tips
1. Leave yourself at least a day, ideally a weekend, to do the job
2. Plan out your design and each step of the process
3. Make sure you have all the materials you need before you start
4. Prepare the surface and you'll get a better finish
5. Take your time and tidy up as you go along!