Buyers Guide to... Beds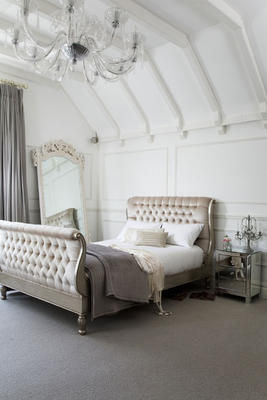 Oh, to be back in bed; that archetypal place of comfort, security and escape from the world.
Oh, to be back in bed; that archetypal place of comfort, security and escape from the world. More than just a yearned for retreat, your bed is the foundation on which the style of your bedroom and the quality of your sleep depends.
In the 17th and 18th centuries, assuming you weren't a peasant (which undoubtedly I would have been), your four-poster canopied bed with its embroidered hangings and sumptuous fabrics would have been absolutely your most valuable possession. And even now, buying a bed remains one of the most important investments you'll make for your home, in terms of cost as well as comfort. If the thought of deciding what to go for is giving you sleepless nights, take a look at our buyers guide and find the bed of your dreams.
Wooden Beds
There's huge variety in the style and design of wooden bedsteads. If you've got a large bedroom with a high ceiling, a four-poster bed such as Lombok's Lovina , Shanghai, or Twilight is the perfect indulgence. Carved solid wood beds, such as the Chateau from Lover's Lounge and Sweetpea & Willow's Cream French Chantelle, have a similarly sumptuous feel making them a great alternative in bedrooms with lower ceilings. Rattan beds with carved frames, such as Sweetpea & Willow's Classical White Marianne and The French bedroom Company's Provencal Natural Rattan bed, have an opulent yet airy feel, great for smaller bedrooms or where light is an issue.
For a sleeker contemporary look, Puji's Lumber Cubic bed is low off the ground and beautifully minimalist, making it a stylish centrepiece for a modern scheme. The Haven bed in walnut or oak from Heal's has a simple low frame and statement headboard with strong modern styling. With any new bed purchase it's important to go for quality of construction and finish. The better the quality of construction the longer your bed will last, while finish quality is all the more noticeable on such a large item. And So To Bed is the 'go to' place for style inspiration and exceptionally high quality handmade beds.
Metal Beds
While choosing a particular type of bedstead is a decision primarily based on style preference, the open construction of metal beds makes them a great option for smaller bedrooms. Elegant Victorian and Edwardian style metal beds in forged and cast iron or brass have a wonderful nostalgia to them with enduring appeal. Finishes range from polished metal and nickel plate, to white or black paint and various antiquing effects. And So To Bed has a fabulous range of metal bedsteads, including the beautiful Art Deco inspired Sage bed in polished brass or nickel plate, as well as traditional Victorian styles. For contemporary metal beds, check out Tom Faulkner's range here on Furnish. The only drawback with metal beds is a tendency to creak and squeak, so it's especially important to go for quality.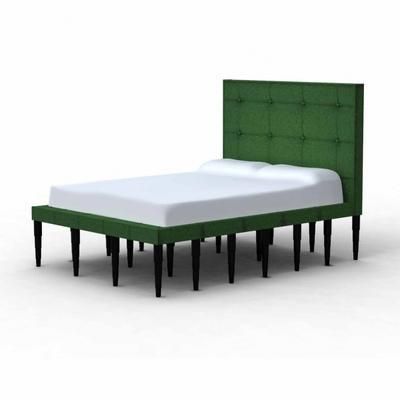 Upholstered Beds
Upholstered bedsteads add sensuality and softness to the bedroom, creating a sumptuous effect. For a luxurious, boudoir feel go for a bed with a high footboard as well a headboard, such as the curvaceous Sweet Amberley Sleigh bed from Sweetpea & Willow. The deep-buttoning and silky soft, blush fabric makes this bed a beautifully nostalgic centrepiece for a romantic bedroom. The Willows Shell Carved bed with gilt edging, also from Sweetpea & Willow, has a fabulously French boudoir feel, with antique white raw silk falling into deep buttoning on the head and footboard.
For a more contemporary look, choose a lower bed without a footboard such as the sleek Manhattan bed frame from Heal's, with walnut surround, brushed steel base and quilted black or white leather headboard. The Millibed from Duffy London is a striking centrepiece for a contemporary bedroom, upholstered in grey or racing green, it stand on stilts inspired by a millipede's legs. It's subtly fetishistic, like a bed of nails turned upside down, and makes a high-impact statement piece. The only draw back with upholstered beds is the capacity of fabric headboards to get grubby over time.
Beds with Storage
Beds with built-in storage are fantastic when space is tight. Wooden framed beds are available with drawers fitted in one or both sides as well as in the foot of the bed. It might sound obvious but double-check which side you want the drawers if the bed is going against the wall. Divan beds are available with a choice of storage options: drawers, sliding doors, and ottoman-style. Drawers in the divan base are located in the foot of the bed and in one or both sides, with the smaller drawer placed at the head of the bed to allow for bedside tables. Sliding doors that allow access to the interior of the divan base are often a cheaper option, because essentially it's just an empty cavity. While this option isn't great for storing clothes, it can be very useful if you've got larger items to store. Ottoman-style divans have a shallow hinged platform on which the mattress sits. When lifted this gives you access to just about the maximum under-bed area, excepting the hydraulic mechanism. This makes ottoman-style divans a great choice if you need space to store bulky items.
Mattresses
Comfort is subjective, and there's no substitute for lying on mattresses to choose the right one for you. If the bed is for two, shop together to ensure you're both happy. If you can't agree, many manufacturers offer double mattresses made from two singles zipped together, and others will combine different degrees of firmness in one mattress. Set aside enough time to try out several mattresses for at least ten minutes each, adopting your usual sleeping position and lying on your back as well as your side. Make sure you're not tired, otherwise any mattress will feel amazing and it'll be difficult to appreciate differences in softness and support. Most manufacturers offer mattresses in soft, medium and firm, but there's no industry-wide standard for tension, so try out lots of different options.
A comfortable bed offers the correct support; try this test from The Sleep Council to help you make an assessment. When lying on your back, slide the flat of your hand under the hollow of your back. If your hand slides in very easily or there's a gap, the mattress is too firm, leading to pressure on your hips and shoulders. If it's really difficult get your hand in at all, the mattress is too soft, causing your body to slouch and leading to back pain. Ultimately, it's up to you what feels right, but ideally the mattress should mould to the shape of your body while remaining supportive. Remember to make sure that the mattress is suitable for your chosen bed base, in terms of size, depth and weight. If you're buying the base and mattress from different manufacturers make sure to measure both because, again, there's no industry-wide sizing standard despite the typical labels.
Divans versus Bedsteads
Divans often feel more solid and supportive than bedsteads on legs, distributing weight more evenly, but if you go for quality there's no reason why a bedstead shouldn't last just as long. However, if you're on a tight budget, a divan is probably the better option; you'll avoid the squeaks and creaks of cheaper wooden and metal bedsteads. Bear in mind that divans will often come without a headboard. This allows you to personalise what's essentially a fabric covered box, but it's also an added expense and you'll need to make sure the headboard is compatible with the base. With bedsteads it's equally important to ensure that the mattress you choose is compatible with the base, particularly in terms of weight. If the mattress is unsuitable, any warranty on the bedstead will be invalidated. One of the irritations with divans is the need for valances. If you don't want be heaving the mattress off every time the valance needs changing go for a plain divan base that you're happy to have on show. Essentially, it's your choice of mattress that'll ensure a good night's sleep. Put value for money over price and it's just a question of style.
A new bed is such a treat, and if you take your time to choose it'll bring lasting pleasure.