Trend Watch: Monochrome Furnishings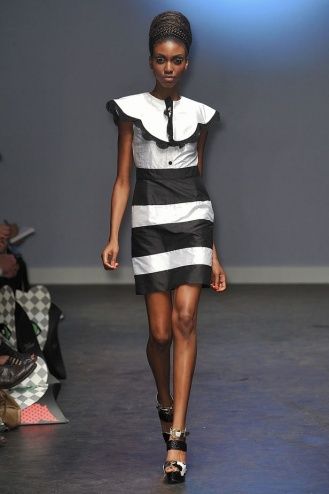 Interior designers go back to black for a sophisticated monochrome aesthetic that oozes style
Monochrome is a perennial favourite on the catwalks, epitomising pared down chic, and it's long been a key element of the interior designer's repertoire. A sleek and stylish combination for clothing, monochrome in the home is often used to highlight architectural qualities as well as the contrasts of light and shade. Graphic monochrome patterns, including animal print and geometric designs, add visual drama to a room without being loud. And colour experts will tell you that adding monochrome touches to a fusion of vibrant colours in a room not only moderates the look, but also creates a foil against which individual colours become more expressive. Try adding white and black to a pile of colourful scarves or swatches and you'll instantly see what they mean.
A common misconception about monochrome is that it's a boring, cop-out combination, associated with work clothes and office drones. But this couldn't be further from the truth in terms of interior design (or fashion for that matter). Think about the Art Deco period, in which sharp angular shapes and a graphic monochrome palette created a sophisticated and high-energy aesthetic, expressive of modernity. Monochrome style is more than just black and white. Think about marble and mirrored furniture, silvery grey hues and the combination of glass, steel and chrome. Create a spectacle of surface with tactile animal skins, luminous glass and metallic finishes. Dressed up or down - a crystal chandelier with mirrored furniture, or a simple cowhide rug on a stripped wood floor - monochrome works to enhance feelings of light and space, with graphic prints creating a sense of movement and energy.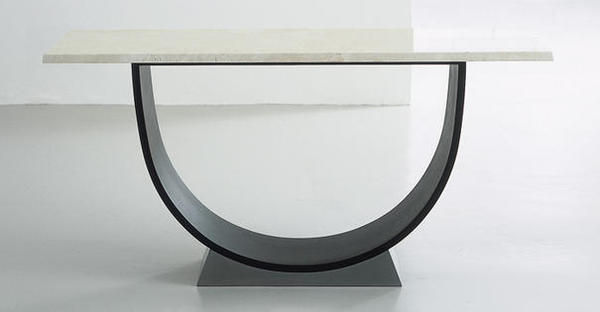 There's a huge choice of products on Furnish to dress your home in the monochrome mode. The Roman Console from Benchmark is a beautiful example of elegant simplicity, with it's black lacquered oak frame, zinc wrapped plinth and limestone top. Florence Knoll's iconic coffee and dining tables feature black and white or grey and white veined marble tops with polished chrome bases for a pared down yet luxurious modern aesthetic. Graham & Green has a fabulous range of mirrored furniture including the bevelled Art Deco Console with gracefully tapered back legs, and the Manhattan Console with an angular multi-faceted facia, which dramatises the contrasts of light and shade. The Carlton furniture range at The White Company is clad in beautifully glossy milk white glass, perfect paired with a monochrome cowhide rug. Try London Cows and The French Bedroom Company. The latter's Glitz and Glamour cowhides have mottled silver and gold metallic finishes for a truly opulent look.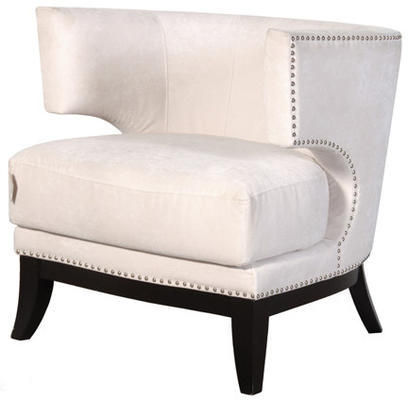 Sweetpea & Willow has a Corbusier-Perriand inspired black and white Hide Armchair, while the Anton cherry wood chair demonstrates just how well monochrome complements wood tones, with its calico upholstered seat and black lacquered backrest. Also at Sweetpea & Willow, the studded Loft armchair upholstered in black or white velvet offers perfect comfort and supreme style. The indulgent high-backed Vista sofa from Lover's Lounge takes glamour one step further: upholstered in sumptuous black velvet it's adored with crystal buttons. Occa Home's De Le Cuona cashmere cushion with silver embroidery is similarly striking, while the black Rockerfeller cushion is highly textured to engage the senses. In lighting go for Peter Bowles' classic Circle Line drop pendant, table lamp, and wall light in monochrome stripes, or for an opulent Art Deco look, try the Globe and Round Crystal chandeliers at Sweetpea & Willow. Complete your monochrome scheme with the humbug-like Omaggio Brush Strokes vase from 95% Danish.
Whether you choose striking monochrome accent pieces to set off your room or go for a coordinated monochrome scheme, this is a classically stylish trend that never loses its edge.