Buyers Guide: Lighting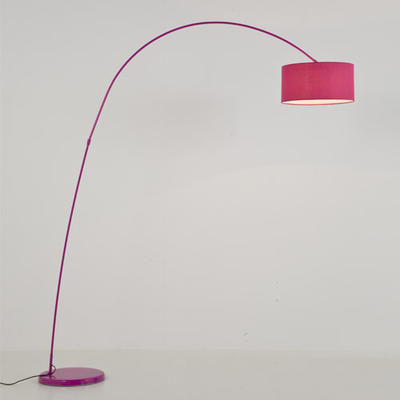 Bring a spectrum of light into your home with everything from traditional table lamps to contemporary feature lighting.
When it comes to lighting there are plenty of choices to suit every budget and style. The most successfully lit homes have a combination of practical and atmospheric light. Choosing your lighting doesn't have to be a chore because there are many styles and designs to use in the home.
Table lamps
Table lamps are a traditional and reliable form of lighting that can serve decorative as well as practical purposes. Graham and Green supply table lighting to suit all types of interior style, for example if you want to give your home office a retro look try the Task Table lamp which is made from chromed metal and inspired by an early 1930's design. Or choose the colourful Slant table lamps which are a fun and quirky idea for a children's bedroom. Lamps provide a softer, less intense light in your bedroom or living area which creates a relaxing mood. The Paris Antique table lamp from Puji has a gorgeous green glass base which gives it a natural beauty that would bring a subtle yet elegant look to any modern living room.
Floor lamps
Floor lamps offer the perfect way to brighten up a gloomy corner or alcove. Usually slim and tall, this option is perfect for those who are short of space. From antique brass to modern metal bases, floor lamps or standard lamps as they are also known are available in a variety of designs. The Scala Floor Lamp from Brissi will surely make a statement in both contemporary and traditional interiors and you can choose from a variety of lampshades including a pale grey and damask print. Alternatively, an arched floor lamp is extremely versatile because its curved arm can be adjusted to illuminate different parts of a room, and they also come in many different shapes and sizes. The Belleville arch floor lamp is an example of how these types of lamps can be simply used to fill an empty corner or they can be positioned over a bed or a chair to provide excellent task lighting. Place two matching floor lamps on either side of a bed or sofa to complete the look of your room.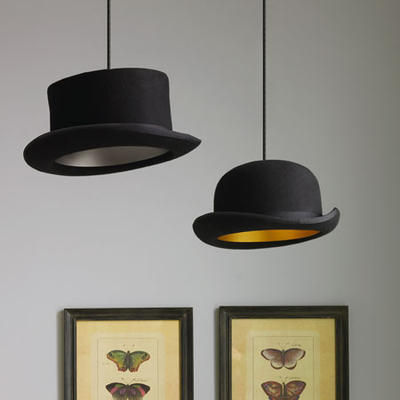 Pendants & ceiling lights
Pendant lighting looks great in dining areas and if you have an open plan living area you can use a row of pendants to separate two rooms. Create this effect with Kathleen Hill's Star Light from Rockett St George (available from Furnish). Pendants are also great for kitchen islands. in hallways or above desks because they can be combined with other types of lighting. The Victo 4250 lights are like hanging pieces of art designed by interior architect Seppo Koho; these would create a perfect romantic ambience in any bedroom.
Chandeliers are best placed in an extravagant hallway or above a dining table because they are the ultimate statement of grandeur and magnificence to leave your guests in awe. They do not provide a huge amount of light however so it's wise to invest in other lighting too. The Round crystal chandelier from Sweetpea & Willow has an array of crystals that will reflect glimmering light around your room. Or for a fantastic range of elegant crystal chandeliers check out the Chandelier and Mirror Company.
Bathroom lighting
The bathroom is probably one of the last places you think of when deciding on lighting for your home, but we all spend enough time in the bathroom to realise that it is important to get the right balance of light and to ensure that it's safe too. Mirror lighting needs to be flattering so go for something bright but not glaring; most vanity fixtures are linear so go for something like the Padova light from Heal's is ideal when placed on the wall above your mirror. A ceiling fixture in your bathroom will provide you will general lighting for the whole room, but for setting a relaxing ambience to enjoy your soak in the bath try the ultra-modern Arezzo light, also from Heal's, to give the impression of gentle candle light.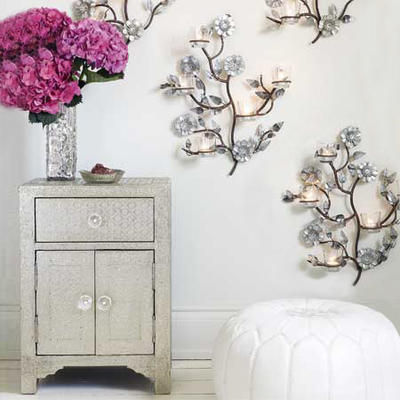 Lighting design
The current climate has given lighting design the challenge to create something that is both stylish and eco-friendly. By 2011 traditional bulbs are going to be replaced by compact florescent lamps (CFL's) most commonly known as energy-saving bulbs. These will screw into standard lamp sockets and the benefits are that they can be applied nearly anywhere that incandescent lights are used. Use specific dimmable CFL's for lights that use a dimmer switch; using a regular CFL with a dimmer can shorten the bulbs lifespan.
As always interior design is all about being unique and we all want to see something that's a bit different; I love the Jeeves & Woosters pendant lights from Graham & Green that are based on iconic British hats because they mix traditional designs and give them a new, fresh look. Or for a design completely driven by its eco-credentials, the eccentric Sticky Lamp by Droog from Leigh Harmer can be stuck to doors, walls or ceilings for an innovative way of lighting a room.
Choosing bulbs
Incandescent bulbs are commonly used in lamps and other types of lighting because they are inexpensive; widely available, and they are great for ambience lighting. Halogen bulbs emit an extremely bright light which makes them perfect for spots and downlights, and they are best used for task lighting. They are brighter and longer lasting than incandescent bulbs; however they produce a lot more heat so it's recommended that you keep them away from curtains.
For a selection of different types of bulbs to suit your needs go to B&Q (www.diy.com). And for more information and advice on the choosing the right bulbs have a look at www.doityourself.com.
We hope this guide has shed some light on where to start with choosing the right lighting for you and your home.