Trend Watch: Animal Prints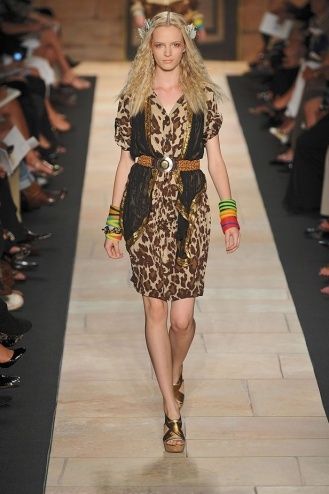 Less is most definitely more when letting animal prints loose in your home.
Interior designers have answered the call of the wild and animal prints are a fierce trend for 2010. Prowling the catwalks for some time, leopard, zebra and tiger prints show no signs of fading from view; in fact it's looking more like a stampede. But there's a fine line between style and sleaze. Allowed to run riot, a profusion of animal prints will have your living room looking like Peter Stringfellow's bachelor pad. So tame the beast and introduce these graphic prints as accent pieces to add visual drama and dynamism to your space, without swamping it. A monochrome zebra print rug in a whitewashed room makes a sophisticated statement; leave it to speak for itself.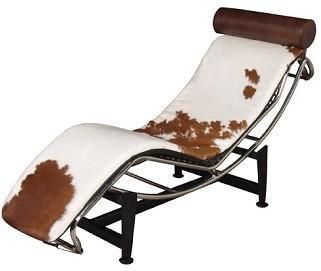 The sensual appeal of animal prints in texture, colour and pattern is what makes these pieces work in the home as striking accents. Engage the senses with different textural effects and team animal print accents with simple furnishings and block colour. Used in small doses, the graphic patterning of animal furs and skins in their natural colourings will lend an air of luxury and elegance to your scheme, while animal prints in bright colours make a playful addition to a plain interior. From wallpaper to ottomans, accessories and soft furnishings, almost any interiors product you can imagine has had the animal print treatment this season, and designers have introduced giraffe print to the usual mix of zebra, leopard, cheetah and tiger. As long as you go for only one or two pieces per room, you won't get bitten.
Transcending fashion, cowhide floor coverings have timeless appeal, adding textural interest, visual impact and a sense of understated luxury to both period and modern room settings. No two hides have the same patterning meaning you have a unique piece and an investment to treasure. Used on the floor, draped across the back of a sofa or over a bed, cowhides are versatile and extremely hardwearing: a stylish and sustainable approach to the animal print trend. Combining an exotic animal print with the enduring elegance of monochrome, zebra printed cowhides are a stylish choice. Used in isolation, cowhide footstools, ottomans and cushions add just a touch of animal print to a room without overpowering it. London Cows has a small giraffe print cowhide footstool that'd be perfect in an otherwise understated scheme. Sweetpea & Willow's Corbusier-inspired cowhide Rodeo Recliner in brown and white, and Hide Armchair in black and white are great choices for simple modern settings.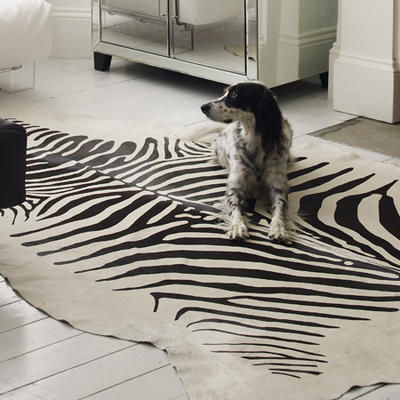 But you don't have to go for the real thing to create an elegant look with animal prints. Occa Home's Zebra cushion in soft velvet is available in beige and cream, brown and black or grey and black. The restrained colour palette and bold print creates an impression of understated glamour. Pair with a plain block-coloured sofa and other cushions with textural detailing in varying sizes. In a simple colour palette of grey and silver (zebra) and gold and silver (leopard), the Aura sequin cushion range from Heal's is another clever balancing act. Catching the light with a subtle shimmer these cushions are perfect paired with white bed linen. Depicting a cheetah lounging amid oversized and stylised foliage, the Sininen wall hanging from Sheerhome is a great alternative to animal print soft furnishings and looks fabulous against off-white walls. At nearly a metre square it's a high-impact piece, but the muted colourings of browns, creams and greens on a black background make it a stylish and sophisticated way to introduce animal print to your scheme.
The striking graphic qualities of animal prints, especially in monochrome, have enduring appeal for designers. Chosen carefully, animal prints will engage the senses and bring energy and elegance to your home.