Colour watch: Blue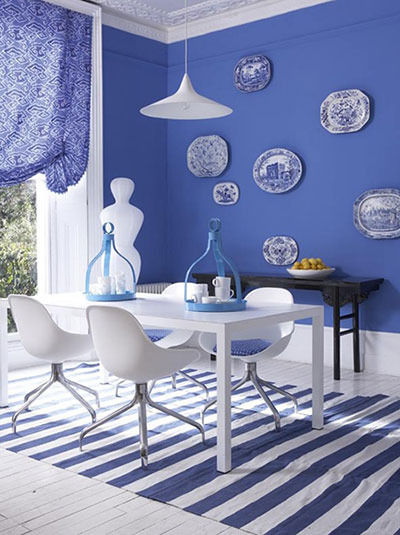 From daring midnight blues to breezy, calming baby blue hues you can blend and contrast different tones, shades and palettes to create a harmonious room.
Colour sparks individuality, creativity and mood which is why it is such an integral part of art and interior design as well as influencing the way we perceive the world. Whether you want to create a room that has a relaxing ambience or simply to add some drama and excitement there is a shade of blue for you. Blue is a primary colour and one of the cooler shades on the colour wheel that will bring a calming influence to a room. Blue shades are associated with the sky and sea, and also loyalty, stability and relaxation which makes it a popular choice in many homes.
Choosing the right blue
There are plenty of versatile shades and huesof blue to choose from that will work their tranquil magic in any room of your home. Consider the size of your room and how much natural light it gets because choosing a darker shade will make a small room feel less spacious and more enclosed. Use a colour wheel to help you make the right choices with colour; it is a visual aid to help you understand the relationship between different colours. For example, midnight and sapphire blues are great for feature walls in fair sized living rooms or bedrooms because deeper shades, when used sparingly, create a dramatic impact but do not darken the atmosphere and mood of your interior. To make the right decision for your wall colour, a top tip is to get a sample pot or tester from any paint supplier and try it out in different parts of the room where the light will hit it differently. If in doubt, go for a lighter shade with warm tones that will prevent the room feeling cold and unwelcoming.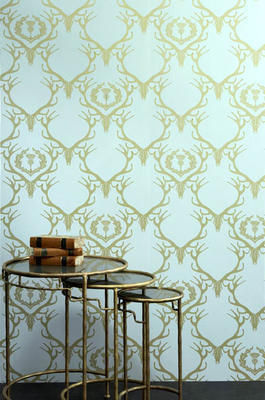 Tonal scheme
You can create a harmonious room by choosing various tones of blue which are created by adding grey or black in order to make a dulled or muted shade, or with white to give a cooler, pastel shade. Use deeper tones nearer the floor and work upwards into lighter hues to give a feeling of space. For example, an exotic blue rug will bring texture and depth to wooden flooring.
A monochrome interior is great for contrasting light and shade and will bring a different dimension to your interior. The key to this look is to experiment with pattern and texture to prevent the colours becoming too bland. A monochromatic room in blue should use a single shade of blue paired with white; sky blue walls with deeper sea blue furnishings can be combined with white fabrics and accessories such as flowing curtains, tablecloths or cushion covers. You can even bring a nautical touch to your home with classic blue and white stripes.
Analogous colour scheme
An analogous colour scheme is as easy to create as the monochromatic scheme but it provides more nuances to complete a richer look. Blue can be combined with green and purple hues that bring a deeper interest and encourage feelings of serenity because the colours are reminiscent of the ocean. Avoid combining warm and cool colours in this scheme because they will not work well together. Instead, combine light and dark blues from the same colour family that use the same undertone. This is important in maintaining a natural and desirable scheme that uses colours that you would normally find together in nature.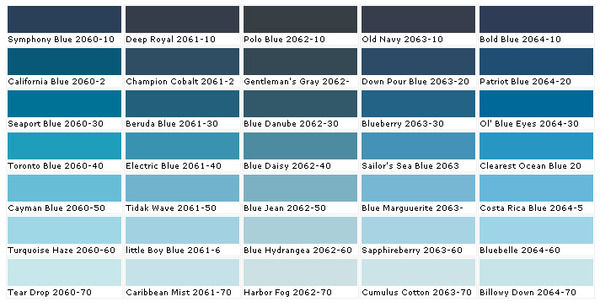 Complementary colour scheme
Complementary colours are aesthetically pleasing and they are placed opposite to each other on the wheel for the correct pairing. For the best results you should place cool hues against warm tones. Orange is the complementary colour of blue because together they provide an exciting combination that will accentuate the best features in your room. Use orange highlights in patterned fabrics or accessories, for example, because you can overdo it and create an unwanted clash of dominant colours.
Pairing one light and one dark tone of each of your chosen colours works well to give an aesthetically pleasing contrast. The pair can be combined using a muted version of one colour on the walls, and a more intense version of the other colour in furnishings and accessories. Blue with red orange and yellow orange is known as a split complementary scheme which can be used to promote a high contrast and a dramatic look. Complementary colours will work well when used in floral fabrics, drapery and upholstery to naturally highlight texture and brighten your interior.
Accents
Rather than painting an entire room in blue, you can introduce the colour into a white based room with vases, art work, cushions, and other decorative pieces. Accents can also fall out of the basic colour scheme; use complementary colours such as turquoise or fuchsia pinks to brighten up the subtle or deep blue tones in your room. Also, with metallic shades being a hot trend this season you can use hints of silver or gold throughout your room to create a feeling of opulence.