Colour Watch: Red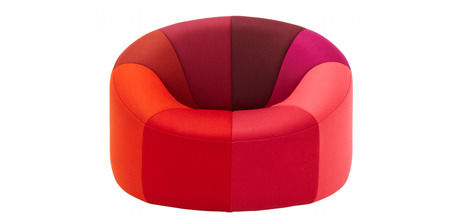 If ever there was a colour that could be characterised by ambivalence, it's red.
Colour triggers an emotional response and while some find red to be warm and seductive, others consider red to be too strident a colour and are repelled by its intensity. 'My mother warned me to avoid things coloured red', Swedish artist Claes Oldenburg recalled (as he studiously ignored her advice). Cultural interpretations of red are as polarised as emotional responses to it: red is the colour of revolution as well as royalty, of passion as well as danger, and of prosperity as well as debt. It's the very ambivalence of red that has designers returning to the colour again and again for inspiration.
In Pantone's spring 2010 colour report, the fashion director of Neiman Marcus, Ken Dowling, was in no mood to capitulate: 'RED is the message from the catwalks; bright lipstick to deep Bordeaux will fill…a colour saturated season.' In the world of interiors, Ligne Roset is celebrating its 150th anniversary this year with a trio of limited edition products, including a reissue of the 1971 Pumpkin chair by Pierre Paulin, upholstered for 2010 in a segmented spectrum of reds. And if another bold statement was needed, it's the latest temporary Pavilion to be commissioned for the Serpentine Gallery's annual series. Opening in Hyde Park on July 10th and designed by French architect Jean Nouvel, the entire structure is rendered in the vivid red of vine-ripe tomatoes, London buses, and traditional telephone boxes.
On trend for 2010, red has been applied in interior decoration for centuries. Louis XIV covered Versailles in the ruby colour, dressing 435 royal beds in red damask. Dining room walls in palaces and stately homes were decorated in rich burgundy reds as a signifier of status and a complement to gilt framed paintings, a centuries old fashion that reappeared in Victorian town houses of the 1800s. Influencing architectural modernists, and gathering around Dutch artist Piet Mondrian, designers of the early 20th century De Stijl movement used pillar-box red with black, white and primary colours to suggest the energy and vitality of modern life, and the promise of a utopian future. 1950s suburban semis were adorned with peachy and pinkish red tones, while the influence of Pop Art in the 60s and 70s saw a move back to bright reds, as well hot pinks and oranges.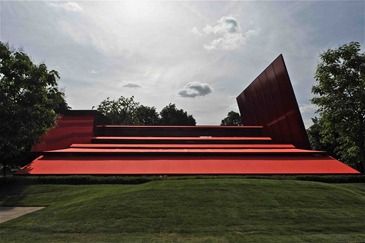 While true reds are not for everyone, the red colour palette is as various as its historical applications in interior decoration: from bright tomato to dark blood red, and rich cherry to deep plum tones; from peachy reds to terracotta and rust tones; and from scarlet and crimson to soft berry blushes. Reds with orange or pink undertones are the hottest hues, while reds with blue undertones, such as burgundy or maroon, create a sultry and seductive feel. If you're looking for depth and warmth, pair red with one of the colours next to it on the colour wheel, such as shades of purple, orange or brown. If red is to be your accent colour, pair it with a neutral such as grey or tan. And if you're going for high impact, pair your chosen shade of red with its opposite on the colour wheel: a shade of green. Bright colours go well with others of the same intensity and saturation, and if you're combining different shades of red in the same room, remember that crisp clean shades rarely work together with those of a dirtier dusky hue. While light and dark or warm and cool shades will work together, the clean/dirty combination can be jarring.
For an atmospheric dining room, try a deep red on the walls with accents in gold and grey green. In the living room, a bright red sofa with hot pink and orange cushions will create a retro feel, while combining ruby red with other jewel colours, such as purple or deep blue creates a sumptuous look. In the kitchen, red accessories create a sense of activity, lifting the spirits and leading the eye. Create a really fresh look by teaming red with turquoise, or pair reds with greys for a sophisticated and indisputably modern feel. For a romantic and restful bedroom, raspberry, moss green and dark brown are a great combination.
Take the risk out of red with fabric swatches, wallpaper samples, and tester pots; experiment with different shades and colourways to create your perfect palette.