Colour Watch: Green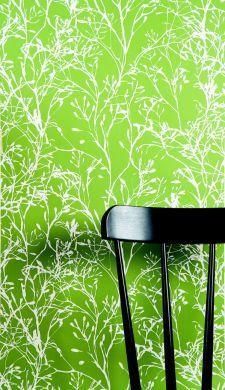 Nature's favourite colour, green works so well in interior design because it's both reassuringly familiar and alluringly escapist.
Conjuring images of rolling hills, grassy meadows and mossy forest glades, green is an uplifting and soothing colour that evokes a sense of wellbeing. In religious and folkloric tradition, green symbolizes eternal life, renewal, and hope. Yet, negative associations of poison and decay, inexperience and envy, sickness and institutionalisation, sit alongside the positive associations of green with healing and safety, freshness and rejuvenation, purity and calm. It's a question of choosing the right shade. When Johnny Cash sang 'Forty Shades of Green' he wasn't far wrong: occupying more space in the spectrum visible to the human eye, there are more shades of green than any other spectral hue.
Historically, different periods have favoured different variations of green. The dark olive greens of Georgian estates spoke of hunting lodges and ancestral woods, while the Regency period moved towards a softer, more muted shade of sage. Victorian interiors featured dark and atmospheric forest green, while an emphasis on light and space in 20th century interior design brought with it paler shades of mint in the 1930s and hints of lime in the 1950s. The last few years have seen a return to the sage grey-greens of the Regency, and elegant duck egg blue-greens remain ever popular. However, if Pantone's 2010 colour of year, a vivid shade of turquoise, is anything to go by, we'll be seeing crisper and brighter shades of green springing up in the world of interiors.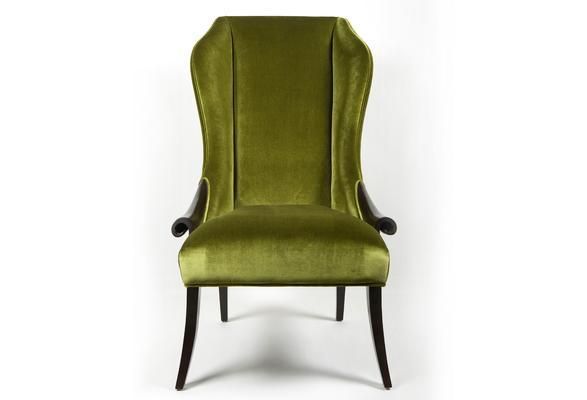 Green is a balancing colour, invigorating yet restful to the eye, making it a calming agent and a particularly liveable colour in the home. When choosing a shade of green, think about the mood you want to create: rich and dramatic, uplifting and refreshing, or soothing and meditative. Greens with yellow undertones are generally warmer, while blue greens are more tranquil. Green is a particularly versatile colour in that different shades can be combined harmoniously with relative ease. Unlike other colours, and taking nature as a model, clean and dirty shades of green can be used together in one space. For a sea of greens to work in one room, just make sure that the undertone (either yellow or blue) is the same across each shade.
Fresh, crisp greens work particularly well with black and white as neutrals, while emerald green goes fabulously well with other jewel tones such as purple and sapphire blue. Grey, yellow and gold tones are also great with green and don't let anyone tell you that 'pink and green should never be seen'. Pea green and rose pink is a joyful pairing, and combines well with brown tones. But the colour that unites every shade of green - from the misty greys through duck egg and teal, to racing green, lime and apple – is navy. Tying together the enduring sage greens and duck eggs with the current trend for fresher and brighter greens, navy is definitely a colour to watch; use it as a neutral with any shade of green and it'll give the look a contemporary edge.
Green can work in almost any space because of the huge variety of shades, but take extra care with bathrooms. Depending on your skin tone, covering the smallest room in the house with green can make you look pallid, which isn't a good look when you're getting ready to go out (unless it's Halloween). A blue green rather than a yellow green is often more forgiving. As with any colour choice, always use tester pots in the corners of the room and judge the effect of variations in natural and artificial light. Introducing green through soft furnishings and accessories is a great way to harmonise a room scheme. It's the central position of green on the colour spectrum that creates that sense of balance. Draw the eye with vivid accessories in a single shade of bright green, or create a varied landscape of different shades and textures with cushions and throws. A beautiful way to accessorise with green is with leafy plants. A variety of ferns in decorative pots bring a lovely finishing touch your home.
Breathe new life into your home and capture the essence of springtime with green.