Colour watch: Yellow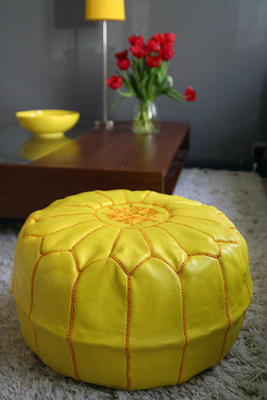 Even on a cloudy day, sunshine yellow shades will brighten up your home and put a smile on your face.
From citrus hues and bright daisy yellows to creamy and buttery shades, yellow is a comforting and warming colour. Yellow denotes happiness and colour researchers have found that it raises self-esteem. Yellow daffodils are associated with unrequited love, but yellow can supposedly sharpen memory and concentration skills. Van Gogh saw the potential and power of colour, and claimed that 'yellow is capable of charming God': he observed the strength and influence of yellow on our feelings, and this illustrates the impact that this colour can have in your home.
Choosing the right yellow
When choosing a shade of yellow, think about the mood you want to create and how the lighting in your room will affect the look. Daylight won't make yellow paint so intense, whereas most incandescent bulbs have a very yellow cast that will strengthen your paint colour. Yellow can have warm undertones such as red or orange, or cooler tones of green or brown: choose warm yellows for warm-toned rooms with dark wood furnishings for example, and cooler yellows for a neutral and natural décor. Decide whether you want to use yellow as the focus or as an accent in your room; a room decorated in soft, creamy yellows can give a quaint, country home style, while a splash of bright yellow in a dark room can make a space look modern and give a cheerful feel.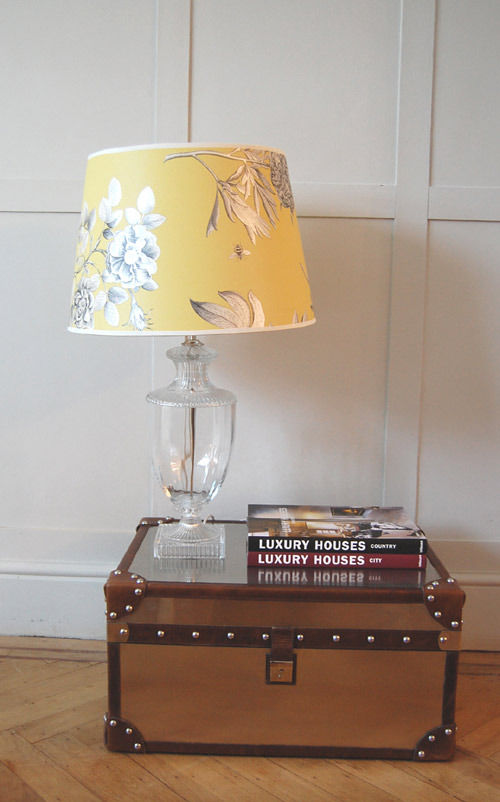 Tonal scheme
Rich, sunset yellows work well in a monochromatic scheme with black and white because they create a stark contrast whilst neutralising each other's dramatic effect. While straw and cream shades on walls are offset beautifully by sun-kissed yellows on cushions, vases, lampshades, and other accent pieces. You can compliment yellow with lots of white; drawing inspiration from nature, you can use daisies as an example of how you can create a simple, clean and fresh look. Any living area or bedroom with warm yellow walls can be enhanced and modernised with crisp white furniture, fabric, curtains, throws and mirrors.
If you want to introduce yellow furniture, minimalism is the key because too many large-scale pieces will not work as well together. Block colour is a desired trend and can work well in this case where you can use a couple of small key furniture pieces in yellow, for example an armchair and a pouffe, to inject the power of yellow into your living room without it becoming too overwhelming.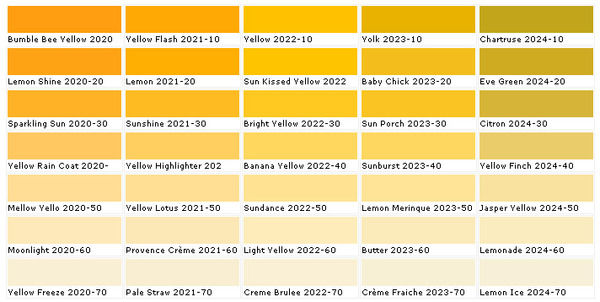 Complementary colour schemes
Since it is a primary colour, yellow can be paired with almost any other shade: use orange and red hues to enhance the warmth in a room. Choose one dominant shade and one secondary colour to make this scheme work; varying tones can give a room depth and they keep your space feeling fresh.
For visual contrast use purple, the complementary colour of yellow, to create an equal balance of tone and intensity. Purples and blues bring out the cooler tones in yellow; if you are keen to follow a pastel colour scheme try lilacs and pale lemon shades for a calming and relaxing ambience.
Warmer orange tones of yellow create a sensual and exotic look when combined with luscious aubergines; try this in a bedroom for a rich and sensual ambience.
Accents
Accents are great if you are a bit cautious about decorating all over with yellow; it is one of the most luminous of the colours and reflects a lot of light. Pair yellow with a cooler accent shade such as soothing grey which will neutralise the brighter tones. Choose bountiful floral arrangements to bring a feminine and spring-like feel to any room. Or try gold accents in your artwork, accessories and fabric, to lift your scheme and add a feeling of opulence.