A stitch in time: Siren Elise Wilhelmsen, Nadine Sterk and Merel Karhof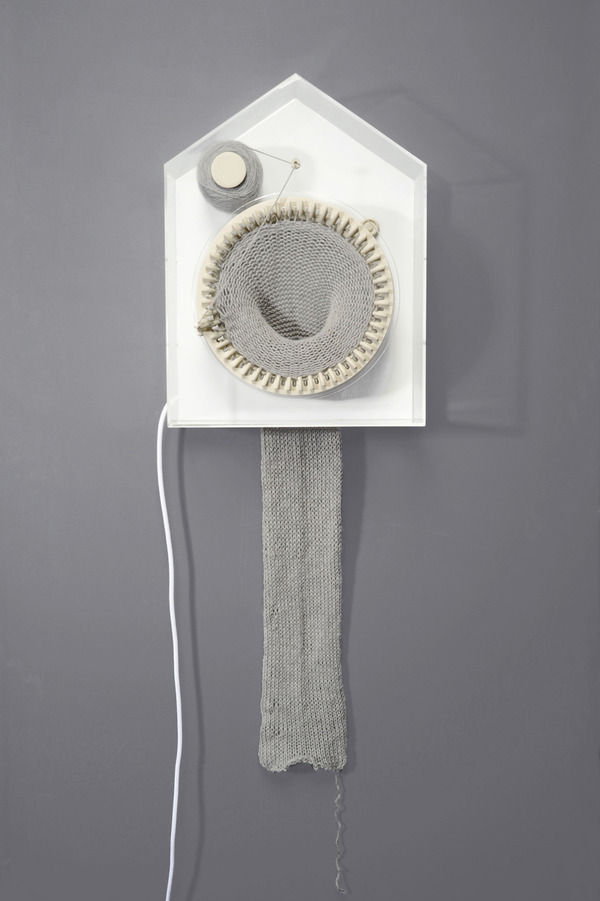 Designers take on the knitting machine.
We're used to seeing time divided up neatly on diary pages and calendars, and attributing the convenient labels of past, present and future. But time marches on regardless: the future becomes present the present becomes past, and time becomes indefinable. Intangible and beyond our grasp, time is essentially an abstract concept: the invisible fourth dimension.
German designer Siren Elise Wilhelmsen's knitting clock, '365', gives materiality to this invisible presence. The passage of time is translated in the lengthening of knitted fabric. Shaped like a house, evoking traditional German cuckoo clocks, 365 holds a circular knitting machine with 48 needles, a thread spool, a thread holder and a ball of alpaca wool. Moving in a clockwise direction, each needle denotes half an hour, and one round of knitting is completed in a day. Rolls of 'more time' yarn last for a year, by the end of which the clock has created a two metre long knitted scarf. Presenting the knitting clock, Wilhelmsen was one of six graduates from the Berlin University of the Arts (UdK) who showcased their work at DMY International Design Festival in June this year. 365 will be on show at 100% Design London in September.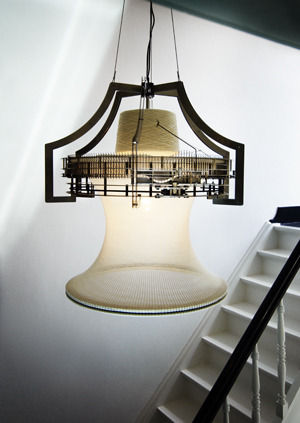 Mimicking organic growth over time, like the lengthening of human hair, Wilhelmsen's clock is reminiscent of another innovative take on the knitting machine by Dutch designer Nadine Sterk. Sterk's Sleeping Beauty is a mechanical lamp that 'grows' like a plant in the light. And just like a living organism, the lamp is equipped with all it needs to develop. Switch on the bulb and it begins knitting slowly around the light to create its own shade, pausing only when the light is turned off. The bulb generates enough energy to keep the knitting machine moving, at a rate of two rows an hour. Nadine Sterk exhibited Sleeping Beauty at Dutch Design Week's Graduation Galleries in 2006.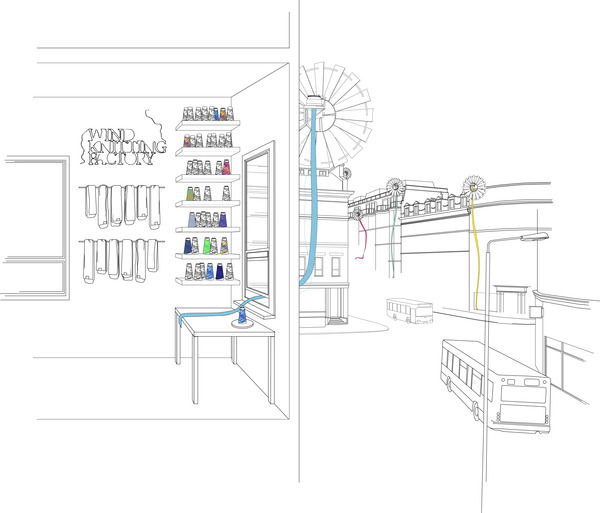 Animating space, both these beguiling objects have a Willie Wonker appeal to them and a surreal presence in the home. Exhibited at the Royal College of Art graduate show in 2009, London-based Dutch designer Merel Karhof's Wind Knitting Factory seems to epitomise this gonzo style of thinking. Connected to a wind turbine attached to a building like a satellite dish, the circular machine knits from the outside of the building through the window, powered by the wind. The knitted material is harvested from time to time and rounded-off into individually packaged scarves. Each scarf has its own label documenting how much 'time' has been knitted into it and on which date. The Wind Knitting Factory was installed at THEKEY.TO, an international event celebrating green fashion, lifestyle and culture, during Berlin Fashion Week earlier this month.
All these designs use knitting to give a physical presence to the passage of time. Time is no longer lost, but captured in the knitted creations. These designs speak to a modern desire for more time, and a tendency to regret its passing. Siren Elise Wilhelmsen's contention that time is something that unites us all, probably goes some way to explain why these knitting automata are so captivating.