Spotlight on: Margo Selby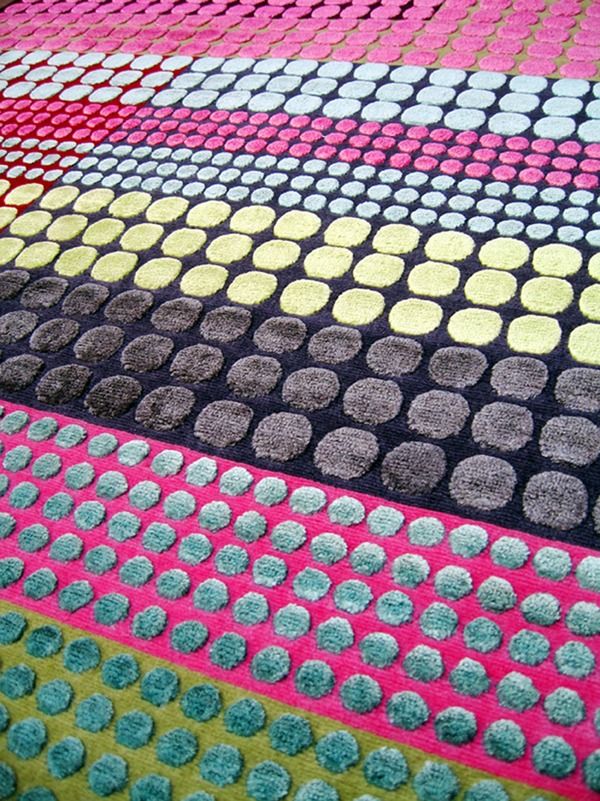 We delve into Margo Selby's vibrant world of woven textiles.
Margo Selby is a woven textile designer with a passion for design, colour and textiles. Since launching her first collection in 2003, with the help of a development award from The Crafts Council and with the success of her business, she has been able to showcase her beautiful designs in her own shop. The stylish design store opened in central London in November 2007.
Through her contribution to interior design, Margo has collected various craft and design awards and has been involved with high profile design projects including Hidden Art Select, Eureka and Design Nation. Her patterns and hand woven textiles have quickly become household favourites, and they are sold in many shops and galleries all over the world.
Margo's collection optimises her love of colour and displays her skill in working with woven textiles. Margo trained at Chelsea College of Art and Design where she gained valuable experience in knitting, printing and weaving before going on to gain a postgraduate degree from the Royal College of Art. Following on from this she spent eighteen months at The Ann Sutton Foundation where she explored using industrial machinery to manufacture her unique, trademark 3-dimensional fabrics. Margo was influenced by a family tradition of cross-stitching and crochet knitting and she developed a love for making things from textiles and any other fabrics she could get her hands on. Her collection demonstrates all of her skill and passion for textile design in a selection of fabrics, cushions, throws and wallpaper that are full of vibrant colours and patterns that instantly catch the eye.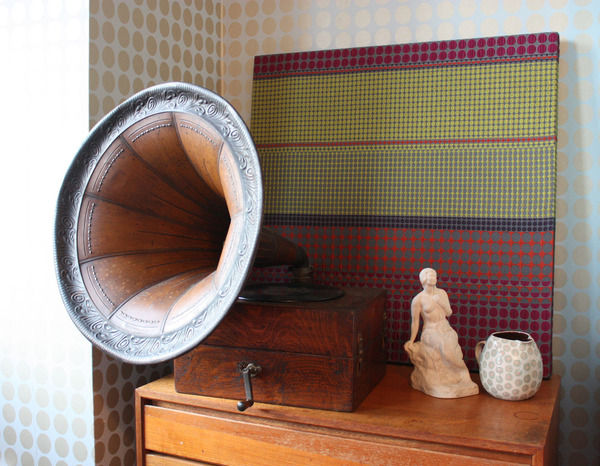 Earlier this year Margo took part in the BBC series of 'Mastercrafts' which saw her mentor three craft enthusiasts and teach them how to weave. This involved going behind the scenes of Margo's studio where there is a 24-shaft dobby loom that is used to develop fabrics for future production. The hand-woven step in the design process allows for the experimentation of structure and fibre combinations. It is obvious that great care is taken throughout the design and manufacturing processes to guarantee that all products are made to the highest quality.
Margo's bespoke fabrics are made from luxurious silk and Lycra fibres and woven in a double cloth structure to create a 3-dimensional quality.
Margo's hand knotted rugs are luxurious and encompass her signature style by using colour and geometric pattern to create aesthetically pleasing designs. The bespoke range was launched in 2008 and allows customers to choose rugs in all colours, sizes and patterns. Each one is made with a combination of wool, silk, and banana silk which is a sustainable and luxurious yarn made from the fibre of a banana tree. It's clear why these are Margo's hero products, achieving the 'Best Surfaces and Finishes Product' in the Grand Designs Awards, 2009, and they're a great example of how sustainable materials can be used in interior design to make stylish and durable products.
Bringing another dimension to the world of interior design, Margo's unique upholstered panels are a fabulous way to add interest and texture to your walls. They're carefully designed and can be made to match your colour scheme.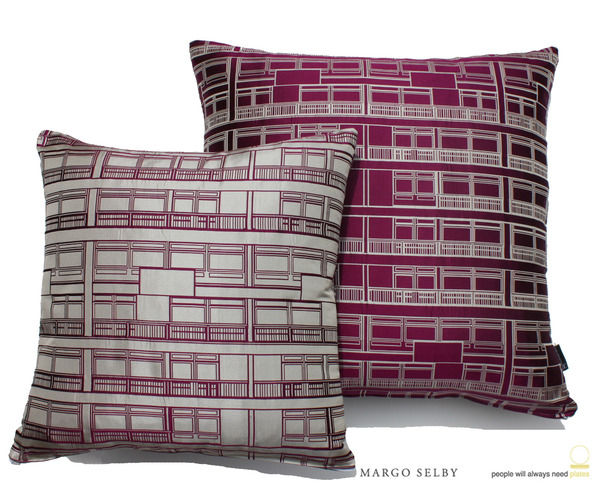 Collaborations
For her first collaboration, Margo teamed up with 'People Will Always Need Plates,' which saw a fusion of Margo's unique and structural approach to weaving with their architectural inspiration and graphic drawing style. The project named 'Trellick Tower' includes a range of textiles and lifestyle products from floor cushions to wall panels, and it has gained a vast amount of interest since its launch at 100% Design 2009. The Trellick fabric marked the beginning of an ongoing relationship between both companies; in fact, Margo is currently working on another collaborative project with them for an iconic London-based company. This will involve new woven fabrics being developed to incorporate graphics designed by 'People Will Always Need Plates'.
Also, we are eagerly anticipating Margo Selby's new interiors range which is currently being developed; this will include a collection of upholstery fabrics, and this is due to be launched within the next year.
Visit Margo Selby on Furnish for more information about all the products, and to buy online.