Style Guide: Baroque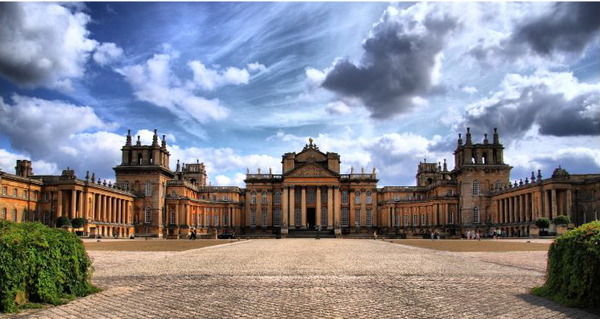 In the first of our new series, looking at design through the ages, we visit the wonderful world of Baroque.
Baroque your world…
Big, bold, and to modern eyes somewhat brash; Baroque is an architecture of imposing scale and exuberant detailing, a theatrical performance of mass and volume. Originating in Italy and taken up with gusto by the French monarchy, England witnessed a late blooming of Baroque style in the late 17th and early 18th centuries. Perhaps the most well known expression of English Baroque is the monumental St Paul's Cathedral (1675-1709), designed by Sir Christopher Wren. St Paul's epitomises Baroque handling of architectural form in a direct assault on the emotions: the vastness of scale, prodigious use of classical architectural language, and intensity of detail. Magnificent examples of English Baroque in domestic architecture, though hardly on a domestic scale, are Blenheim Palace in Oxfordshire and Castle Howard in Yorkshire; John Vanburgh and Nicholas Hawksmoor built both in the early decades of the 18th century. This was an age of palaces and era of architectural extravagance.
Intended as a monument to British military prowess, Blenheim Palace arrests the spectator the moment its fantastic roofline comes into view: a play of piers and pinnacles on a multitude of towers. Up close the awesome vastness of the classical exterior is overwhelming, with its giant order of columns and pilasters and relationships of massing that change as the spectator moves. At Castle Howard an enormous dome crowns the central block, bathing the Great Hall below it with light. The dramatic performance of mass and volume is combined in Baroque architecture with complex detailing and a sculptural attitude to the façade. Along with columns and pilasters, pediments and porticos, architectural modelling included figure sculpture; allegorical and armorial friezes; animal masks and grotesques; scrolling foliage and festoons of fruit and flowers.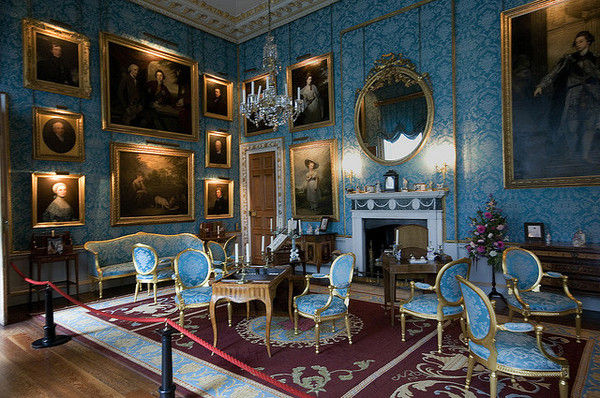 Sculptural exuberance continued in Baroque interiors. Elaborate doorcases and chimneypieces, interior columns and pilasters, were meticulously stone carved. Embellished with botanical scrolling ornament, deeply projecting plasterwork on the ceilings was matched by complex three-dimensional carved wood and plaster decoration to the walls. In a play of recession and relief, illusionistic frescoes were painted within the projecting ornamental borders; these large-scale wall paintings depicted fantasy landscapes populated with biblical and mythological figures. Wall treatments also included lacquering and embossed leather, rich tapestries and damask wallpaper. Seat furniture was luxuriously upholstered, gilt-wood furniture imitated gold, and four-poster beds were swathed in sumptuous embroidered fabrics. Intense jewel colours such as crimson, emerald green and gold enhanced the splendour of Baroque interiors. Silverware took on extravagant sculptural forms, with botanical, mythological and figurative detailing. Mirrors featured carved and moulded surrounds or were overlaid with brightly painted borders depicting chubby putti, classical architectural motifs and scrolling foliage.
Decoration, furniture and furnishings were stylistically unified in Baroque interiors. This level of stylistic coordination, the 'more is more' attitude, and the monstrous scale of Baroque design would look spectacularly odd if replicated at home; but the spirit of Baroque, the sense of drama, richness of materials and profusion of ornament that characterised the style, can be introduced though accent pieces in modern settings. The exaggeration of architectural details and a sense of theatricality are classic Baroque hallmarks. A bold Baroque-inspired accent piece is a nod to this spirit. It'll create a strong focal point, evoking the opulence of the era without overpowering the whole room. You can find the best of Baroque style on Furnish; just don't go for a full on pastiche by cramming it all in one space.
Barneby Gates' Deer Damask wallpaper is a contemporary take on sumptuous Baroque wall coverings. In rich claret and gold, stag horns and thistles are arranged in a damask style repeat. If you're inspired by Baroque frescos, Surface View creates bespoke wall coverings with exclusive rights to reproduce narrative, landscape and early religious masterpieces held in the National Gallery. Mirrors are a great way to introduce Baroque detailing at home without sacrificing on space. Graham & Green's gold over-mantle mirror with shell carving and Sweetpea & Willow's gilt-wood mirror with scrolling foliage are fabulous statement pieces for the living room or entrance hall. Perfect for the bedroom in antique white, the bevelled mirror from Oliver Bonas has an intricately carved three-dimensional surround featuring botanical ornament.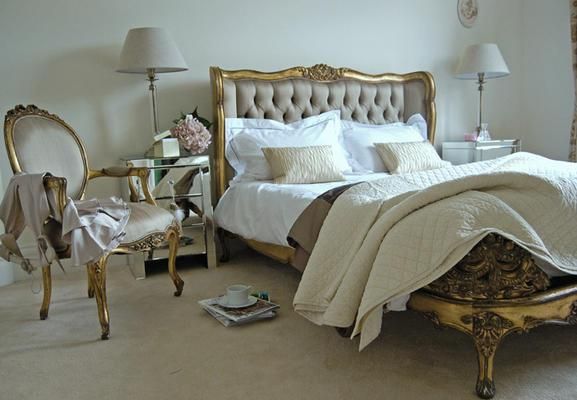 Directly influencing the development of English Baroque, the ornate furnishing style of the court of Louis XIV is emulated in the Versailles furniture range from the French Bedroom Company. Highlights include the gilt-wood and raw silk chaise, the silk damask bench and the marble topped console table. The Twilight bed from Sweetpea & Willow has four twisting pillars, reminiscent of the lathe-turned spirally twisted legs characteristic of Baroque furniture. An equally dramatic centrepiece for the bedroom, Sweetpea & Willow's Gilt Gold bed features virtuoso gilt-wood carving and grey-gold raw silk upholstery. If you're looking for something less overtly ornate, the high-backed sofa upholstered in black velvet from Rose & Grey captures the opulent spirit of Baroque in a simple but striking piece of furniture. And for a truly contemporary interpretation of Baroque exuberance, check out the stunning Fin chair from BODIE and FOU, upholstered in turquoise velvet and adorned with feathers.
Go bold and beautiful with Baroque-inspired style.