How to create a... masculine bedroom.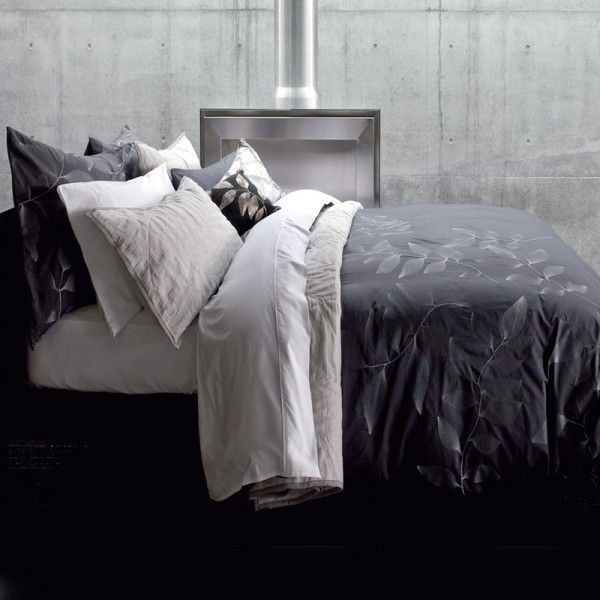 Put some swagger in your style with our tips on how to decorate a bachelor pad.
Boys will be boys... we look at how to decorate a stylish and modern masculine bedroom fit for any man.
Colour scheme
A masculine palette craves colour that invokes feelings of strength and power; colour blocking with black, white, grey, blue, green or purple will give a modern and striking look. A bold monochrome scheme will maintain a fuss-free style that limits you to two colours; however, you can keep a white and blue scheme looking fresh, for example, by bringing in boyish navy blue or grey tones in your fabrics and accessories.
Mocha browns can be enriched by cream shades or dark indigos that are accented with warmer ochre tones. Avoid pastel hues because they have a softer and more feminine feel that will contradict and confuse the look.
Wall coverings
Wallpaper, for example the Ribbed wallpaper or Monroe Special Surface, both from 95% Danish, will add texture and drama to your room. The geometric pattern in the Monroe wallpaper is in keeping with the colour block trend and shows how pattern can be incorporated into masculine style. To keep the look minimalist, try wallpaper on a feature wall behind the bed to draw attention and create impact.
Wall art is a great expression of personality as well as a form of escapism. Choose from a selection of exciting prints from 55Max available on Furnish, including images of favourite football memories and iconic film shots.
Bed linen
Don't overdress the bed, this isn't the time to go for hundreds of cushions and throws. Choose a matching duvet set and either use a solid colourway or go for plain stripes in dark colours. Pick either a lighter or darker shade of the colour you have on your walls and use this in your bedding to indulge in a cohesive look that isn't fussy or high maintenance. The Lavina king size duvet cover from Coco Male, tailored in a deep charcoal, gives a luxurious look that any man would be proud to show off.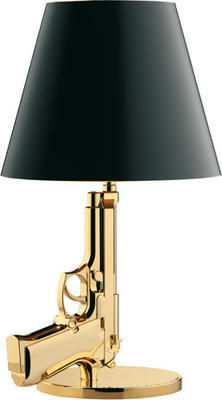 Lighting
In a masculine bedroom you can't go wrong with functional lighting that offers a quirky and innovative style. The Foscarini Diesel fork table lamp from Utility is a unique design, and the anodised metal base has the flexibility to allow the head to turn 360 degrees for directional or general ambient lighting. Or choose the Flos Gun bedside table lamp, also from Utility, which was designed by Philippe Stark who based his idea on a Baretta pistol hand gun. This feature piece instantly conjures up connotations with James Bond: how could any man resist?!
Furniture and storage
Opt for black or natural wood tones for a contemporary look. The black-antiqued lacquered finish of the Oriental Shanxi wardrobe from Puji will be set off by the earthy tones of your colour scheme. With a drawer, an internal shelf and a hanging rail, this should provide sufficient space for work suits, shirts and shoes.
The Nest bed range from Heal's is upholstered in fabric with a padded pillow-style headboard. It has a mechanism which allows the mattress to lift to reveal storage space which is perfect for all those manly keepsakes that would otherwise clutter the room.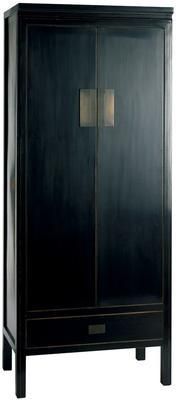 Flooring
For a simplistic look choose natural wood flooring in dark tones such as teak and walnut that will give a practical and contemporary feel. Rugs, such as the Sable green rug from Puji, will soften and bring texture and warmth to wood flooring. Or bring out a man's wild and adventurous nature with some animal prints; try the Zebra print cowhide from The French Bedroom Company to match your monochrome look and add visual interest to your floor.
Accessories
A restrained masculine style is uncomplicated so accessorising will involve sticking to the essentials. The Eclipse mirror from Tom Schneider is available in a selection of wood finishes, which will make a dark room feel lighter and more spacious.
Finally, if cushions are a must then the Etch baguette cushion from Margo Selby combines black, silver and cream colours in a woven fabric giving a 3-dimension feel that will give depth to a monochrome scheme and is suitably manly.