Style Guide: Neoclassicism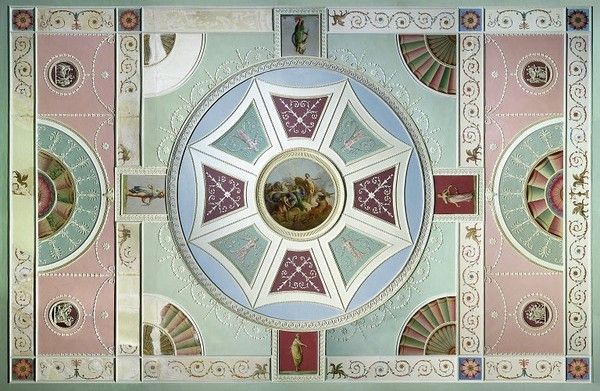 Elegant and evocative, neoclassical style has timeless appeal. Check out our period style guide and get the look at home.
Elegant and evocative, neoclassical style has timeless appeal. Check out our period style guide and get the look at home. Inspired by the ancient world, and fuelled by a spirit of adventurism, neoclassical architects transformed British design. Initially confined to handful of wealthy patrons and collectors, neoclassical style became hugely popular in the 18th century and remains an enduring influence today.
Neoclassicism emerged in Britain and France as a coherent style in the 1750s. Known to contemporaries as the 'antique manner', it flourished into the early years of the 19th century. Inspired by a resurgence of interest in ancient Greek and Roman design, the new style was fuelled by archaeological discoveries such as at Herculaneum and Pompeii in Italy, and Palmyra in Syria. Several publications celebrated ancient art and design, cataloguing archaeological finds and illustrating antique ornament and sculpture. This was the great era of the European Grand Tour; wealthy adventurers, architects and collectors travelled to the sites of antiquity, studying (and systematically plundering) the remains of the classical past. Architects pioneering the neoclassical style in Britain were James 'Athenian' Stuart and Robert Adam, both of whom had studied in Rome. These designers sought to create a distinctively modern yet eternally valid 'true style', arising from the ruins of the ancient world.
Completed by Robert Adam, Kedleston Hall in Derbyshire is a fabulous example of neoclassical architecture and interior design. The magnificence of the exterior, with its columned portico surmounted by three classical figures, stone carved roundels and niches for sculptures, is matched by the evocative interiors. The Marble Hall features twenty enormous Corinthian columns, friezes depicting ancient scenes and wall and ceiling decorations depicting classical and mythological creatures, swags and festoons. Adam's dining room at Kedleston Hall is a characteristically unified scheme, incorporating neoclassical furniture, utensils and decoration, all of which he designed. He sought to suggest the rooms of the ancients adapted to modern usage, and created a highly distinctive decorative style. Walls and ceilings (as well as floors in the form of patterned carpets and inlays) were decorated with plasterwork tablets and small-scale plaster ornament, distilled from ancient and Renaissance sources. It was Adam's skill as a colourist that set him apart from anything that had gone before. Inspired by the use of colour in ancient interiors, his patterned ceilings in particular were brought to life with highly pigmented hues: shades of pink and green, turquoise and blue were classic Adam choices. He was also a prolific self-publicist. Printed catalogues of Adam's designs popularised the neoclassical style and had a lasting influence on British architecture and interiors.
The decorative vocabulary of neoclassicism was expressed across the entire visual arts, from architecture and interiors, to ornamental and useful objects of all kinds. Symbolic of the ancient world, the vase was a dominant feature of neoclassical decoration. An absolute mania for vases and urns spread rapidly in the second half of the 18th century. Josiah Wedgwood is synonymous with exploiting this insatiable market, plundering sources ranging from printed catalogues to excavated pottery, and producing a vast array of neoclassical ceramics at his Staffordshire factory (aptly named Etruria). Neoclassical designers also used the iconic vase shape for a variety of practical objects such as sugar bowls, plate warmers and stoves as well as a design motif for surface decoration.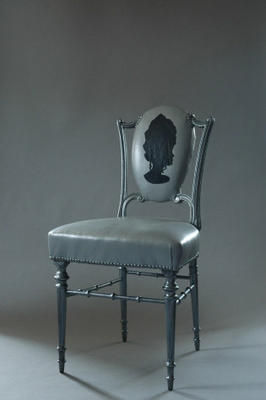 The classical figures depicted in ancient Greek and Roman art provided 18th century designers with sources of both subject matter and style. Again associated with Wedgwood pottery, classical figures were used to decorate all sorts of objects, as well as walls, ceilings and the facades of buildings. The cameo format was especially popular and figures in cameo were applied to objects ranging from chimneypieces and furniture to jewellery. Real animals as well as creatures of mythology were also fashionable decorative devices. Dolphins, lions, sphinxes, griffins and satyrs often formed the bases or handles of neoclassical objects.
Ornamental plasterwork as well as inlaid, engraved and relief decoration on all manner of objects often took the form of swags, tassels and festoons. These hanging garlands of fabric, ribbons, flowers and scrolling foliage were based on Roman ornament. Lines of small beads were another characteristic neoclassical motif. While beading was a feature of classical architecture, it was adapted in the 18th century for use as decoration on small-scale objects. This is just one example of the way in which neoclassical designers experimented with and moved beyond the ancient models that inspired them. This imaginative response to the antique, focussing on evocative visual and scenic effects rather than strict rules of architectural logic, is typical of neoclassical design.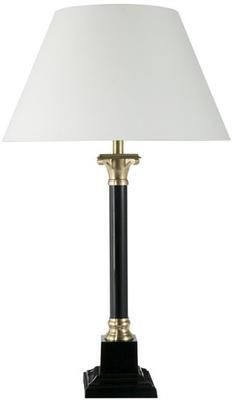 It's this freedom of interpretation and expression that makes neoclassical design so enduring and also easily combined with other styles. For example, Greek, Roman and Egyptian motifs were taken up by Art Deco designers in the 1920s and 30s. Lamps are a simple way to introduce neoclassical accents to a room. The classical urn shape forms the base of Occa Home's Cavendish table lamp, The French Bedroom Company's Claridges lamp and OKA's quirky Silhouette lamp. Roman columns inspire the Athena and Artemis lamp bases, also from OKA. Mirrors are another simple way to achieve an elegant neoclassical look. The French Bedroom Company's Burnished Beauty mirror features Adam-style decoration including swags and beading. The Nordic Grey mirror from Sweetpea & Willow has simple yet striking architectural detailing and the Large Oval mirror is a typical neoclassical design. Ghost Furniture offers a playful take on neoclassical themes with its footstool adorned with a Roman plaster foot and Marie Antoinette chair with a cameo profile backrest. Sweetpea & Willow's elegant Fig Leaf chair features the Greek key pattern, neoclassical beading and leaf details, with calico upholstery and a black ebonised frame. The monochrome Roman Console from Benchmark is a fabulous contemporary take on neoclassicism and reminiscent of Art Deco interpretations of the style. For a more traditional look, try the silver beaded console from Brissi.
Add a touch of elegance to any room with neoclassical accents.