Interview: Abigail Borg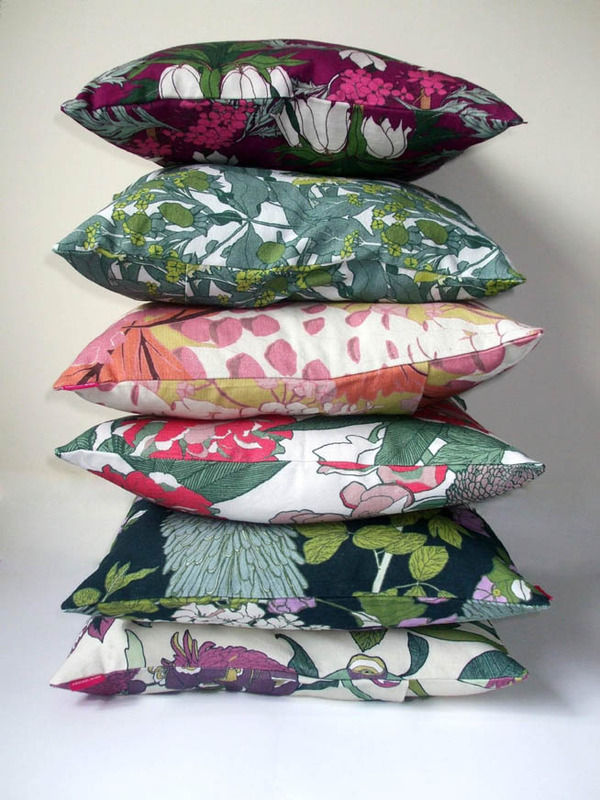 Award-winning surface designer Abigail Borg tells all.
Abigail Borg has taken the world of interiors by storm since graduating from Leeds College of Art in 2008 with a First in Printed Textiles & Surface Pattern Design. Picked out from thousands of graduates, she was named 'New Designer of Year 2008' and went on to set up on her own in January 2009. She's continued to wow industry professionals and interiors obsessives alike with her beguiling floral prints, and was short-listed by Elle Decoration at the British Design Awards 2009. We caught up with Abigail to have a bit of a gossip.
How would you describe the Abigail Borg style?
All of my work begins with hours of hand drawing – an integral part of my style. I see it as a fading craft, and there is no comparison to a hand drawn illustration against something that has been knocked up in a few minutes on a computer screen.
I have then chosen to digitally print my wallpapers and fabrics, as I don't have to compromise on colour or levels of details that I perhaps would if screen printing. If I could sum it up I'd say: 'Hand drawn; Vintage Inspired; Contemporary.'
What's your personal style at home?
I love going to car boots, charity shops and buying things off eBay, so there's lots of knick-knacks: battered picture frames and prints, scuffed storage boxes and jars, old textiles, fabrics, and so on. I'd much rather buy an old chest of draws that's been used constantly for 50 years, than a shiny, chip-free one. I also love being in the garden and spend lots of time planting and growing different flowers to photograph and draw, so there are lots of dried flowers about.
Your wallpapers and fabrics have a William Morris feel to them. What draws you to the Arts and Crafts movement and do you have any other favourite eras of interior design?
I love vintage design, particularly from the late Victorian period right up until the 1960's – lots of patterns, hand drawing, colour and craftsmanship. I enjoy looking at styles from each period and incorporating them into my own style.
As an illustrator, are there particular artists that have influenced your work?
Designers such as CFA Voysey and Walter Crane, and companies such as F. Steiner & Co and the Calico Printers Association all influence me – I love the daring use of colour and the bold lines and pattern.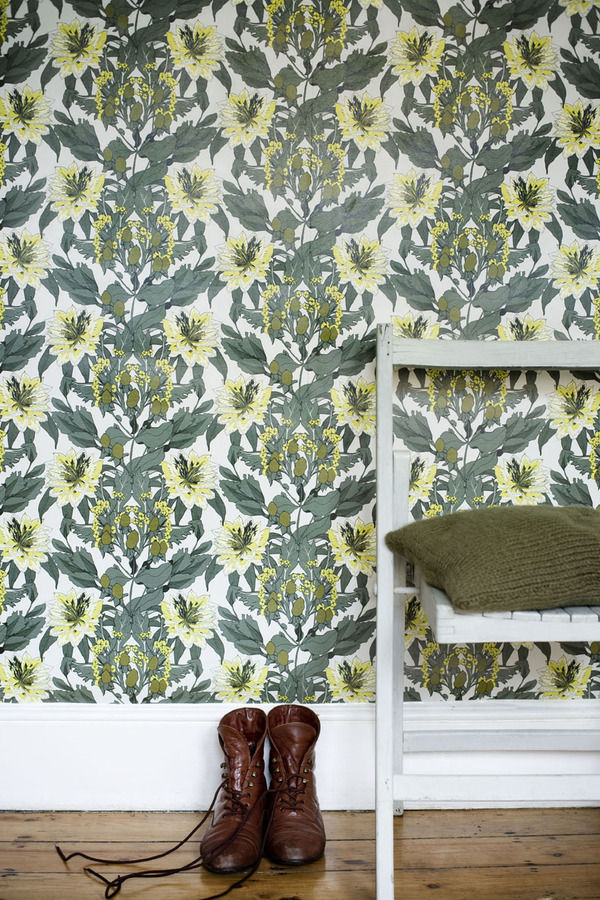 You have a very distinctive colour palette. How do you put together your colour schemes and what comes first – pattern or colour?
I generally hand draw and put together a pattern, and decide from there what sort of colour palette I'd like to incorporate. As always, I'll look at archival patterns, as well as dipping into current colour trends to come up with something that has a good balance of the old and the new.
Why do you think florals work so well in interior design?
Florals have played a major part in interior design and decoration for centuries, starting off as tapestries, mural paintings and textiles, moving into the high fashion, modern settings of today. I think it's because of this that floral patterns never date and will always work well in an interior setting. Wallpapers designed by Morris and Voysey during the late 1800s could easily be applied to a room today and not look out of place. I think the basis of good design is being able to apply a product into a setting from any era and it still looking bang up to date.
How is new technology and traditional handcraft combined in your work? What is the aesthetic result of this approach?
I love to hand draw as the level of detail and the slight imperfections are so much nicer to see that a perfected and pruned computer file. I experimented with screen printing a lot whilst at art school, and found that I had to alter the detail and reduce the amount of colours. From then on I started digitally printing, as this allowed me to have as much detail and colour as I like, resulting in designs that had both bold colours and intricate, contemporary patterns.
As well as producing your wallpaper and fabric collections, you work with clients on bespoke commissions. What has been your favourite project?
I love working on all commissions as each one is a new challenge, and no matter what the end product is you learn so much along the way. I really liked working with Johnson & Johnson on illustrations for some of their products. It's nice to work on a brief together with an art director – and to think my drawings are in hundreds of bathroom cabinets makes me smile.
What's your favourite high-street and high-end home furnishing brand/store?
Topshop! It's affordable, with higher end pieces if you're wanting to splash out, as well as having a bit of vintage in there.
And Liberty – there's so much in there and every time I visit there's always something new to look at. Plus the tea room is nice for a little sit down.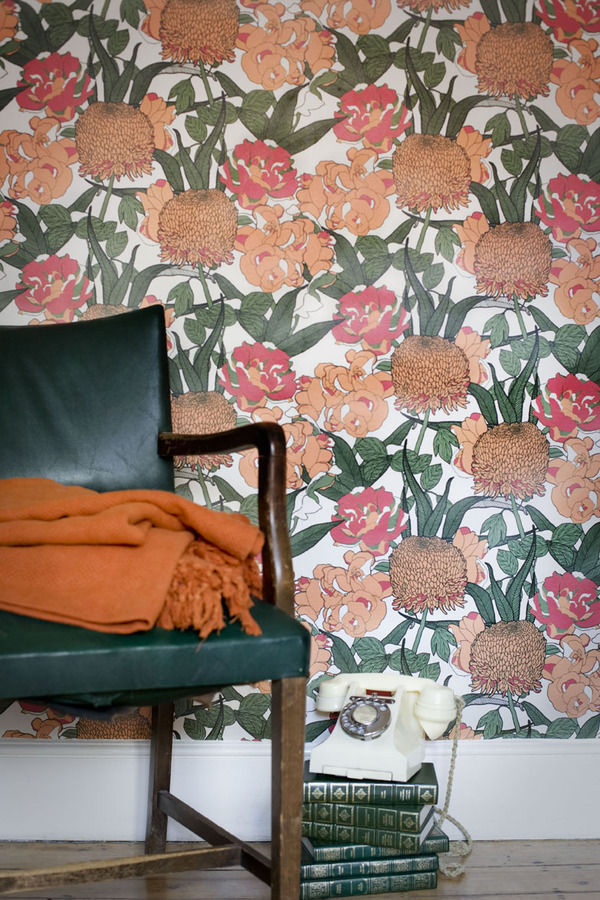 What's been your best interiors bargain?
This isn't so much a bargain, but salvage. My parents were cleaning out the loft of their house a few years ago, and on the 'take to the tip' pile was a shiny brown object. When I had a look it was a Guzzini mushroom ceiling light, which had been left there by the previous owner. They were going to throw it away as it was 'ugly and dated', so I immediately claimed it as my own!
Which three objects would you save if your house was on fire?
The Singer 3004; my mom bought it 27 years ago and it's the best sewing machine I've ever used. A box I keep lots of photos, cards, notes etc in from friends and lastly my collection of design books, journals, bibles which I'd hate to lose.
What do think will be the next big trends in interiors?
From a wallpaper point of view, perhaps some new finishes or printing methods with larger scale patterns, particularly florals.
What's next for Abigail Borg?
I'll be moving into a studio space by the end of the year, with new products and lines in the new year. I'll also be releasing a series of letter pressed Christmas cards in the next few months, as well as working on commissions for interior fabrics.
Find out more and buy online at www.abigailborg.com.