The Furnish.co.uk guide to bespoke kitchens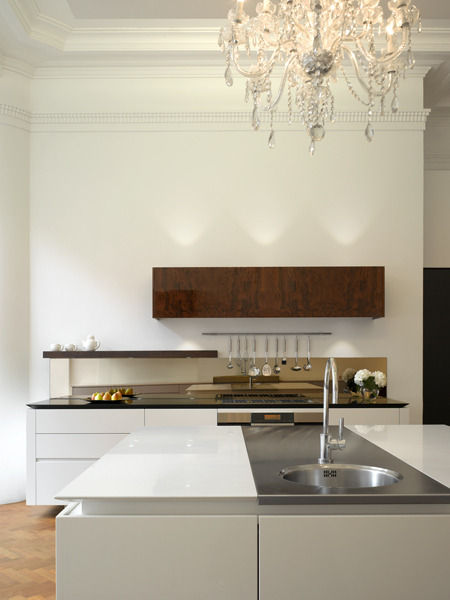 Too many cooks may spoil the broth but you can cook and dine in style with our guide to bespoke kitchens.
They say that the kitchen is the heart of the home, and there's something enticing about designing a room that's completely unique and full of personality.
Our guide leads you through all the important details that will help you create your own bespoke kitchen.
Planning
When planning a bespoke kitchen it's important to have an idea of what you want from your space. Search online and through magazines and catalogues, and visit showrooms to see what fittings, surfaces, materials and colours will work best in your kitchen. Take the basic measurements of the area to present to the designer. Practicality is a key element, so make sure you plan for sufficient storage and work top space, keeping the style you want in mind too. Your kitchen should essentially be designed around how you like to cook and dine, whether you eat on the go, cook for a family and use the space for entertaining.
A fundamental part of planning is deciding on a budget and then sticking to it, allowing a little extra for contingencies.
Finding the right company for you
There are a multitude of bespoke kitchen companies out there. One way to determine who the right fit is for you is to see previous work they've done. Most will have a online portfolios so you can do some research before even meeting them. Many kitchen companies will offer a complementary design service so take your plan to them and discuss the various options. Gather a few quotes from different companies and decide which one will offer you the best bespoke kitchen design to fit your budget.
Top Tip: Roundhouse Director, Jamie Telford, says that meeting designers is a great idea: "Find someone who you can work with. A good designer will be able to guide you confidently through the whole process to arrive at your perfect kitchen. Designing a bespoke kitchen is a collaboration between you and the designer and it should be fun!"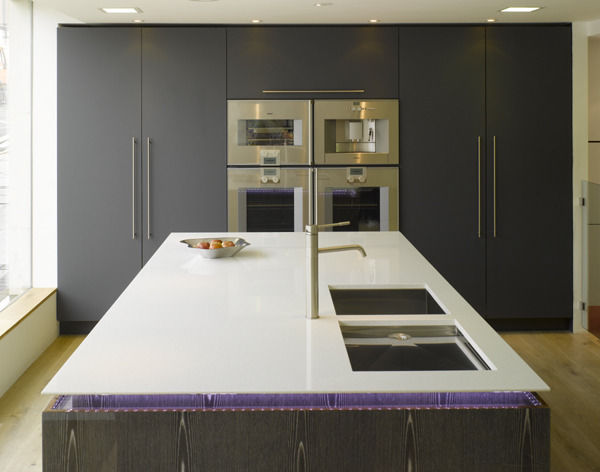 Setting the brief and budget
You will discuss options and alternatives with the designer, so be prepared to be flexible with your overall brief. The designer will find the most suitable design to fit your kitchen and your budget. Some of the main points you should cover in your brief are: what style kitchen you want; the measurements and layout; chosen colour scheme, lighting, wall and floor treatments, and your budget limit. Try not to be too swayed by the budget when you meet the designer, while top-of-the range designer taps may be something they view as an essential, you may not agree.
Top Tip: Advice from Jamie Telford, Roundhouse Director: "A new kitchen will add considerably to the value of the property but the budget should be in-line with the re-sale value."
Choosing your kitchen
Think stylish but functional, and consider what works and what doesn't work well in your current kitchen. Keep resale at the back of your mind because anything too personal may deter future buyers. The best types of kitchen are functional; create a "universal" room that will be versatile for everyone from children to the elderly. For efficiency, use "the work triangle" as a basis for your design, ensuring that there's a clear space between your sink, fridge and cooker.
Take into account the amount of natural light that enters the room because too many wall-mounted cupboards can make a room darker. Colour is also an important element in the overall appearance of a kitchen; white has always been popular because it gives a clean look, however too much white can create a cold and sterile feel.
Remember the whole point of choosing a bespoke kitchen is so you can get exactly what you want. Don't be afraid to ask your designer for something out of the ordinary or different to what they suggest – you're the one who will have to live with the finished kitchen so it's important it fits your style and home.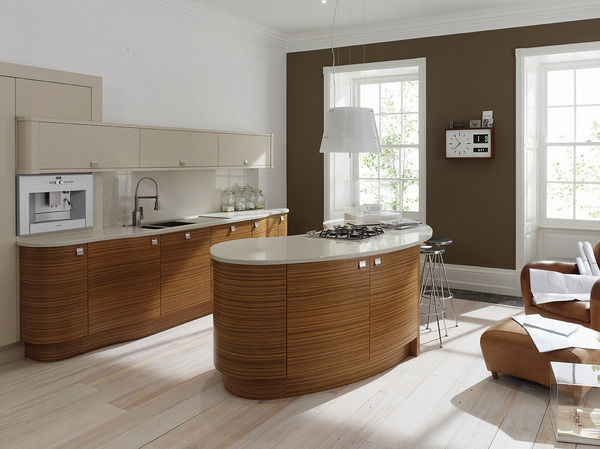 Choosing the extras
Worktops need to be highly durable, heat and stain resistant, and easy to clean. You can choose from wood, granite, stainless steel, or composite stone, and bespoke versions are available from different designers. Lizzie Beesley, conceptual designer at Metris Kitchens, commented: "The trend for material mix is gathering pace and increasingly more than one surface material is used in the kitchen to great effect. Design-wise, material mix can be used to differentiate work areas or to simply create a contrast between materials, textures and colours. If granite or stone is simply too costly to surface an entire kitchen, then consumers elect to have one area in stone, perhaps an island unit, and then the other areas in laminate."
Roundhouse offer bespoke splashbacks in glass, stainless steel and veneers as an extension of the work top to protect the walls. However, not all bespoke kitchen companies offer tiles and flooring, so check out Fired Earth's collection of handcrafted tiles, or Stonehouse's natural stone tiles to complete your bespoke kitchen.
Avoiding the pitfalls
A common cause of worry is that designers will overcharge or pressurise you into paying for something you don't want. However, as long as you have researched and found out what's available and at what cost, you will establish a confident relationship with the designer.
Think about whether your ideal kitchen is realistically going to work in the space that you've got; plan around the size of your kitchen and maximise the potential it has with practical and innovative storage solutions.
Top Tip: Jamie Telford (Roundhouse Director) picks up on one of the most common mistakes: "Don't try and cram too much into your kitchen. Don't get carried away with your appliance list, and have so many appliances that you have no storage space."