Style Guide: Chinoiserie and Exoticism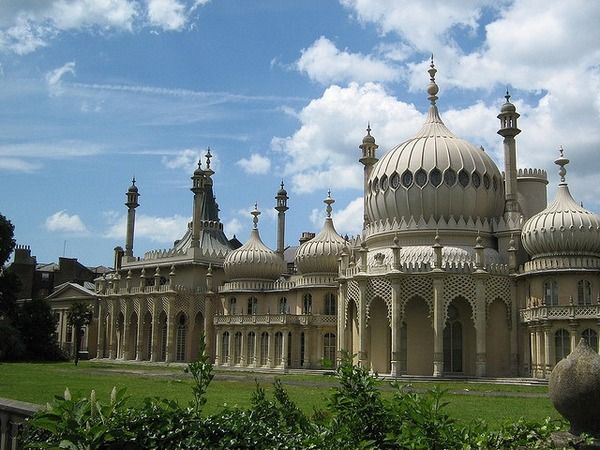 Discover Chinoiserie style and spice up your home with a hint of Eastern promise.
Chinoiserie designers tapped into European fantasies of Eastern exoticism. An insatiable desire for exotic goods fuelled the imaginative re-creation of a veiled and mysterious land for European consumption. The East became a magic lantern for the projection of European desires.
Fantasies of Eastern promise and Oriental opulence have stirred the British imagination for centuries. The opening of trade routes with the East had a huge influence on British design and exotic styles reached the height of fashion in the 18th century. A mania for porcelain, silk and lacquer imported from China and Japan inspired British designers and craftsmen to imitate Asian designs, creating their own fantasy versions of the enigmatic East. A generalised impression of mysterious Eastern lands, and the exotic allure of China in particular, inspired a fanciful style that came to be known as Chinoiserie. At the peak of its popularity in the mid 18th century, Chinoiserie was often combined with Rococo, a style characterised by exuberant asymmetrical ornament and sharing similar fantastical elements. Chinoiserie remained popular in the 19th century and Art Deco designers looked to the East once more in the 1920s.
In the 18th century Chinoiserie style was used right across applied arts, as well as for interior decoration, furniture, and garden buildings such as the pagoda at Kew. Objects featured fantastic landscapes, fanciful pavilions, exotic birds and Chinese figures. Interiors often combined genuine Asian elements such as Chinese wallpaper and porcelain with imaginative evocations of the East. Dragons were popular decorative motifs, epitomising for British designers the mysterious allure of Asia. The rooflines of Chinese pagodas were also incorporated into a wide range of Chinoiserie objects, including ornate gilt-framed mirrors and canopied four-poster beds. Wooden furniture was often lacquered, or 'japanned', and decorated with imaginary Oriental scenes. Chair legs might take the form of bamboo, and latticework backrests were derived from Chinese screens.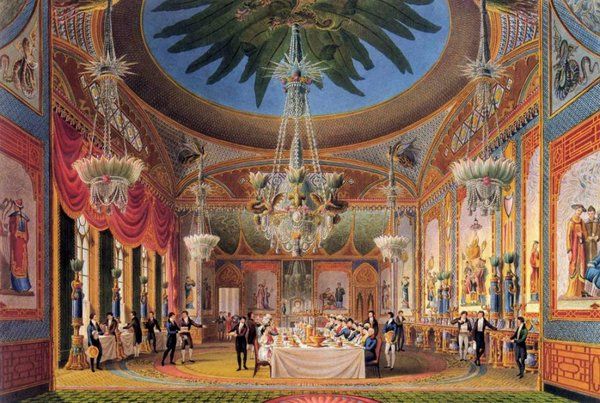 While Chinese was the most popular of the exotic styles throughout the Georgian period, by the end of the 18th century the vogue for exoticism included Egyptian, Moorish and Indian influenced designs. Along with Chinoiserie these styles were often combined in fantastical objects and interiors. A fabulous example of the plurality of exoticism is the Royal Pavilion in Brighton. Between 1815 and 1823 John Nash transformed the original neoclassical building into a fantastic (and fantastically camp) Eastern palace for King George IV. The extraordinary exterior combines Indian, Moorish and Chinese architectural styles. Mogul-inspired onion domes, minaret towers and tented roofs preside over Islamic arches and perforated screens based on Indian jalis.
The interiors underwent several phases of Chinoiserie decoration, designed by Frederick Crace and Robert Jones. Vaulted plasterwork ceilings were designed to evoke the interiors of tents and pagodas. Interior columns took the form of palm trees and oversized bamboo canes, or were decorated with plasterwork ornament in the form of lotus leaves. Serpents and dragons slivered across the walls. The cast-iron balustrades of the central staircase imitated bamboo and the walls in the long gallery, depicting an illusionistic Oriental scene, were partitioned with simulated bamboo fretwork. Painted skylights, lanterns decorated with tassels, and magnificent crystal chandeliers with glass lotus leaf shades lit up the rooms. The whole place was absolutely saturated with colour and pattern. Luxurious wall-to-wall carpets featured elaborate hand-knotted designs, and drew together the decorative elements of each room.
Personally I can't think of anything much better than a palm tree column to bring a bit of class to a home; but if you don't want to go for the whole Chinoiserie shebang, you can find elegant Eastern-inspired accent pieces on Furnish. OKA's Manchu furniture range features Oriental landscapes picked out in gold on a black lacquered ground. The Manchu chest has a different scene on each of its six drawer fronts. In the traditional blue and white glaze, the Kraakware lamp base is hand-painted with Chinese warrior scenes, and crockery is available in the same pattern. The oversized Imperial vase is a striking accent piece, with characteristic blue and white pattern, long slender neck and bulbous base.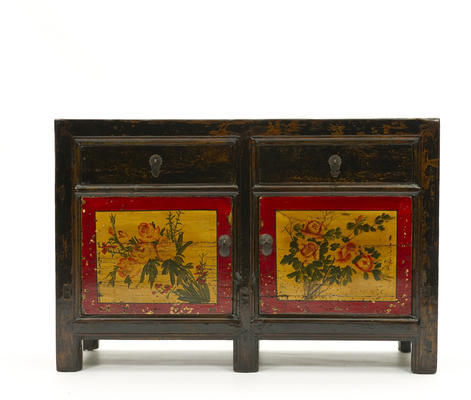 Orchid sources antique Chinese furniture and creates sophisticated Eastern-inspired pieces using sustainable materials. The Mandarin furniture collection is effortlessly elegant, displaying clean lines, lustrous black-lacquered finish and authentic brass handles and door catches. The Mandarin screen features four richly lacquered panels with traditional Chinese fretwork on the upper sections. Evoking the rich colour scheme of Chinoiserie style, Orchid's reproduction elm cabinets have a yellow-gold lacquer finish and each door features a hand-painted red chrysanthemum in a ceramic-blue vase. Restored antique pieces include a beautiful lacquered elm sideboard (c.1870) with vivid hand-painted decoration in red, yellow and green.
Lombok sources furniture direct from factories in Indonesia and Vietnam. Highlights include the solid wood black-lacquered Canton range with distressed finish and patinated brass handles and drawer pulls. The Canton sideboard and nine-drawer chest are particularly striking. Puji specialises in the design and import of recycled hardwood furniture, which is hand made in Indonesia by local craftsmen. The Shanxi furniture range in white or black lacquer has an understated elegance and would fit in with almost any decorative scheme. I've got my eye on the dressing table.
Create an atmosphere of Eastern promise with exotic Chinoiserie-inspired pieces.