Style Guide: Art Nouveau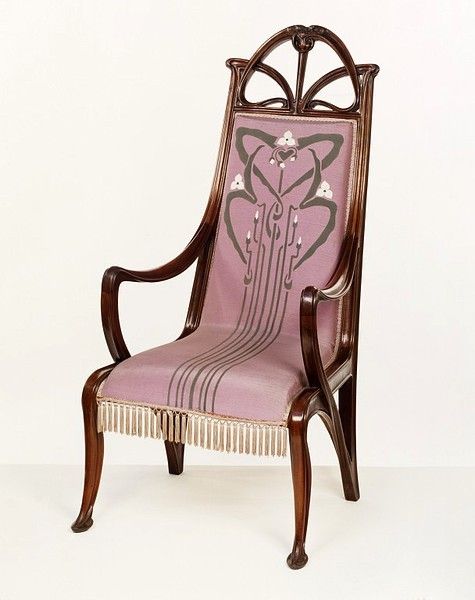 We look at the enduring influence of Art Nouveau and its affinity with biomorphic mid-century modernism.
Art Nouveau style emerged in France around 1890 and quickly became internationally recognised and reproduced. It arose at the end of a century that had witnessed momentous upheavals in religious, scientific and political thought. A new modern style was needed to reinvigorate the decorative arts and express the spirit of the age. Proponents of the new style were determined to move beyond the indiscriminate jumble of historic styles and derivative decoration popular in the 19th century. Equally, they challenged the dominant canon of Classicism, which with its strict logic and certainty of proportion seemed to mock the restless fin de siècle spirit. Instead, Art Nouveau designers looked to nature for inspiration and created new vocabulary of design incorporating both desire and anxiety.
Plant forms dominated much of the Art Nouveau style and were used across the whole range of applied arts, as well as architecture, interior decoration and furniture design. Roses, poppies, irises, orchids, cyclamens, fuchsias and lilies were among the most commonly used floral motifs. Plant forms covered the facades of buildings and grew out of furniture; swirling vegetal ornament featured on glass, silver and ceramics; flowers were cast in bronze and carved in wood. Flora and fauna, including dragonflies, birds and insect forms, adorned everything from architecture to jewellery. Furniture had a lightness of dimension and proportion, expressed by elongated, graceful lines and lithe organic forms. Sinuous lines based on plant fronds, stems and tree branches were used to convey the dynamic forces of nature as well as simmering sexuality; flowers were often personified as languid maidens and long flowing hair was another eroticised decorative device. The dynamic whiplash line and the integration of human and plant forms were characteristic of Art Nouveau design.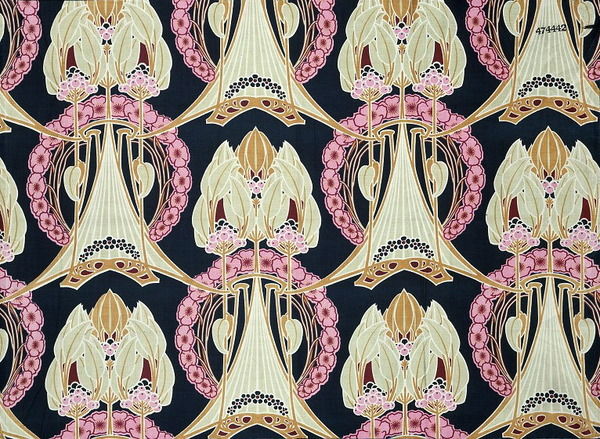 The decorative details on Art Nouveau architectural facades were carried through to interior design and furnishings to create a remarkably coordinated style. By 1900 almost every item of use or decoration was available in the Art Nouveau style: from cutlery and biscuit tins to lampposts and railings. Hoardings were plastered with advertisements designed in the Art Nouveau graphic style. The Art Nouveau poster became one of the most ubiquitous manifestations of the style. In Paris, celebrated Art Nouveau architect Hector Guimard was commissioned to design several entrances to the metro; Guilmard's sculptural cast iron entrances were studies in sinuous Art Nouveau detail. The city itself became an expression of the style. Selling Art Nouveau goods, Parisian department store La Samaritaine was housed from 1905 in an Art Nouveau building designed by Frantz Jourdain and decorated by Eugène Grasset. In London, Liberty & Co. commissioned designs for pewter, silver and jewellery in the Art Nouveau manner and its popular printed fabrics and wallpapers were also inspired by Art Nouveau pattern designs.
It's easy to see an Art Nouveau influence in surface pattern design, particularly at Liberty's, which continues to produce fabrics and accessories with its signature peacock feather and scrolling Ianthe designs. Timorous Beasties' distinctive fabrics and wallpapers featuring winged insects, amphibians and plant forms capture the play of desire and anxiety typical of Art Nouveau. Abigail Borg's bold floral patterns draw on the composition of abstract plant forms in both Arts and Crafts and Art Nouveau designs. Decorative accessories are another area where the influence of Art Nouveau forms endures. The silver flower loop vase and loop candleholder from black + blum exhibit the same sinuous lines characteristic or Art Nouveau ornament. In a beautiful vivid blue, the tactile 2lips vase from 95% Danish has a flower bulb shape and ridged glass detailing. Johnathan Adler's bird bowl and Graham & Green's sculptural dove vase recall the menagerie of birds and beasts in Art Nouveau decoration.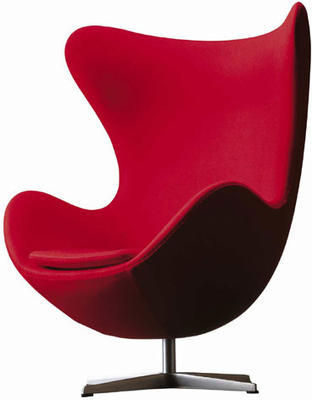 In furniture it's interesting to look at the link between Art Nouveau and the biomorphic forms of curvilinear modernism in the mid 20th century. The modernism of the 1940s and 1950s reflected advances in biochemistry and nuclear physics; designers looked to organic models in creating a new humane style (epitomised by Eero Saarinen's 70 MC designed in 1948 - better known as the 'womb' chair). The fluid lines and attenuated curves of biomorphic modernism owe much to Art Nouveau. Many of these designs are still in production today. Designed by Arne Jacobsen in 1958, the Swan Chair and Egg Chair manufactured by Fritz Hansen transpose the dynamic lines of Art Nouveau decoration into three dimensions. You can find both chairs at Utility. Another reissue from Utility, the Wishbone Chair designed in 1949 by Hans Wegner has the same grace and lightness of Art Nouveau predecessors. La Chaise by Charles and Ray Eames is an iconic biomorphic design available from the Lollipop Shoppe. A contemporary take on biomorphic modernism, the Tongue chair recalls the whiplash line and sexualised motifs of Art Nouveau.
So you don't have to go for flower maidens and flowing hair to give a nod to Art Nouveau.