Happy Birds cushions by Roddy & Ginger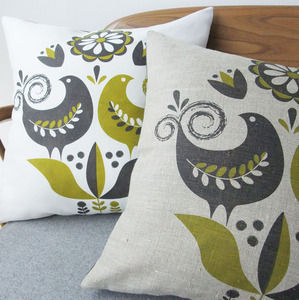 Add some retro flair with these Happy Birds cushions from Roddy & Ginger. £25
I have a thing about retro textiles, which I mostly attribute to a 70s bedspread my Mum had when I was growing up. It had huge, brightly coloured flowers and was my favourite, so the passion for all things retro obviously started at a young age.
Which is why I adore the range of cushions from Roddy & Ginger. The sweetest owls sit alongside bold geometric prints but my pick is these Happy Birds cushions.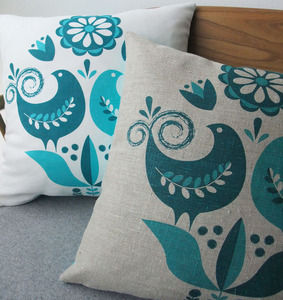 Available in teal and turquoise and grey and olive, they're screenprinted onto natural linen and hand made.
I love the vibrant colours and gorgeous attention to detail in the design.
Perfect for adding a pop of colour to a living room or bedroom, I'm going to use mine on a neutral chair.
See this product at Roddy & Ginger...
(We don't list this product yet but sign up to our newsletter and we'll let you know if/when we do)