Getting ready for Christmas - How to create the perfect hallway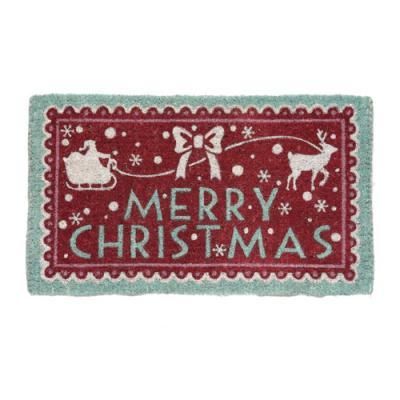 How to create the perfect festive hallway.
The 25th of December comes but once a year, and in the bleak midwinter (carolling, anyone?) it 's important to keep our spirits high in lieu of freezing conditions, cancelled trains and general low spirits. Everyone knows that first impressions count, which is why we've put together this indispensable guide to giving your hallway a festive makeover. Merry Christmas!
Flooring
One of the cheapest and best ways to create a festive-feeling entrance is with a welcoming doormat. I adore this (above) delight from the Dotcom Gift Shop It has a simple, old-fashioned charm about it, which is a refreshing antidote to the 'spend spend spend' culture that surrounds us all at this time of year. Your guests will feel jolly the moment they set foot in your home.
If you have tiled-flooring in your home and want to give it a Christmas makeover, try some brilliant Stars Tiles Stickers from Spin Collective, available from the Furnish website. They come in 20 different colours, including festive red, silver and gold.

Lighting
The correct lighting is essential to make the festive entrance to your home perfect (especially if you want some romance under the mistletoe). I personally believe that you can never go wrong with tea-lights; they are extremely cheap and create a wonderful atmosphere. Buy a packet, pop them in these beautiful Puji tea-light holders and place them around the entrance. If you want something a little funkier, you need fairy-lights. String them around the doorway, the banisters – anywhere you can! Try this brilliant garland-light. It has 8 multi-functional settings and can be moulded to fit around anything.
Or, check out the excellent table-top lights.They are battery-operated, so if you've run out of sockets it doesn't matter. Try draping them along a console table to add some festive cheer.
Paint and Wallpaper
Now, I'm not going to suggest that you completely redecorate your home just for Christmas, but with a few little tricks you can make your entrance spectacular. Why not buy a length of claret and gold wallpaper from Rockett St George and pin it on one wall to make your entrance feel super-decadent? The design is the epitome of quirky-British, and the colours are gloriously festive: the perfect backdrop for Christmas gluttony. For a less expensive wall decoration, buy a roll of brown paper, some Christmassy stencils and pot of glitter-glue or paint and unleash your inner artist! Your finished paper will look so very retro and charming, and any that you don't use to decorate can be recycled as wrapping-paper.
Furniture
A console table is the perfect place on which to scatter your candles, or your nibbles, or glasses of mulled wine to greet your guests with. If you don't have anything suitable, try this stylish black console table from The French Bed Company. Decorate it with table-lights or a sprinkling of Christmassy confetti. Even when the festive season is over this table will look great in your home.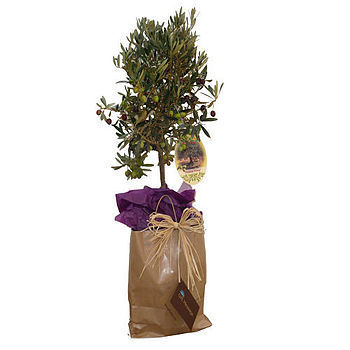 Decorations
Now, for the best part of all – decorations. First and foremost, you need a great wreath. Without one, you'll look like Ebenezer Scrooge. I love this simple wicker wreath. You can personalise it with your own baubles or place holly on for a more traditional vibe – whatever takes your fancy.
A lovely little tree in the hallway is a must, but it's hard to get hold of small Christmas trees that aren't fake, and therefore very tacky. As an extremely stylish alternative, buy this beautiful Large Olive Tree . It will look wonderful if decorated with some burgundy ribbon.
I love a good paper-chain, but like fake trees, they can err on the vulgar side. However, the Dot Com Gift Shop comes to the rescue with their charming 50's vintage-style paper-chain kit. You can loop these around anywhere you feel needs a touch of retro-festive charm.
If you fancy a very old-fashioned feel to your hallway, buy some cheerful Christmas bunting from Laura Ashley, available from their online store. The range is brilliantly kitsch and will look fantastic in your home.
Next up: baubles. The wonderful thing about these is that they can go on the tree (obviously), or you can tie some to a length of twining to make your own personalised garland. My mother hangs them around mirrors, which looks stunning. I love this antique-style glass-ridged bauble,it has something of the 1930's about it. I like to mix up bauble styles, so will be placing this alongside something sweet like a scattering of felt robins from The Contemporary Home. They look adorable; I'd like to eat one up, and I imagine your guests will too.