Trend watch: Chunky cable knits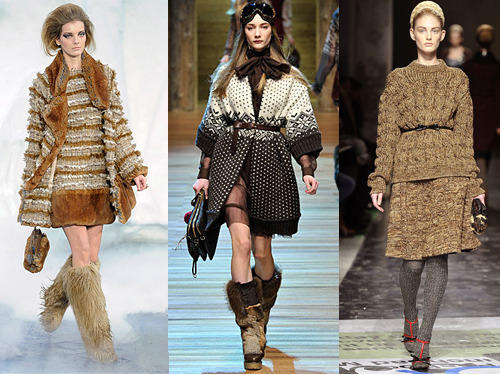 Cosy up with chunky knits
Fabulous textures are in style, so don't drop a stitch; treat your home to some cosy chunky knits. We show you how the knitted look can bring a cosy charm to your home.
Chunky cable knits are no longer just a catwalk fashion trend; you can bring them into your home in the form of cosy cushions, luxurious throws and even stylish stools. Whether you want to bring texture, warmth or colour to a room, a knitted accessory is a great choice. This trend celebrates an oversized, voluminous style, and what's great is that you can introduce knits to any room of your house.
The Knitted Floor Cushion in yellow from 95% Danish can bring bold colour into a room and provide versatile but comfy seating for you and your guests. You can sit on them, lean against them or simply stack them to suit your needs. Or try their Knitted cylinder cushion, available in green and coral, to give a splash of colour to an otherwise neutral scheme.
Knit one, purl one…knitting has always been associated with grannies but the tradition of crafts lives on and in fact, the world of interiors has taken on a whole new knitted perspective. There's a renewed interest in crafts, particularly knitting, and the traditionally loved style of the cable knit is being used in more ways than one to bring a homemade element into your home.
Who needs chandeliers and extravagance when you can have something with a personal touch? I adore the hand-knitted thick, woollen threads of the 'Granny' pendant lamp by Pudelskern for Casamania. These lamps are made from pure natural sheep's wool and each lamp can be traced back to the flock where the wool came from. A natural treatment is applied to make the wool flame resistant and to avoid moth and mite infestation.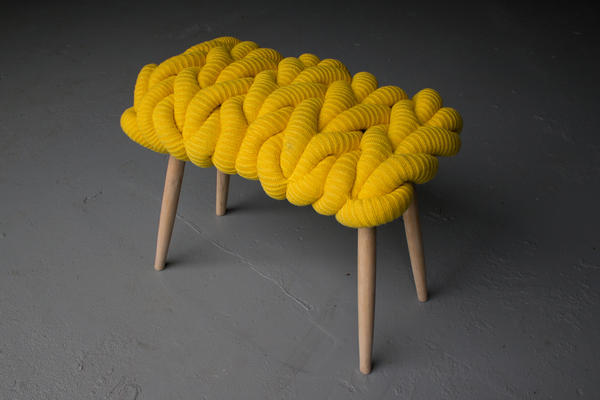 If you're looking for a stylish furniture piece, Claire-Anne O-Brien's statement collection is inspired by elements of the knitted stitch itself such as rings and loops. Her chunky knit stools are all handmade in ash with hand-knitted seats in either lambswool or a merino wool and mohair mix. The stools are also available in chunky British sheep's wool which are all undyed in their natural colours. One of these stools would be a fantastic way to introduce the chunky knit trend to your home, combining style, colour and comfort.
Layer beds and sofas with knitted throws and cushions for a luxurious style that will mean you'll never want to venture outside again. One of these chunky knit merino wool blankets from The Wool Company would be perfect for a cosy evening in. Or the chunky aran knit throw is perfect to cuddle up to; the pure new wool gives it a chunky, warm look and feel.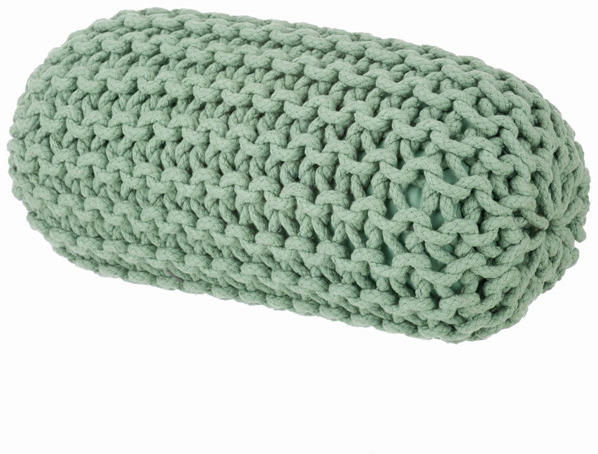 Add texture to your pencil pots and vases and bring a warm and comforting feel to your living room or study with a Ferm Living Knitted Vase from Stylish Life. And if your home is in need of added storage, why not choose these knitted storage baskets, available in three sizes, from Rockett St.George. These gorgeous knitted baskets are made from 100% cotton rope and come in three different colours to suit your colour scheme.
With interior design becoming more eco-friendly, it's no wonder that the knitted trend is proving popular. Wool is naturally flame retardant, it helps control humidity, and it's even good at absorbing sound. So go for a luxurious rug to make the perfect feature piece on wood flooring in a living room.
This is certainly a popular traditional trend that can be kept alive with a little imagination and a modern twist.