Trend Watch: Metallics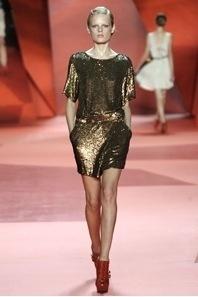 Metallics are big news on the catwalk again this season, we show you how to make them shine in your home.
Metallics have been on the catwalk for a few years now, and the good news is they are still bang on trend. During 2010 there was a distinct focus on reflective sequins as seen at Phillip Lim and Balmain, but for Spring/Summer 2011 we have seen the emergence of a more delicate, soft, metallic look. From the flowing shimmer maxi dresses seen at Jenny Packham and Victoria Beckham to textured metallic bags with a hint of a sparkle at Mulberry.
On first thought, metallics in the home may seem sterile and space-age, however, the metallic trend can easily be integrated into any home, maintaining a relaxed yet modern feel. The contrast of soft furnishings and strong metallic lines can create a really interesting look in any room, so get creative and start experimenting!
If you're looking to make a drastic change, apply Barneby Gates All Star Gun Metal Wallpaper - Gun Metal to one wall, and apply silver shimmer paint to the rest of the room. This Wilderness White Gold Wallpaper from Danish is delicate and elegant, perfect for smaller rooms wishing to go for a metallic wall without it being too overpowering.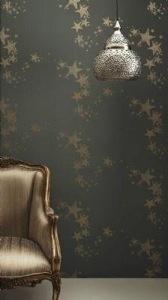 Mirrors are great way to make rooms look more spacious and fit in perfectly with this trend. Looking for a round mirror? Check out the Lombok Metal Plated Round Mirror and Silver Swirl Mirror from Alexander and Pearl. The Lombok Metal Plated Mirror is a fabulous full length option. Other metallic inspired pieces such as Medina Metal Stool from Coco Male and Lombok Walton Table Lamp would add to the look. The textured finish of these pieces make them less severe and both would add a touch of luxury and sparkle to any room.
For a hint of the trend add metallic accessories such as Lombok Decorative Stainless Steel Leaves. These beautiful metal leaves look great placed on a plain surface or in a vase. Metal Wall Art is another way to embrace the trend and Garden and Beet do some great pieces, such as Metal Wall Art Wild Flower. Looking for something a little bit more unique? Check out Chrome Dreyfuss Telephone from Oliver Bonas and Aluminium Greyhound Bookends from Sweetpea and Willow.
For an instant injection of the metallic trend, incorporate a feature piece such as this Chrome Silver Embossed Large Chest from The Orchard. With a unique look and texture, this attention-grabbing chest pays homage to the decadence of the catwalk. This Chrome Embossed White Metal Coffee Table from Graham & Green is a perfect example of a metallic piece which stands out yet remains stylised and homely. Compliment with Chrome Moroccan Metallic Fabric Pouffe from Coco Male for an ethnic feel.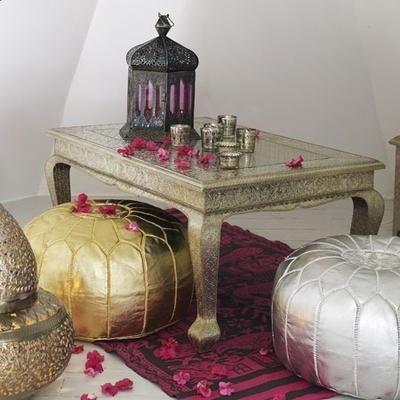 The trend could also be introduced into your home with a gorgeous metallic rug and Heal's have both gold and silver rugs to choose from. The Mercury Silver Shaggy Rug is more of a statement piece whilst the Metallics Gold Rug is more subtle, leaving people guessing what you've changed without being too obvious. Slightly more expensive, either of these would work as an investment piece, fitting in with various colour schemes for many years to come.
So, step away from the space age, but embrace 2011 by integrating unique metallic pieces into your home. These shimmering tones will make it feel unique, trendy and comfortable.