How to create the perfect kids room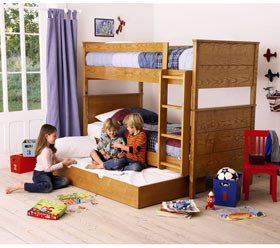 We show you how to create the ideal space for your children to enjoy
Creating a fun yet practical room for your child to spend time in can be tricky and time consuming. Especially when you've already got your hands full looking after them! So we've put together a handy guide full of exciting ideas for your child's room.
Furniture
There is a huge array of furniture available for your child's room, depending on the kind of space you wish to create. This
Finding a good wardrobe is also important as this can provide valuable extra storage space in a small room. This junior wardrobe from Found Home Store has adjustable shelving as well as plenty of hanging space.
As your child grows up you might also want to consider adding a desk to the bedroom, to create an organised space for them to do their homework. This vintage inspired school desk from Ghost Furniture has space to store books inside, and one lid doubles up as a blackboard; perfect for keeping younger children entertained.
Storage
A bookcase is an ideal place for your child to store and display all of their books and toys. This eye catching doll's house unit from Great Little Trading Company is sure to brighten up any little girls' bedroom.
Alternatively, a toy box is the perfect solution for hiding away those piles of teddy bears and games. This chunky wooden toy box from John Lewis provides plenty of storage space, and comes in three different finishes to suit every interior.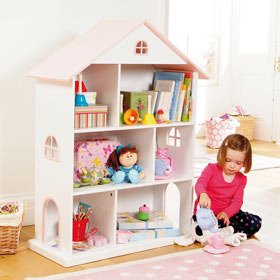 Textiles
The perfect time to get creative with your kids room is when choosing bedding and curtains. Textiles can be used to brighten up simple surroundings, and can be easily updated as your child grows. The Pole House has a wide selection of beautiful bedding in bold colours that children will love, such as this pink animal baby blanket.
Buying children's bedding doesn't mean compromising on quality either, as this luxurious organic cotton duvet cover from The Fine Cotton Company proves. The blue stars and moons design provides a perfect bed time theme, and with a 200 thread count you can rest assured that your child will have a comfortable night's sleep.
Cushions are great for adding a cosy finishing touch to a child's bed. These cute character cushions from BODIE and FOU, will add a splash of contemporary colour to the room as well as being perfect for cuddling!
Wallpaper and Wall Stickers
Prints and wall stickers will help to add the fun factor to a child's room. This striking animal tower wall sticker from 95% Danish is perfect for animal mad kids, whilst these psychedelic fairground stickers from BODIE and FOU will make an exciting feature of a plain wall.
This funky penguin print wallpaper from Caroline McGrath will give a modern yet practical lift to a bedroom; its wipe clean surface makes it a perfect choice for a room full of sticky fingers!
Children love to put their own stamp on their bedroom and this bold multi frame from Oliver Bonas will offer them an opportunity to get creative. Let your kids pick their favourite photos to add to the 28 frames; you could even add old postcards and drawings for a homely touch.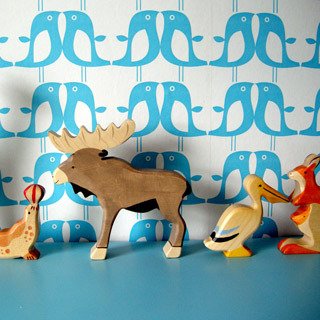 Flooring
Placing a rug on the floor of your child's room can make the space feel warm and inviting, and there are plenty of fun options available at the moment to help add a colour statement to the space. This cloud shaped rug from Heal's doubles as a play mat, and the bold helicopter and plane motif is sure to capture a child's imagination.
BODIE and FOU offer more contemporary flooring options, whilst still using cute designs that children will love. This apple rug has been designed by Michele Masson for the range, and will add a bright quirky touch to a kids' bedroom.
Lighting
Adding an eye catching lampshade to the ceiling, or a lamp to your child's desk provides a lovely finishing touch to the bedroom. Hunkydory Home have a gorgeous selection of lampshades in different prints. This magic jungle lampshade will add some fun colour to a younger child's bedroom, and is also available in a matching cushion, whilst this red gingham shade offers a more classic lighting solution.
Night lights are also a great idea if your little ones have trouble getting to sleep. These cute magic lanterns from Great Little Trading Company give out a gentle glow as the pictures slowly rotate for a soothing effect.
Your child will spend plenty of time in their bedroom as they grow up, making it important to create a bright and beautiful space for them to enjoy. Hopefully the ideas above will help you to create a multi-functional room where they will be able to play, learn and sleep.