Beautiful Bespoke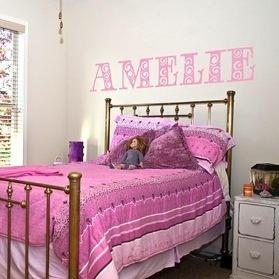 Want that unique look? Going bespoke needn't break the bank, we show you how.
Bespoke is all the rage at the moment and it might seem like a unique look or piece is going to cost a lot more than something from a regular retailer, but just a few small personal touches can show off your personality and make the difference in your home.
Wall stickers are fabulous place to start.
These name letters are great, particularly for a child's room. They can brighten up a plain wall and add real character, and come in various colours. No doubt your son or daughter would be pleased having their name up above their bed! Or for a kooky spin, you could spell out KITCHEN, LIVING ROOM, BEDROOM in each appropriate room to create a personal, playful feel.
Personalise your bed with a bespoke headboard.
The French Bedroom Company make bespoke headboards from £300 right up to £1295 depending on what you're looking for, and these range from contemporary brights to boudoir luxury. They'll make any bedroom feel original and lavish, additionally the excellent quality means they're a great investment piece.
Want to design your own piece of furniture?
London Cows has an excellent range of bespoke furniture including chaise, chairs and footstools. Here you can choose your hide (own fabric, natural cow hide or zebra hide) as well as the furniture design (size and leg style). Prices for their bespoke range start at just £200. The unconventional cowhide and zebra print really would create an unusual, eccentric look.
Rocomara also make unique bespoke pieces. They produce their bespoke console tablein different colours and finishes at request, as well as the pricier bespoke coffee table, bespoke screen and bespoke turquoise side board.
Take it one step further by designing your own sofa or bed.
Sofa.com lets you do exactly that. From armchairs and the classic L shape, to divans and button headboards you can choose a style and fabric to suit you. Want more? They even let you choose your own fabric and offer customised extras on request. Prices start at £600.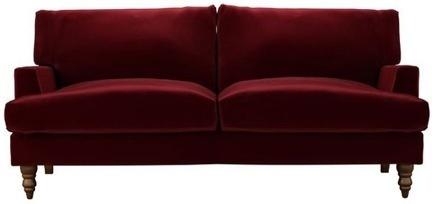 Looking to jazz up your floor?
Crucial Trading, who specialise in natural flooring, offer a great bespoke rug service. On their website they have a tool where you are able to choose the size, pick the weave and fabric of the rug centre, as well as the optional inner border and outer border. You can even choose a background floor colour to see what your chosen design would look like on your floor. Great for those who want a long lasting piece, which suits your personality as well as your room!
Not an artist, but want a unique canvas?
55 Max offer a bespoke service where you can create single image or photomontage canvases which start at just £79. You can choose the images and submit them and they then come back to you with a design. 55 Max also create personalised roller blinds starting at £109 as well as bespoke wallpaper and fabric (starting at £45 per square metre).
Rockett St George also produce two bespoke canvases bespoke Name Tattoo Canvas and bespoke Name Bird Tattoo Canvas which are quirky and cost just £55 each.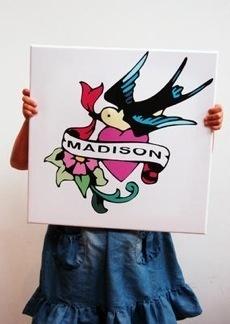 For distinctive curtains and blinds go to The Natural Curtain Company. They make bespoke curtains, roman blinds and roller blinds. When choosing curtains (Starting at £52 for 1m x 1m) you choose the fabric (they send out free samples), heading, lining and any extra details, then simply pay. Roman blinds start at £148 and roller blinds at £125. It's incredibly quick and easy. You can even use your own fabric if you want a really personalised pair of curtains or blinds. You can even order cushions and bedspreads to match or clash depending on your taste!
Feeling Inspired?
Fantastic! Get painting, designing, browsing and buying to create your very own bespoke home. Whether it's a unique photomontage wall or a vintage piece of furniture found at your local car boot sale you've re-upholstered, be proud of who you are and show off your personal style in your home.