Buyer's guide to Blinds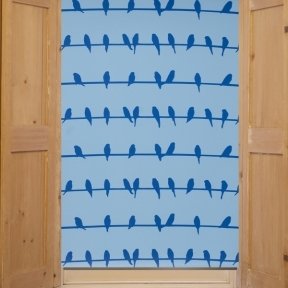 We've put together a handy guide fulll of the best blinds for your home
Blinds provide a great modern alternative to curtains, and look just as great in the kitchen or bathroom as they do in the living room; making a bold feature of an otherwise dull window. We've put together a selection of gorgeous blinds in styles to suite every home, in this handy buyer's guide.
Roller Blinds
Roller blinds are one of the most popular window dressing options, are often the most economical choice. The blinds are made of a stiffened fabric that rolls up completely when open, allowing plenty of light into a room during the day. This stylish bird print roller blind from BODIE and FOU has a quirky design that would look great in a bathroom or kitchen. For a more classic look, this woodland roller blind from John Lewis, has a delicate leaf print that would suit a more neutral home.
Venetian blinds – wood
Venetian blinds add a contemporary finish to windows, and look great in an office or the rest of the home. Made from horizontal wooden slats, they provide a huge amount of light control. Most hardware shops and department stores offer a great selection; for a wide variety to choose from, in various colours and sizes, John Lewis is a great place to start. They offer wooden venetian blinds in a range of different colour finishes and widths, with prices starting from £35.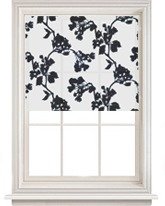 Venetian blinds – plastic
Plastic venetian blinds are great in kitchens and bathrooms due to their wipe clean surface. They are easy to find on the high street, with the majority of venetian blinds being made from either plastic, wood or aluminium. Companies like Keeleys Blinds are also a good option, as they offer a wide range of colours and materials in bespoke sizes; you can even request free samples so you can check the style in your room before you purchase.
Roman blinds
Roman blinds are made from soft fabric that hang flat when fully extended, but gather into pleats when raised for a beautifully luxurious way to frame your window. These gerbera print blinds from John Lewis are a lovely classic cream colour, with a bold floral print that would look great in a living room or bedroom.
Black out blinds
Blackout blinds are made from densely woven fabric, and are perfect for completely blocking out unwanted sunlight; a great idea for your bedroom, or for a child's room in the summer months. This <a href=" http://furnish.co.uk/items/24873-botanica-readymade-white-blackout-roller-blind-range">blackout roller blind from Heal's has a stunning floral print that would look great in any room. Heal's also offer a wide selection in plainer fabrics, for example this linen blackout blind which would be ideal for putting underneath curtains, if you want to limit the amount of light entering your home but prefer the look of drapes.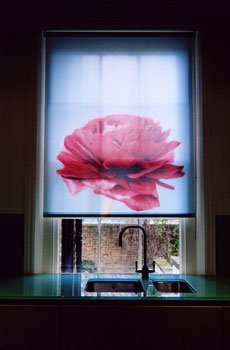 Picture blinds
Picture blinds are a fantastic way of making a real feature of your windows, and make a funky alternative to wall art. This gorgeous Georgia blind from Elle Doran has a stunning print of a red peony flower, and would be perfect for brightening up a kitchen. Picture blinds are a great idea in small rooms when there is little wall space for hanging pictures or other images. This gorgeous forest print blind ,also from Elle Doran, would make an eye catching feature in any room; the serene image of the forest clearing creating a feeling of calm and space.
Before purchasing it is important to take accurate measurements of your window recess to make sure that your blinds will be able to fully extend, and that there is room for the operating mechanism that allows you to close and open your blinds. It is also important to measure outside of the window recess to decide how far you want the fabric of the blinds to extend on either side.
Blinds are certainly a great alternative to curtains, and with a wide selection of stylish and practical blinds to choose from in this guide you're sure to find the perfect pair for making a bold statement in your home.