Style Focus - Shaker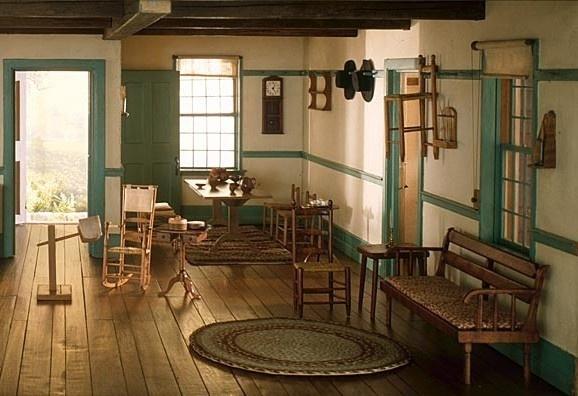 A unique interior style full of beautifully handcrafted wooden pieces and a refreshingly neutral colour palette.
The Shakers were a religious sect who were founded in eighteenth century Britain and emigrated to America after being persecuted for their beliefs. A group with roots in Christianity, they were most known for their focus on the importance of gender equality and their communal way of living. Despite having very few members remaining in the modern world, the Shakers have left a great cultural legacy which continues to be reflected in contemporary interior design.
In terms of home furnishings the Shakers believed that every item of furniture should serve a purpose or have a function, and disregarded the need for unnecessary decorations within their homes. However, all furniture was carefully designed and built to perfection as it was believed that the quality of their handiwork was a testament to God.
Colours
The Shaker style is characterised by a very limited colour palette, as any paints or dyes used at the time were made with natural plant dyes and clays. Walls should be kept neutral with off-white or cream paints in a matt finish, or leave walls completely bare like the plain plastered walls that were favoured at the time. If you're a fan of colour, and can't live with a completely neutral palette, then choose soft furnishings in primary colours; reds, warm yellows and dark blues in natural fabrics will help to add a cosy touch to your home.
Furniture
This ladder back chair from Pavillion Broadway is a classic example of a Shaker style chair, with a beautifully crafted wooden back and woven seat. The ladder back chair was an extremely popular style and is perfect for creating a rural feel in a kitchen or dining room. The dining table itself should be equally simple, with a trestle table being the traditional choice. This rustic oak table from Lover's Lounge is a gorgeous dining table that provides enough room for the whole family to sit down together.
In the bedroom, choose a well crafted wooden bed frame that will look timeless. Cherrywood and maple were two of the most popular woods at the time, but most kinds will work equally well within this style. This meridian bed frame from Heal's comes in walnut or cherry, and has been exceptionally crafted to give an elegant yet clean finish.
Storage
Within a Shaker inspired interior it is important to have plenty of storage space in order to create a room which is uncluttered and open plan. Traditionally, peg rails would be hung around the room to provide a place to hang mirrors, tools, clothes and even chairs! This four peg shaker rail from Heal's is available in light or dark oak, and is a great replica of a traditional Shaker peg rail. Of course we aren't suggesting you hang your chairs on it, but it would be great in the hallway as a place to hang your coats and hats.
Wardrobes and chest of drawers should sit together on one wall, and be of a similar style. This oak chest of drawers from Alexander and Pearl makes a bold statement with its military style brass handles, whilst remaining uncomplicated in design. This full hanging wardrobe from Puji would pair perfectly with the drawers; the dark wood adding heaps of rustic character to the piece.
Accessories
Candles provide the perfect finishing touch to this minimalist style, by acting as subtle decoration. Plain candles would make a stunning centrepiece in these walnut candlesticks which have been elegantly crafted for a high end finish.
For a more contemporary take on the Shaker style, add some colour with soft furnishings. This check table cloth from The Contemporary Home will add a homely touch to a wooden dining table, with the grey colour ensuring that the bold gingham print remains neutral. This gorgeous cotton throw from Occa Home will provides warmth and style to a sofa or bed. The deep red colour is in keeping with the Shaker colour palette, and even the heart motif provides a subtle nod to the trend; a common image within Shaker design is a hand within a heart.
The Shakers had many great ideas when it came to home design; the focus on open plan communal living is an idea which transfers easily to contemporary homes where space is often expected to be multifunctional. Although the overall look is somewhat minimal, the importance of good quality pieces of furniture means that the look is timeless and can be updated with the addition of cushions and blankets for those that like a less neutral palette.