Style File: Arts & Crafts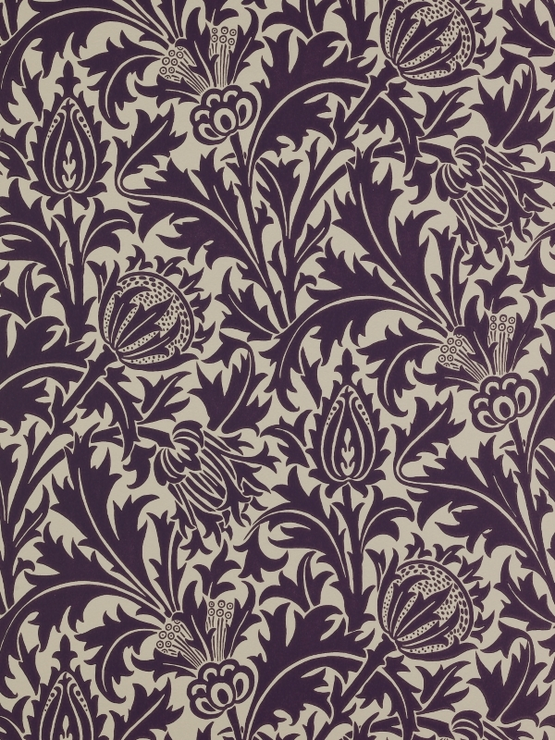 We explore the beautiful arts and crafts movement, which marked a return to handcrafted design in 19th century England.
The arts and crafts design movement originated in England around 1880, with its popular ideals later spreading across to Europe and America. Formed by English writers and designers, most notably being William Morris, the movement was formed in protest to industrialisation and the growing popularity of mass produced designs. The members set up their own companies to sell handcrafted, high quality goods and designs.
In terms of style the movement was inspired by a wide range of influences, from Gothic medieval to Japanese art and the Orient. Furniture would be of an exceptionally high finish, often made with natural woods and metals such as copper or pewter, and handcrafted with a focus on the quality rather than excessive decoration. Colour was an important part of the movement; rich tones and bright shades were incorporated through wallpapers, tiles and soft furnishings.
Colours
To create and arts and crafts feel in your home, you should opt for warm rich tones on the walls and in soft furnishings; deep reds and blues, mustard yellow and olive greens will all create a sophisticated finish when complemented by natural shades of cream and terracotta.
Wallpaper is key to this look and the most instantly recognizable option would be the William Morris patterns, which are still being manufactured today in original prints. This classic William Morris Wallpaper from John Lewis, features a classic print of deep purple thistles on a taupe coloured background. Cover all the walls with a boldly patterned wallpaper for a traditional arts and crafts finish, or just use the large scale prints to make a feature of one wall for a more contemporary take on the style.
Another great way of adding colour is through tiles, which were widely used at the time. Choose bright jewel tones in turquoise blues, greens and reds to brighten up the kitchen or bathroom. Stained glass was also popular due to its medieval origins but, if you don't want to splash out on new windows, a tiffany style lamp would add a subtle touch of colour.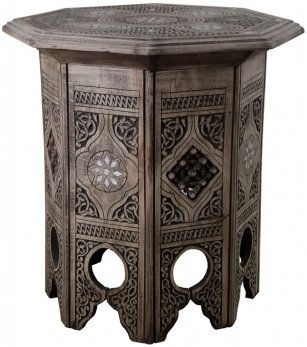 Furniture
For this look most pieces of furniture should be wooden to create a handcrafted feel. Custom made pieces are ideal, but it is possible to find options that give a similar unique look. This oak coffee table from Rocomara features cut out detail, which was popular at the time, and reflects Oriental influences. Although it is slightly more ornate than would have been usual at the time of the arts and crafts movement, the dark oak means that it would still sit comfortably within the style for an eye catching addition to the living room.
Chairs should have leather or woven seats, although vintage style fabric covered chairs work equally well. This floral club chair from Puji has been designed in classic shape with a subtle pattern that would work well in contrast to a bold wall print. The delicate cream colour also provides the perfect complement to rich coloured accessories.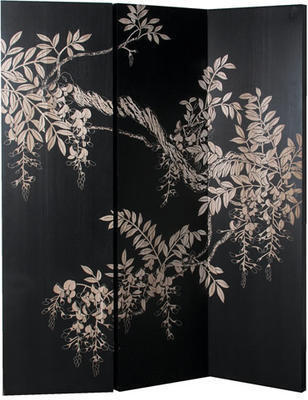 Accessories
Choosing accessories for this style provides the opportunity to add hints of colour, and style touches influenced by Oriental trends. This stunning wool rug from OKA blends perfectly with the arts and crafts colour palette, and would look stunning set against stained wooden floors.
Screen dividers are a great way of splitting up space in open plan rooms to create a more intimate space, and there are many Oriental inspired options that would look great when creating an arts and crafts feel. This < a href= "http://furnish.co.uk/items/30583-chinois-screen">chinois screen from The French Bedroom Company has a striking black lacquered finish with a gorgeous contrasting floral print.
Choose soft furnishings in natural materials like cotton and wool, and in rich colours or patterns inspired by William Morris. This leaf print cushion from Heal's has a beautiful muted colour palette and the Sanderson print blends perfectly with the style; Sanderson are the company which bought all of the William Morris printing blocks when the company closed down.
The arts and crafts movement is a style that translates easily to contemporary interior design, as its blend of influences and the rich colour palette means there is something to cater to everyone's tastes. The prints of William Morris are timeless, and look just as good in a fully wallpapered room as they do hung in a frame as a piece of art. The focus on quality pieces of furniture is as relevant today, in our highly mass produced culture, as it was hundreds of years ago and makes for a quirky and eclectic interior style.
The ethos of arts and crafts is best summed up in the words of William Morris himself, who believed you should "have nothing in your houses that you do not know to be useful or believe to be beautiful". Essentially, this is a style that allows you the freedom to create a unique living space that is beautiful to you.