Focus on Pattern: Stripes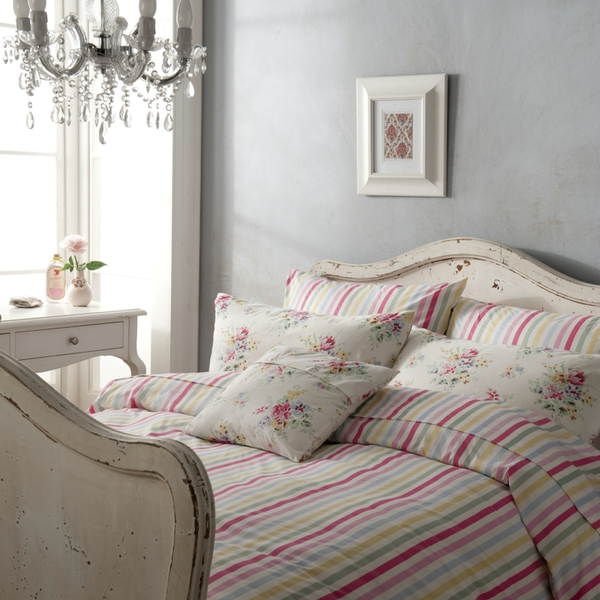 We show you how stripes can add a dash of excitement to your home.
There is no denying that stripes can certainly make an impact. If you're looking for a way to add some interest to your interior then painting a stripy wall, or adding a striped lampshade, is a great way to add interest and excitement. Whether you prefer the big impact of bold stripes or the simple elegance of narrow ones, we'll explore all the ways to make the pattern work for you.
Fabric
Fabric is a great way of adding a hint of pattern to a room, whether you go for pretty striped bedding or a funky print curtain. Cath Kidston creates a great range of patterned products, that often work particularly well in vintage inspired homes, and these striped pillowcases available from John Lewis are no exception. The candy coloured stripes look equally as cute in a little girl's bedroom, as they would in a stylish boudoir.
For decidedly grown-up stripes, this Moroccan inspired silk throw from Rocomara is sure to add a touch of luxury to a bed or sofa; using rich jewel tones and a sumptuous fabric it would make an extravagant addition to your home.
Stripes can also have a practical design purpose. This nautical shower curtain from John Lewis uses shades of red and blue that are bathroom friendly, in a practical polyester finish.
Wallpaper
When deciding on how to decorate the walls in your room, it is important to consider what kind of effect you wish to achieve with your stripes. Vertical stripes make a room seem taller, and would therefore work well in a room with particularly low ceilings, whilst horizontal stripes should make a small room feel larger. Similarly, wide stripes make a dramatic impact and might work better in a larger space, or one with limited furniture, whilst narrow stripes work well in smaller rooms as they give a subtle hint of pattern.
Create a unique wall by painting a base colour before taping off your desired size stripes and filling in with a contrasting paint colour. When you peel off the tape you will be left with a perfect finish, and a completely individual design! If paint isn't your thing then this gorgeous stripe wallpaper from John Lewis uses lovely deep shades of green and purple for a warm effect; and it works equally well hung vertically or horizontally.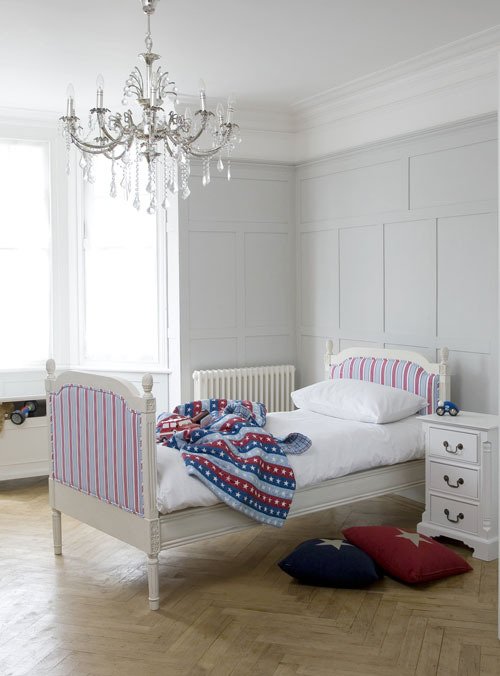 Furniture
For gorgeous striped furniture check out Sweetpea and Willow, who combine elegant French inspired designs with quirky finishes. This nautical inspired children's bed will bring a touch of the seaside to your little one's room, with deck chair striped fabric used to modernise the antique style head and footboard.
They've also given this classical armchair a contemporary flavour with the bold pink striped fabric that is sure to bring a burst of colour to any room. For those of you that prefer traditional elegance, this chaise lounge uses subtle stripes in beige tones for a classic finish.
Flooring
Incorporating stripes into your flooring choices can be a great way of adding a splash of colour and style, without having to redecorate the whole room. Doormats are a great way of personalising the entrance to your home. This cute doormat from Utility provides the perfect welcome home to you and your guests; it would almost be a shame to wipe your feet on it!
There are a huge variety of striped rugs to choose from, and not all of them are as bold as the doormat! This luxurious <a href=" http://furnish.co.uk/items/151256-designers-guild-ullswater-striped-natural-rug"striped rug from Heal's uses a variety of brown tones and varying stripe sizes, to create a statement piece that would look stunning in even the most neutral interior.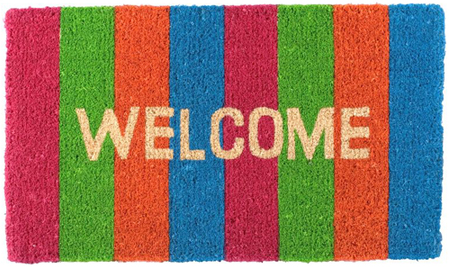 Accessories
Choosing the right accessories can make a big difference when creating a properly finished room, and can help to create a cosy feel. Animal lovers are sure to adore this cute doggy doorstop from Graham & Green which provides a colourful way to keep your door open, and even has its own collar! Continuing on the animal theme, this
Cushions are one of the best ways of adding pattern to a home, and can make a colourful feature of a bed or sofa. These Paris inspired striped cushions from Megan Quinton will sweep you away to the city of love with their kooky embroidered detail. Whilst this romantic table runner from John Lewis combines heart print stripes and woven detail for a dreamy dinner setting.
Stripes can work in your home no matter what your style preference; bold, elegant, nautical or girly there are plenty of options out there to work with your interior. As one of the most readily available patterns, stripes make an exciting yet versatile addition to any home so be sure to have fun with them.