Focus on Pattern: Checks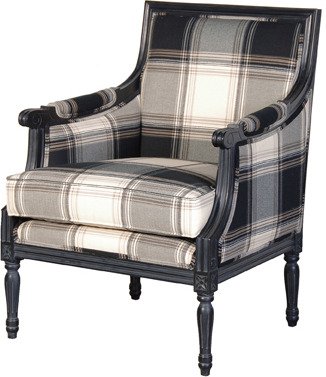 Think outside the box with our guide to how checks can work in your home
From gingham to tartan, checks are one of the most versatile ways of bringing pattern into your home. Whether you're looking for a pop of pattern with a checked cushion or bed cover, or for the bold impact of a checked floor or statement piece of furniture, we've got everything covered in this guide on how to make checks work for you.
Furniture
Checked furniture often works well as an isolated statement piece set amongst plainer items of furniture. This stunning checked armchair from Sweetpea and Willow uses a classic check and elegant mahogany finish, for a quintessentially English feel.
For a more contemporary take on checked furniture, this bedside table from Coco Male uses a simple linear checked door to add interest to the simple white design.
Flooring
A vibrant doormat is a cost effective way of injecting pattern into your interiors, as well as providing an eye catching entrance to your home. This multi-coloured doormat from Heal's is perfect for making a technicolour statement.
Similarly, rugs are a great way of trying out a new style without having to completely redecorate. This sisal rug from OKA, is great for bringing pattern to your floors without the bold splash of colour. The soft colour, and gentle square pattern is sure to blend seamlessly into any room. Contrastingly, this bright pink gingham rug from Great Little Trading Company would look lovely in a little girl's bedroom or a child's playroom.
One of the most classic examples of checked flooring has to be the black and white checkerboard tiles, often seen in the bathrooms or kitchens of period townhouses. You can buy tiles individually in your chosen colours to tile the floor yourself or, alternatively, there are plenty of checkerboard lino's available in home interior stores. If you are after a timeless marble finish, then check out these checkerboard tiles available from Living House.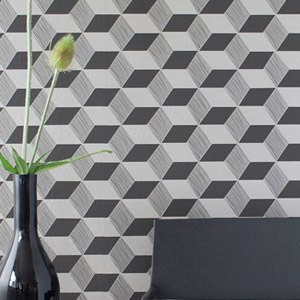 Wallpaper
Heavily patterned wallpaper is perfect for making an impact but can often be overpowering in the home. When going for checked patterns, it often works well to choose one statement wall to paper and then go for a plain but complementary colour on the surrounding walls.
Inspired by checks, this
Fabric
Checked fabric looks gorgeous as bed linen or curtains, and there are plenty of options to choose from at the moment. This check bed linen from Heal's uses a modern check, with warm tones of plum and pistachio, for a crisp contemporary feel.
If you prefer your checks to be more traditional, then this tartan throw from Occa Home will provide some comforting warmth on chilly evenings; being made from 100% lambswool means it's extra cosy!
Gingham is another traditionally popular choice of checks, and this gorgeous tablecloth from The Contemporary Home has a lovely large gingham check in a practical grey colour, with a white ric rac trim for a cute finish.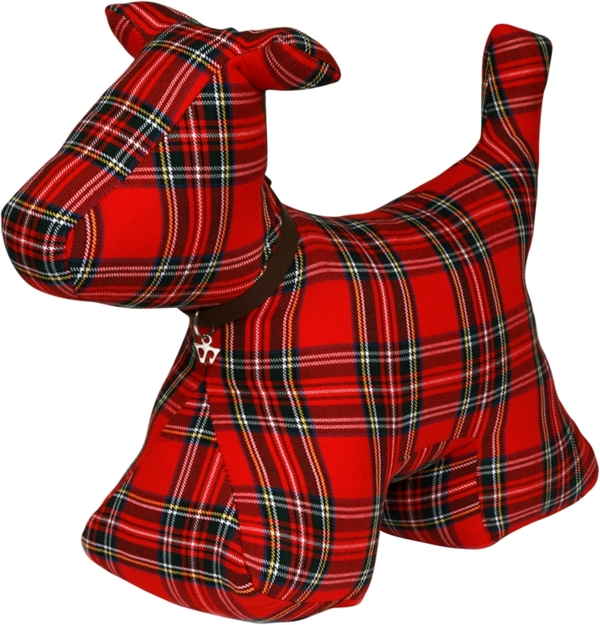 Accessories
Accessories are the place to really experiment with pattern and colour! This cute dog door stop from John Lewis is made from a vibrant tartan material; adding a homely touch to your doorway.
If your little ones are known to leave a trail of disaster behind them, this gingham bed tidy from Great Little Trading Company, available in navy or pink, is perfect for hiding away their bits and bobs as well as adding some colour to their bed frame.
For just a pop of colour, why not try a colourful lampshade. This yellow gingham shade from Hunkydory Home will add some sunshine to your room on even the most dull days! Or use this blue gingham jug from The Contemporary Home as a quirky way of displaying fresh flowers.
Checks work well in every home, and come in a great array of styles to suit all tastes. Try traditional tartan to create a warm and cosy space, or girly gingham for the ultimate shabby chic palace. For those of you that might be wary of pattern in the home, try adding a few checked accessories for a nod to the style, or try out a statement wall for a bolder interior! No matter what your taste, checks are incredibly versatile so have fun experimenting!