Living with White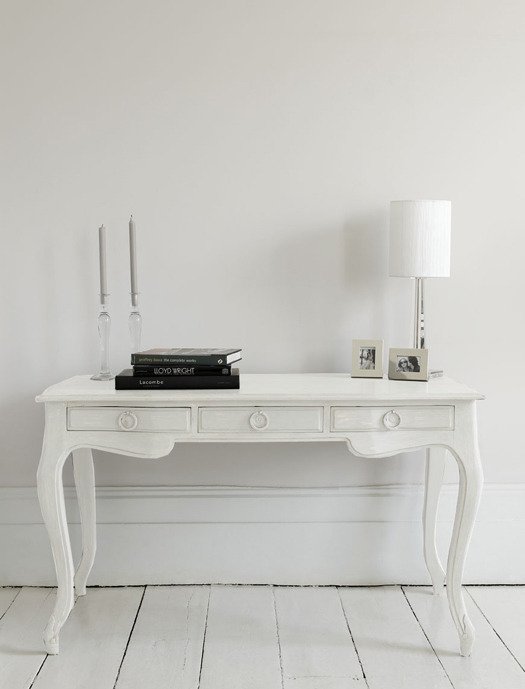 Forget the bland and clinical; make white work for you with our guide to Living with White.
A monochrome white palette provides ample opportunity to experiment with pattern and texture. We show you how to transform even the smallest rooms by maximising the space enhancing, calming and, believe it or not, cosy properties of white. Best of all white can suit almost any taste or space, from white-on-white minimalism to a whitewashed New England-style. Each texture absorbs light differently creating a wealth of different tones with minimal effort.
White furniture
White furniture needn't be impractical. Many design classics are at their most versatile in white, such as Vitra's Eames Daw plastic armchair. Similarly, taken out of their industrial context and softened with white, filing cabinets can become practical, contemporary storage for a study space.
For a more vintage appearance, try antique-style furniture in white. The soft lines of this Willows White Scroll Bed from Sweetpea and Willow, combined with a soft grey headboard prevent any possibility of a stark or clinical appearance. Finish the look with a mismatched white console table for a not-too-polished but distinctly French appeal White bookshelves make fantastic foils for the potentially clinical nature of white. Filled with books of varied textures and colours, a white bookshelf will allow the book spines to become a work of art in their own right.
Wallpaper
White wallpapers are perfect for adding subtle texture and pattern to walls. If you don't have your own extensive library, or have perhaps 'gone digital' in pursuit of minimalism, consider a feature wall using an unconventional but understated wallpaper, such as the Vintage Bookshelf wallpaper by Y & B from BODIE and FOU, providing interest whilst still maximising a sense of space and light.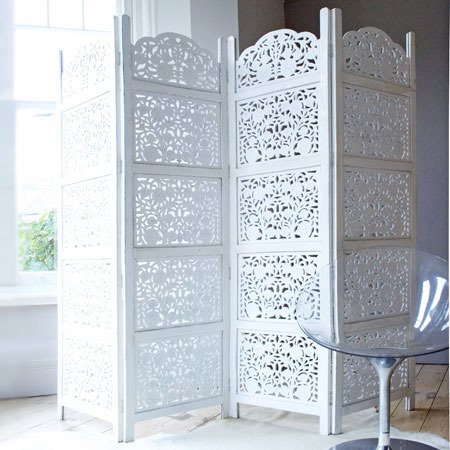 Paint
Choosing the right white for paint colours is all-important, colours with a yellow or grey undertone will appear warmer, slightly aged, and not as harsh, whereas whites described as crisp or brilliant are likely to have an icy blue undertone. Alongside your choice of shade, consider how the paint's finish will diffuse light. Matte paints will appear softer, whilst gloss can add a sleek contemporary feel. Similarly Farrow & Ball has a fantastic selection of heritage white paints with a low sheen to flatter most rooms. Their paint named James White #2010 is a soothing off-white with a subtle green undertone, which would complement a modern bedroom.
If you can't or would rather not paint your walls, try introducing large areas of white through moveable furniture, such as this hand carved wooden decorative screen from Graham & Green.
Flooring
If you are lucky enough to have intact exposed floorboards painting them white makes for an economically sound and easily maintainable décor decision. Try Farrow & Ball's floor paint in Pointing, a warm white named after the lime pointing of traditional brickwork. Alternatively utilise the undertones of white walls to match textured carpets in shades of grey and off-white, or consider pale wood flooring such as Ash.
Accessories
Predominantly white colour schemes are the perfect canvas for striking coloured accessories. However we think the scheme has perhaps the most impact when varying the texture rather than the colour of your accessories: think white ceramics, enamels, linens, baskets, leather and papers.
Make a bold but unfussy statement with a modern and dramatic pendant light in white. Alternatively white looks striking against dark wood but for a softer, Scandinavian look consider paler woods such as birch or ash like Heal's stunning White Ash Veneer Lampshade.
Take the edge of a minimalist white look with quirky touches, such as these white rabbit coat hooks.
White kitchen appliances make a refreshing change from black or stainless steel and can often be found in softer off-white and cream shades. Likewise off-white enamel tableware lends a lived in vintage feel. The combination of wood and matte ceramic of these Square Ceramic storage jars from Occa Home create a modern but soft look.
Textiles
Whilst a white rug may not be the most practical choice for areas of heavy traffic in the home, you don't have to banish white textiles. Consider layering a design classic white plastic or wire chair with a fluffy sheepskin for added texture and comfort. Alternatively, adorn sofas and beds with a generous quantity of throws and cushions in varying shades and textures for a lived-in feel. Our favourites are the Cream Wool Throw and Felt Petal Cushion, both from Primrose & Plum.
Diaphanous curtains, such as John Lewis's Plain Slot Voile panels, provide an almost ethereal diffusion of light. Maintain a sense of serenity without forgoing practicality in the bedroom with simple white blackout blinds.
So, why not make the most of the decidedly sunnier rays (finally!) creeping through the windows by brightening up your décor with white?