Buyer's Guide to Sofas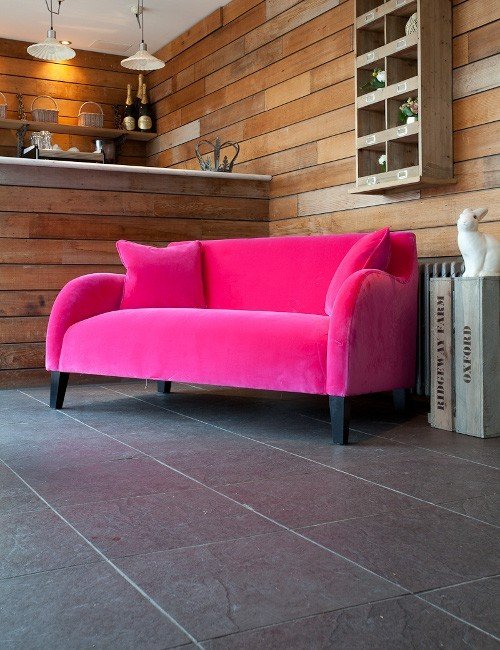 Buying a sofa can seem a little daunting so we've put together a handy guide to help you find your perfect match.
Buying a sofa can seem a little daunting; with a constantly expanding choice of styles, fabric, filling and function the combinations are practically endless. We've put together a handy guide to help you find your perfect sofa.
Planning
Sofas aren't cheap but if properly maintained a good quality sofa will last for decades, so take some time to plan how to make the most of your investment. How will the sofa need to function? Do you have kids or pets that may alter your fabric choice?
It may seem obvious but be precise with your measurements. We have heard a surprising number of tales from design aficionados who found the sofa of their dreams, the perfect size for their space, only to get it home and discover it will not fit through the doorframe. A narrow hallway or doorframe may limit your options unless the sofa can be dismantled or you have another access route.
Many suppliers recommend laying out the space that your chosen sofa will occupy with sheets of newspaper to get an idea of how it will function with other pieces of furniture. In a spacious room, a grand sofa can act as a focal point as well as a functional item of furniture, but it is worth considering two smaller sofas if your living room is smaller as this can provide the illusion of more space.
Sofas, like mattresses, have a range of fillings and firmness. If you like to curl up on the sofa, consider feather-wrapped foam cushions, which are soft and comfortable. Foam filling is generally firmer but will maintain its appearance and shape to give a more tailored look than feather cushions. It is worth bearing in mind that foam is also ideal if you have allergy sufferers in your family. Fibre, or foam with a fibre wrap, may be the perfect compromise for your home, providing a softer look but with the durability of foam.
As well as the dizzying choice of fillings, there is also the task of fabric choice for your sofa: tightly woven fabrics will wear best, leather is durable and available in a number of finishes, Alcantara is an easily maintainable man-made microfibre and perfect for busy households. Do be aware that direct sunlight can cause sofas to fade and appear worn, so avoid darker colours if you can't avoid positioning your sofa in sunlight.

Corner sofas
If you want to make the best use of your available space, you might want to consider a corner sofa. Also referred to as modular sofas, many suppliers offer a range of seating combinations to suit your lifestyle and maximise corner space that may otherwise be wasted.
A simple, timeless corner sofa like the Hay Mags Modular Sofa from Utility, is perfect for those who like to stretch out. The sofa has no detachable cushions, making it supremely flexible as cushions and blankets can be moved around and changed to freshen up the look.
Contemporary sofas
Contemporary sofas are perfect for smaller spaces as they often have narrower arms, to give the illusion of a more compact piece, and one or two cushions provide a clean, modern look.
A modern sofa is the perfect canvas to inject a burst of colour into a space. Alternatively the clean lines of a contemporary sofa, such as Madame Coco from Sofa Workshop, is ideal to showcase a quirky pattern.
Nod to mid-century design by choosing a sofa with simple legs, such as the Barbican Medium Sofa from John Lewis.

Classic sofas
Classic sofas are perfect for adding a touch of functional luxury to a room. They generally command a larger space than more contemporary styles due to traditional design features such as three seat cushions and rolled arms. However don't let this put you off, as classic sofas are often analogous with comfort and look good in just about any space. Two smaller classic sofas may provide more flexibility in a smaller space, such as the Miss Firefly sofa from Sofa Workshop which is available in over 2200 fabric and leather choices and, helpfully, has removable arms for delivery.
If you're really pushed for space, or need a small but exceptionally comfortable sofa for a study, consider the Louis Compact sofa from Habitat.
Iconic Chesterfield styles make an extra impact when given a fresh twist with bright or luxurious fabrics, such as the Lush Black Velvet 3 Seater Chesterfield from Sweetpea and Willow. Alternatively try a classic French style, such as the Parisian French Settee from Alexander and Pearl, which looks chic but unfussy in hardwearing linen, perfect for a neutral bedroom.
Sofa beds
If you need a sofa that really justifies the space it occupies, opt for a sofa bed. Ideal for studies or spare rooms sofa beds have come a long way since the days of creaky, lumpy contraptions that sprung startlingly from not particularly comfortable sofas.
It is worth considering how much the sofa bed will need be used for either function. Sofa beds predominantly come in either hinged foam, for lighter use, or mattresses, which may be more suitable for a sofa that may be used more often as a guest bed.
For a small space, such as a study, the Louis Compact Sofa bed from Habitat has a 15cm mattress suitable for everyday use as well as being a supremely comfortable reading chair.
With such an extensive choice of sofas, in a cacophony of styles, upholstery and colours, you are sure to find one to suit you.