Trend Watch: Lace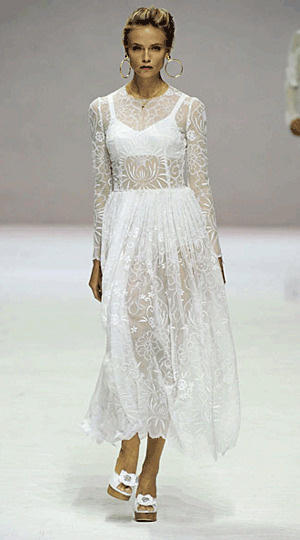 Lace is set to be huge this Summer, so add a touch of romance to your interior with delicate frills.
Lace looks set to be hanging around for another season but, unlike many of the Winter collections, this time around it's less gothic and more Little House on the Prairie; think soft colours, floating fabrics and feminine shapes. Luckily, for those of us who don't feel entirely happy about the prospect of leaving the house in such delicate garments, lace is a trend that translates beautifully to interiors!
Lace wallpaper makes an eye catching feature of otherwise boring walls, and can transform a bedroom into a girly boudoir or a living room into a luxuriously grown-up space. This lace wallpaper from Occa Home is beautifully chic, and comes in a variety of colours. For those of you that prefer an even more dramatic look, their embossed vinyl version is a darker, even more sophisticated, version and featured in Carrie's apartment in Sex and the City 2!
Curtains are also a great way of making an impact, and help to add some excitement to your windows. Traditional net curtains are widely available on the high street in a variety of lace designs, and are great for adding a delicate vintage touch to your home. Rockett St George has taken inspiration from those classic designs, and created a stunning range of lace curtains with a contemporary twist. Available in a variety of colours, including hot pink, aubergine, blue and ivory, these antique style curtains are sure to create a beautiful effect at any window.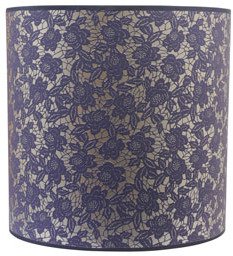 If you're not feeling brave enough to embrace a full-on lace print wall, there are plenty of lace inspired accessories to add a touch of the trend to your home. This indigo lace lampshade from Heal's has delicate lace cutwork that will add a feminine touch to any room of the house. For a more quirky way to light the room, this lace pendant lamp from Occa Home uses bold cut out effects, with a an unusual lace-up detail at the side.
For those of you searching for a unique take on the trend, or for those that simply like to have something cute to snuggle under during the cold evening, this lace felt throw from Room39 uses a precision die cut lace pattern for a geometric approach to lace.
Whatever your taste, be sure to embrace your feminine side this season to enjoy a chic summer at home.