Focus on Pattern: Retro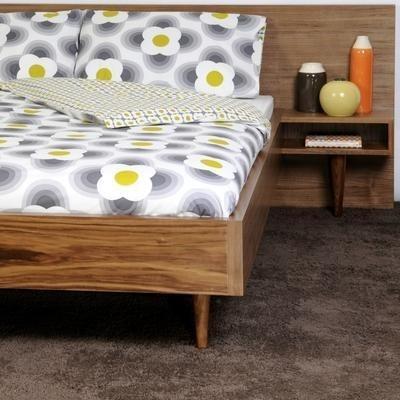 Step back in time with our guide to making retro patterns work in your home.
Seek inspiration from the past when choosing patterns for your home for a touch of cosy nostalgia or a quirky twist on contemporary design. Think pretty polka dots for a hint of 1950's kitsch, psychedelic floral prints for a funky 1960's inspired interior or bold blocks of colour for a touch of 1970's glamour. Whatever your decade of choice, we'll show you how to turn the clock back to create a timeless home that you're sure to love forever.
Fabric
A funky duvet cover can transform your bed into a dramatic style statement, and the 1960's seem to be the go-to era for eye catching designs. Orla Kiely is a name synonymous with contemporary pattern design, but her fun floral prints undoubtedly take influence from the wonderful swinging Sixties. This Orla Kiely duvet cover from John Lewis uses a monochrome base with a bold and colourful daisy print for the perfect way to freshen up a dull bedroom.
Continuing with a similar style, a pattern made with one boldly repeated print, this retro elephant bedding from Hunkydory Home will look gorgeous in a child's bedroom; the bold red and pink elephants and swirling floral pattern are sure to brighten up early school mornings.
Furniture
Choose one bold stunning piece of retro furniture to set against more contemporary pieces, for a quirky take on pattern rather than creating an exact replica of homes from a bygone era. This gorgeous upholstered chair from Graham & Green uses an iconic 1950's chair design with an almost 1970's inspired colourful fabric to create a funky statement piece that transcends decades.
For a fun flashback to the 1960's, this globe chair from Lover's Lounge is a fantastic replica of the iconic 1960's design by acclaimed designer Eero Aarnio, and is the perfect place to curl up and relax after all that disco dancing.
For a more subtle take on retro design, this home desk from Utility has been created to replicate the shape of a classic ladies desk, but with retro design features for a contemporary update. The sleek chrome legs and colourful compartment separators contrasts beautifully with the classic walnut frame; this would make a welcome addition to any home office.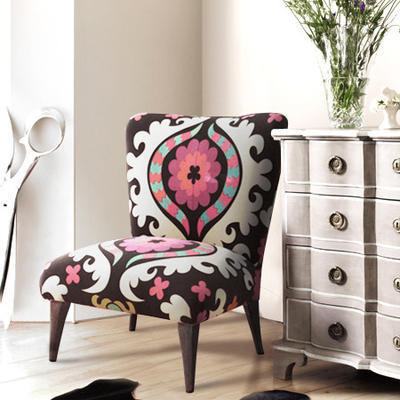 Flooring
Take inspiration from the 1980's craze for slogans, by adding a bold doormat to your entrance. This retro doormat from Utility uses a natural background with the word 'HOME' boldly printed across it for a dramatic welcome home.
If you prefer to take the more colourful approach when decorating your floorboards then get hippy chic with this colourful love rug from The Plantation Rug Company. With bold colours and swirling paisley prints this rug is sure to bring the vibrant festival feeling into your home
Wallpaper
Update your walls with some boldly patterned wallpaper that will transform your home into a stylish retro pad. This stunning fifi wallpaper from John Lewis is a replica of an original 1950's Sanderson print with a cute design depicting the hourglass silhouette of the era, pioneered by Christian Dior; this is definitely one for a fashion obsessive!
If music's more your thing, then this cassette print wallpaper from BODIE and FOU uses hand drawn designs for a truly retro style that will create a cool and quirky statement wall for your teenagers.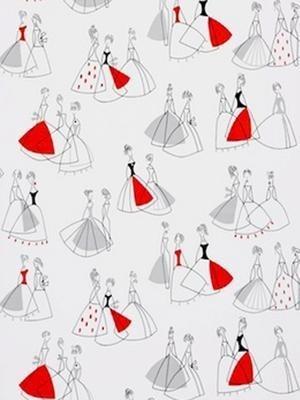 Accessories
Add the perfect finishing touches to your home with some cool retro accessories. Wake up in style with this classic alarm clock from Bloomsbury that uses the traditional bell top design for a stunning way to start the day.
Brighten up your kitchen with these gorgeous polka dot tins from Lover's Lounge will keep your tea and coffee fresh while adding a touch of kitsch to your worktops.
If you prefer your kitchen accessories to be more chic, then you're sure to love this sophisticated 1940's glass bowl from Serendipity Street. It's gorgeous cut glass detail means it's sure to make a real statement on your dining table.
Retro patterns are a hugely versatile way of introducing print to the home, as style varies so widely across the decades. Choose an era that you love and add statement pieces of furniture and hints of pattern from this time for a quick and stylish way of updating your contemporary interior. For braver individuals, why not try mixing matching styles and patterns from across the years for a wonderfully quirky way of making a bold impact in your home. However you decide to turn back the time in your home, have fun experimenting!