Buyer's Guide to outdoor lighting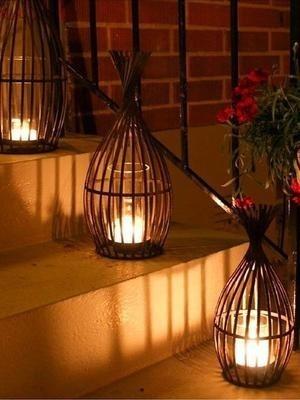 Illuminate your outside space with this handy guide to the best outdoor lighting
When adding the finishing touches to our interiors, lighting is one of the most important considerations. Most of us will spend hours choosing the perfect light fittings, finding gorgeous lamps to fill dark corners and adding cosy candles to the dinner table. Yet, many people completely forget about lighting one of the most important areas of the home; the outside space. Whether you have acres of land or just a tiny balcony making sure your outdoor space is given the treatment it deserves.
Planning
It is really important to plan properly for new lighting additions to your outdoor space to ensure that you create a unique living area that is accessible after dark. Safety-wise, consider which areas it is crucial to light well; stairs and pathways may benefit from some brighter lighting options, for instance. When it comes to more decorative lighting think about what sort of atmosphere you wish to create; colourful fairy lights are perfect for creating a fun sociable atmosphere, whilst lanterns will help to create a much more intimate feel. Most importantly, ensure that all lighting is waterproof, and any additions which are not low voltage should be installed by a qualified electrician.
Candle lighting
Adding a few candle lit lanterns and pretty tea lights to your garden is the quickest and most effective way of creating a warm and cosy area for relaxing in. These hurricane lamps from Nordic House have a gorgeous rustic finish which means they will look as if they've been in your garden for years! Lamps and lanterns are particularly versatile as they can be used as a lovely table centre piece, when dining al fresco, hung from hooks on the patio for effective mood lighting or scattered across decking and pathways for a pretty night time twinkle.
These bamboo lanterns from Garden Trading are perfect for recreating a relaxing holiday atmosphere. The lantern sits on top of a long pole which can be pushed into the lawn or flowerbeds for a quirky way to light your garden.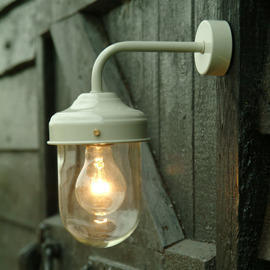 Wall-mounted lighting
Wall lights are a great option if you have limited outside space, as well as being an ideal way to illuminate your porch or the area immediately outside your door. Based on a traditional stable lamp this outdoor wall light from Heal's would be perfect for lighting an outdoor eating area, and can also be used inside as a porch light or over the back door.
This contemporary style aluminium wall light from Heal's uses a unique circular design with a glass and aluminium finish, for a sleek and modern addition to the garden.
Path lighting
If you have a path in your garden, or leading to your outside space, it is important to provide some lighting in this are to ensure that you and your guests can move about the space easily and without any risks. However unlike deck lighting, which is usually bedded into the floor, there are plenty of free standing options available for lighting your path which means you can really make a feature of it.
These completely unique tulip lights from Garden Beet will provide a giant pop of colour to your outdoor space, and would look absolutely stunning positioned along a dark pathway. Although they are slightly on the pricey side the tulip lights are a great way of injecting colour into a space that perhaps doesn't have the luxury of flowerbeds or a lawn, and will certainly make your outside space a real talking point.
These tall oil lamps from Nordic Home, are a touch more subtle in their slate colour scheme but will certainly still make an impact on your path. Available in two sizes, depending on your space requirements, these lamps will look striking in any garden; and with the long lasting nature of oil burning, you can have fun outside for the whole night.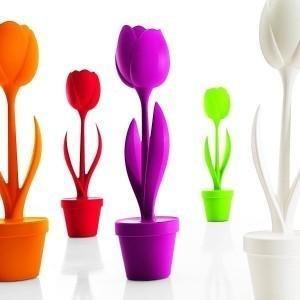 Solar lighting
For the eco-conscious amongst you, it might be important to consider the ways to light your outside space using solar or eco-friendly lighting options; and as well as being good for the environment it can often be up to 80% cheaper to run than traditional lighting methods. Solar lights require no electricity as they use specially designed batteries which stores energy from the sun in order to automatically provide soft lighting after dark. There are solar lighting options available at all good DIY stores, such as Homebase but it is important that you position lights in a sunny spot to ensure they acquire enough energy to run in the evening.
There are plenty of great outdoor lighting options to choose from no matter what kind of outside space you have, meaning you can utilise every nook and cranny to make your garden a cosy and intimate, or colourful and sociable, place to be. So dust off those fairy lights and get ready to enjoy the long summer evenings in your new living space!