Trend Watch: Folk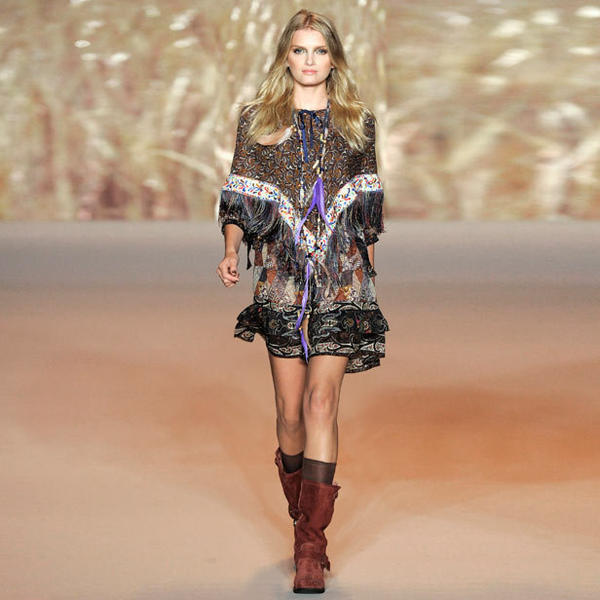 Get your home ready for festival season with a touch of folk.
With Summer feeling like its already arrived, it's time to dig out those ditsy floral print dresses, dishevelled denim waistcoats and cosy fringed ponchos ready for festival season! But, if spending the weekend up to your knees in mud and sleeping in a damp tent isn't your idea of fun then worry not as this trend can work just as well in your home. Think fringed throws, embroidered rugs and colourful lanterns for adding that touch of folk to your interior.
Look for throws in deep autumnal colours to scatter across armchairs, or drape at the foot of the bed, to create a laid back bohemian feel. This gorgeous paisley throw from OKA uses lovely rustic colours for a vintage inspired finish, and it's made from 100% wool; perfect for snuggling under when the summer nights turn chilly!
This lovely lambswool folk blanket from Primrose & Plum also follows the vintage theme with the lovely border detail inspired by traditional Swedish carvings. In keeping with the eco-friendly folk ethos, the blanket has also been responsibly sourced and produced with care for the environment by not using any harsh pesticides or harmful chemicals.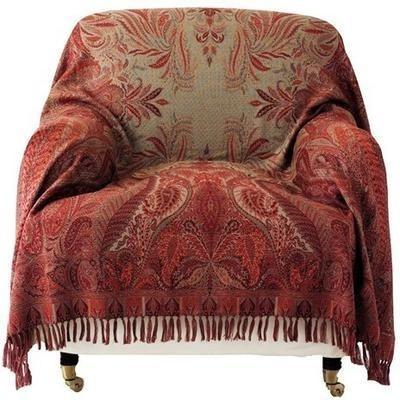 Stripped floorboards work really well within the home when creating a folk inspired look, but it's lovely to introduce some colour to your flooring with the addition of a rug. This quirky ribbon rug from Plumo is made from woven recycled ribbon strips for a beautiful mix of colours, and has lovely tassel detailing along the edge for a real arts and crafts feel. Plumo can also customise rugs to your specific colour preferences.
OKA is a great brand to consider if you are looking for a high quality rug with an antique feel, as they have a great range of colours and styles available. This cimkent rug from OKA is made from 100% wool for long lasting quality, and the deep earthy red colour gives it a timeless quality that is sure to look stunning in any setting.
Mixing and matching different colours and textures is the best way to create an authentic folk feel in your home. If you have selected a fairly rich colour palette for your rugs and throws then a great way of lifting the trend is to add a colourful selection of cushions. These mexican bird cushions from Plumo are beautifully bright, using lovely embroidered patterns of birds and flowers with colourful fringing and tassels for a lovely handcrafted feel.
Choosing cushions with embroidered patterns really helps to add a vintage feel to your soft furnishings, and helps to make your home feel unique. The bright colours of this embroidered folk cushion really add a contemporary twist to the style, and contrasts beautifully with the very traditional pattern of the stitched detail.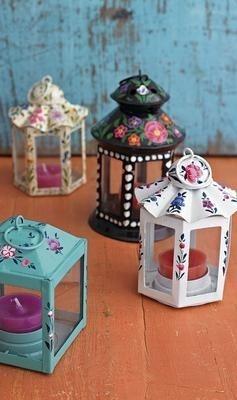 Don't forget accessories for adding the perfect finishing touches to this trend. Candles and lanterns are the perfect folk accessory as they help to recreate the warm glow of a bonfire inside your living room. These Fairtrade painted lanterns from Plumo come in an assortment of gorgeous colours with a variety of pretty floral detailing. Add tealights and dot them around your home, or even in the garden for your own mini festival! This candle lantern from Habitat is another great lighting option, and uses a wire frame wrapped in recycled magazine paper for an unusual design feature.
Finally, we couldn't resist taking a look at this stunning pitcher and mug duo from Plumo, which would add an authentically rustic feel to your kitchen. The red clay tableware is made by local artisans using traditional methods, and is glazed in traditional Romanian folk patterns; a genuine touch of folk.
Hopefully, this fabulous selection of products has provided you with the inspiration to mix and match the accessories in your home this season for a wonderfully authentic take on the folk trend; and with a few cosy throws and some twinkling lanterns you can enjoy watching the festival coverage from the comfort of your sofa!