Buyers Guide to Wallpaper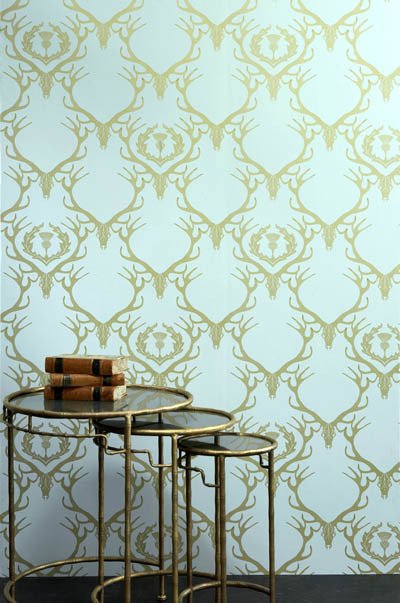 Brighten up your walls with this fabulous guide to using wallpaper in your home.
Planning
Before you begin to wallpaper, it is important that you take accurate measurements of the walls you want to paper to work out how much you will need. It's also a good idea to check that the batch numbers or codes on each role are the same, as there can be slight variations in shades and patterns depending on the time of manufacturing.
Once you're ready to begin make sure that all furniture is removed from the room, of course this is not always possible but it will make your job a lot easier when manoeuvring on a ladder, and spread dustsheets over the floor to protect them. If you are wallpapering the ceiling then it is also advisable to remove any light fittings which might cause an obstacle. Finally, if there is existing wallpaper on your walls then this must be removed using warm water and a scraping knife to strip the wallpaper away; alternatively, buy or hire a steamer which will do most of the hard work for you! If there are any holes on the surface of the wall then use some plaster filler to create a smooth surface.
Installing it
Learning to wallpaper can seem like a daunting task but if you perfect the skill of hanging then you can create a professional finish easily, without the cost of hiring in an expert to do the work for you. To work out how long you should cut each piece of wallpaper, measure the height of your wall and then add on four or five extra inches. This way you can neatly trim the bottom of the wallpaper as it reaches the skirting board for tidy finish. Mix your wallpaper paste following the manufacturer's instructions and coat the strips of paper evenly and generously to prevent peeling; you will need a pasting table to do this.
Carefully fold the piece of wallpaper, concertina style, to make it easier to handle when hanging up. Generally, it is best to hang the first piece in the corner of a room where joining seams will be less noticeable. Hang the paper from the top of the wall and use a paste brush from the centre of the piece towards the edge to prevent bubbles from forming. Don't rush; if you have soaked the wallpaper well then there is plenty of time to work on each piece and prevent mistakes. Repeat this process, considering that you will need to match the pattern with the previous piece depending on your choice of wallpaper.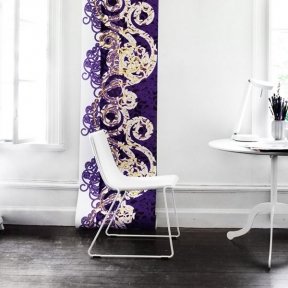 Pattern
Wallpaper is a quick and easy way of adding pattern into your home, and with so many patterns, colours and textures to choose from there is sure to be something for everyone's tastes. This gorgeously luxurious damask wallpaper from Barneby Gates, uses a gold stag skull and thistle pattern on a duck egg blue background for a contemporary twist on the traditional damask style pattern. Similarly, this stunning westwood wallpaper from Bodie and Fou uses a baroque inspired serpentine design with a colourful punk inspired twist.
Patterned wallpaper is also a great idea for children, as it can add some real excitement to their bedroom. 95% Danish have some great options that are extremely durable with a wipe clean surface; perfect for sticky fingers!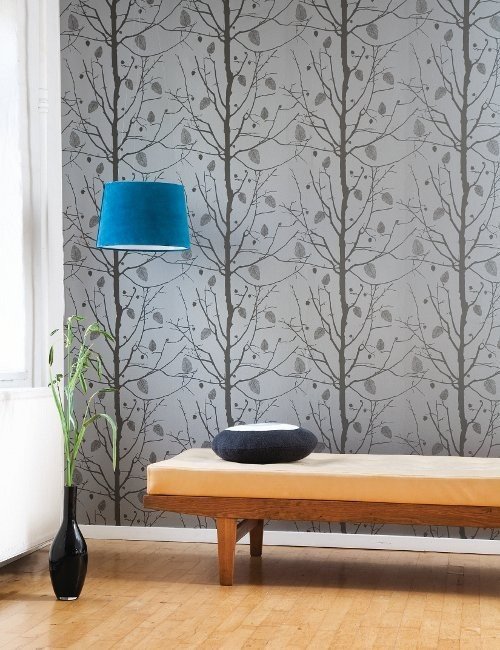 Using two wallpapers together
By mixing and matching two wallpapers within the same room it is possible to create a range of stunning effects; if you're feeling brave then mix two clashing patterns for a bold statement, or if you prefer a more subtle finish then choose a daring print for one key wall and a wallpaper with a smaller intricate pattern to complement.
This striking tree print wallpaper from Rose & Grey has a wonderfully quirky feel that would look great hung on a feature wall with a plain or embossed wallpaper to complement it. If you prefer a more retro inspired look to your interiors then why not try clashing two bold prints. This kitsch floral wallpaper from Rose & Grey takes its inspiration from the print of a vintage fabric, and the mustard yellow base harks back to the 1960's. Clash with another floral print, or another bold colour like this retro turquoise wallpaper from Oliver Bonas.
Wallpaper is an incredibly versatile and stylish way of updating your home and creating an impact. Although the techniques needed for a professional finish are often perceived as being fiddly and, let's face it, a bit too much like hard work; our handy tips should help to take the hassle out of hanging and have you wallpapering like a pro in no time!