Focus on Pattern: Damask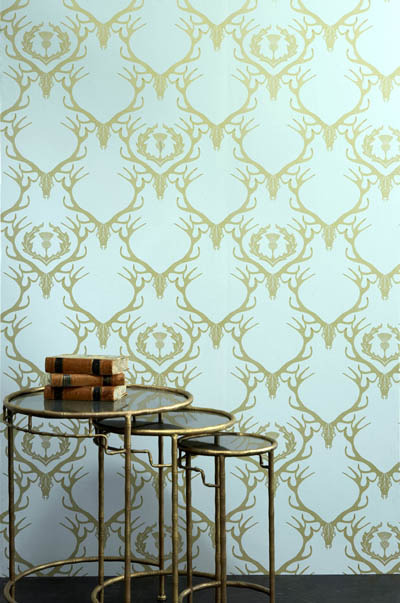 Achieve modern opulence with our guide to making damask work in your home
Damask fabric was named after Syria's capital, Damascus, where it originated in the early middle ages. However by the fourteenth century damask had spread across Western Europe and became synonymous with luxury though its popularity in the royal courts of Europe. Since then damask has been reinterpreted into all kinds of linens, furniture and even wallpaper, making it an easy way to bring a touch of opulence to your home.
Fabric
Traditionally a woven fabric, it's not hard to find damask fabrics in all incarnations around the home. John Lewis stocks a beautifully tactile Veneto Damask Fabric that is suitable for curtains, bedcovers and upholstery. Available in a range of colours, we think the Citrine option is perfect to lend a zesty and modern twist to traditional damask.
Alternatively, try transforming your bedroom with a damask duvet cover. This Damask Jacquard bed linen from John Lewis features a weave of leaves, scrolls and flowers in muted brown tones making it a tranquil and understated option. Better still the cotton is fully organic and certified in accordance with international Fairtrade standards, so you can rest even easier.
Furniture
Furniture upholstered with damask fabrics offers a very regal feel to the room, but can sometimes feel a bit formal. Avoid this by introducing one bold damask upholstered piece alongside plainer, solid colours. Make an impact in an otherwise pared down room with this Gold Gilt Damask Nursing Armchair from The Orchard. Offset the opulent greens and golds with muted neutrals for a more contemporary feel in a living room or bedroom.
Alternatively this Versailles Foot End from The French Bedroom Company, upholstered in a French silk damask, is an elegant yet useful piece. Try positioning it at the foot of the bed or under a window as somewhere stylish to sit when dressing in the morning.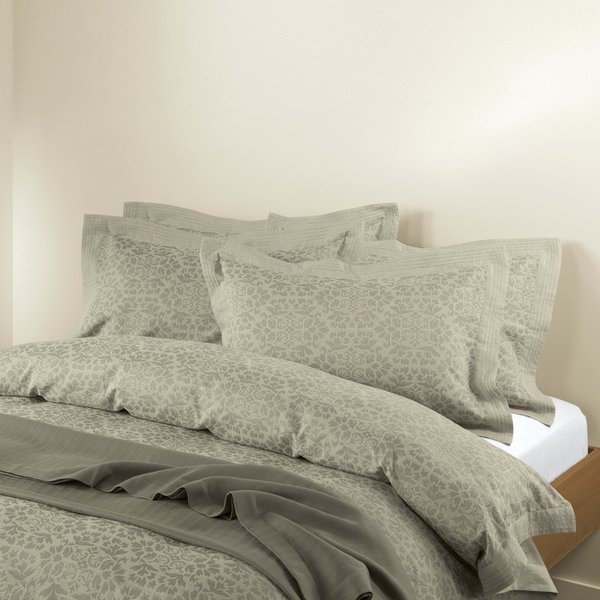 Flooring
The floor is the perfect place to start when introducing damask to your home. Try a doormat rejuvenated in a bold damask prints such as this coconut fibre Black & White damask Print Doormat from Mollie & Fred.
For greater impact, a large damask print rug looks striking against plain wood floorboards. The rich plum colours of this large, wool rich Damask Rug from Habitat would lend an opulent feel to any living space.
Wallpaper
There are a whole host of options when it comes to damask wallpaper but some designs can sometimes feel a little imposing and formal. Instead try a contemporary twist on the traditional for a fresh and quirky appeal. The Barneby Gates Deer Damask Wallpaper from Rockett St George, blends a vibrant duck egg blue background with an antique gold stag skull and thistle damask style pattern.
For a smaller wall space, such as an alcove or chimney breast try this Ribbon Damask Paper Lace-Embossed Vinyl Wallcovering from Occa Home. Created in collaboration with Timorous Beasties, the wallcovering is inspired by vintage 1920's cotton lace fabric, combining two patterns in one.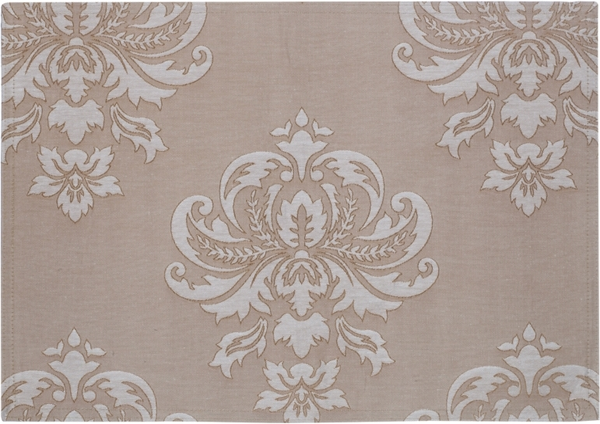 Accessories
For an opulent finishing touch in your home, or just a simple way to introduce the pattern try adding some damask accessories. The Dizzy Lamp Damask from Decolight features a modern trumpet shaped lamp base with a hand-made black silk damask shade. For an even more contemporary take on the damask pattern, try the inntermost acid damask shade from A White Room. Designed by Timorous Beasties, the shade features a pink/red interior, meaning the white cotton outer diffuses the damask print giving it a thoroughly fresh appeal. The lampshade is also highly versatile as the three available sizes can be hung as a pendant or mounted on lamp bases.
Table linens are true to the roots of damask fabric as a luxurious weave and are certain to add glamour to any place setting. The Deco Damask Napkin from John Lewis feature a classic damask design and are a perfect accompaniment to crisp linens and sparkling tableware. Soft furnishings are also a fantastic way to introduce the pattern. Add a little luxury and colour to the bathroom with the Lime/Steel Monaco Damask Towels from John Lewis. Alternatively scatter the sofa with damask cushions, such as the Osborne & Little Radnor Damask Cushion from Heal's, which is made from pure silk in a vibrant purple pattern.
Damask patterns needn't be limited to their traditional capacity; they can provide a sumptuous feel to just about any contemporary space. What's more there so many ways to introduce damask, whether wallpapering a feature wall or opting for something less permanent, such as bed linen, there is an option for just about all tastes and budgets. So, don't be afraid to bring this beautiful pattern into your home!