Tea and a chat with Rothschild & Bickers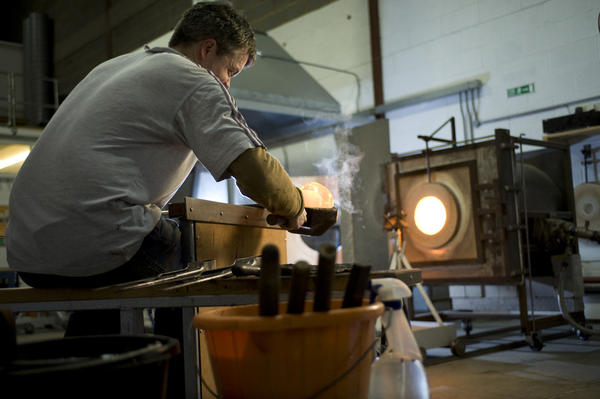 Furnish visits the London Glassworks for tea with Rothschild & Bickers
On an unassuming industrial estate in North London something quite magical is afoot. Unit 15 houses one of the last glassworks in the UK, and is home to Rothschild & Bickers. Known for their sophisticated and opulent glass lighting, Victoria Rothschild and Mark Bickers invited us in for mug of tea and a snoop around. After sharing a studio at the Royal College of Art and working together on bespoke commissions, the pair decided to create their own range of signature pieces. Produced in batches, each shade is skilfully free blown and hand-finished. 'Everything we do is hand-made', says Vicki. Moulds are used to shape the surface of the molten glass, which is then blown out and modelled to create the form. The process is almost hypnotic to watch, and Mark underlines the level of concentration needed to get it right: 'you have to keep focussed, and you can't just stop half-way through; because the glass won't'.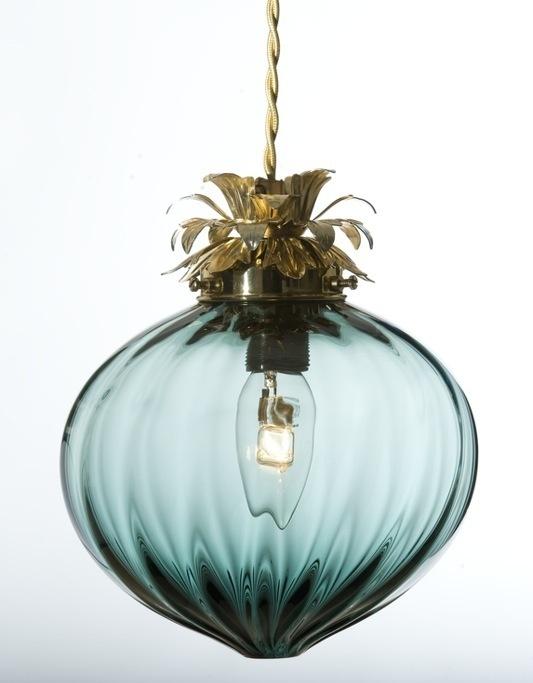 A lot of experimentation goes into the design process and a love of making as well as a respect for their material shines through on our visit. 'We could never be paper-based designers', says Mark: 'it's not that we render something on the computer and send it off to be made into a mould; we tweak, we edit as we go along.' 'We blow something we like the shape of', says Vicki, 'and then we'll re-make it and change it a little bit. That's what I love about the hand-made part of it. Being able to have the thing in front of you and knock another one out if you don't like the first.' Once the final form is decided, 'you've then got the challenge of being able to reproduce it in batches by hand'.
Many of the designs are worked up with a particular interior in mind. The clean lines of the architectural Tiered Light would complement an elegant Art Deco style interior for example. Yet, while the lights often reference historical styles – the Tassel Light evoking Victorian grandeur or the Arts & Crafts style Flora Pendant – they're never slavish imitations. 'We're always quite subtle about how we take elements from the past, whether it's the fringing or the metalwork, they're always touches', says Mark. Likewise, while they might be designed towards a particular style of interior, the lights stand alone as decorative objects and could be put almost anywhere, says Mark, 'either complementing or contrasting with what else is going on'. It's the effect of the material as much as the form that contributes to the lights' decorative appeal. 'A lot of ours cast either colour or pattern', says Mark, 'so the effect is much bigger than the pendant itself'.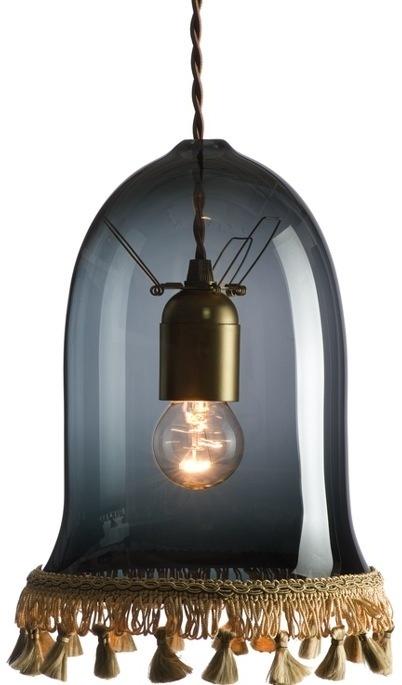 The heritage of glassblowing in England and the traditional skills involved in handmade glass production are central to Rothschild & Bickers' work. 'We're using skills that might otherwise be lost' says Vicki. 'We did a lot of research on different shapes and forms and how people made things'. The moulds used for the different surface finishes and the techniques of blowing and finishing would have been the same in Victorian factories. It's looking back at these older manufacturing methods that contributes to Rothschild & Bickers distinctive style and that Vicki sees as helping to set their work apart from modern mass-produced glassware. It's a labour intensive process that results in astonishingly beautiful pieces with all the natural variation that marks them as handmade.
Rothschild & Bickers will be showcasing some new pieces at 100% Design in September and a bigger website is due to be launched within the next year. To find out more and order online, visit rothschildbickers.com. And if you fancy having a go at glassblowing, the London Glassworks offers one-day courses.