Focus on Pattern: Paisley
A rich history and unisex appeal; this week we focus on paisley.
There's something about paisley; that botanical teardrop-shaped design is instantly recognisable. The whole pattern is infused with a rich history, from ancient Persia to dapper British gents, lending it a familiar yet mysterious appeal. Whilst it is often found on silk scarves and ties, don't let paisley be confined to attire. This classic print is popping up everywhere and makes a pretty addition to any home.
Fabric
Paisley can be found in both woven and printed forms, so there is plenty of choice when it comes to fabric. Liberty has a fantastic collection of paisley fabrics to choose from, such as the more traditional, archive Bourton print, which was produced on dress fabrics in the 1960s. Alternatively try Liberty's Mark print, a vibrant contemporary take on paisley, which is perfect for introducing the pattern into a relaxed living room or children's bedroom.
OKA stocks a range of products in a beautiful Indian-inspired wool paisley fabric available in Peacock Blue and Rust Red. The subtler blue version is available as an elegant set of cotton-lined curtains, making it super simple to bring a hint paisley into a drawing room or bedroom. For a flexible, folky take on the pattern, throw OKA's Reversible Paisley Throw over a solid coloured sofa or armchair.
Furniture
Paisley risks looking a little too psychedelic on large pieces of furniture, so take inspiration from this stunning Horchow Paisley Settee and have a loveseat or armchair upholstered in a bold paisley print for a contemporary interpretation of the paisley pattern.
The historical characteristics of paisley are offset by clean, modern lines in this one-off Paisley Armchair from Lockwood Design. Upholstered with glamorous woven gold paisley fabric on tubular steel legs, it would look fantastic in a contemporary bedroom.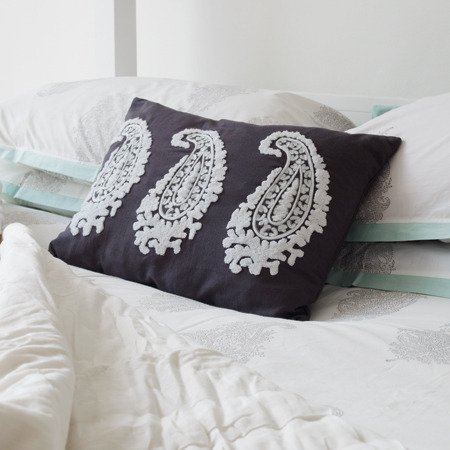 Flooring
Avoid the hotel lobby feel by steering clear of paisley patterned carpets, instead try layering pre-existing neutral carpets or floorboards with a contemporary paisley rug. We love the bold colours of this Paul Smith Paisley Aubergine Rug, which is made to order.
For a softer mix of colour, try this Brink and Campman Kodari Paisley Rug. Hand knotted in Nepal it is available in 5 rectangular sizes or alternatively can be created to a custom size, making it ideal for awkward sized spaces.
Wallpaper
Like most bold patterns, paisley wallcoverings are best confined to smaller spaces such as alcoves or feature walls. However we love the unexpected visual impact of ceilings wallpapered with paisley. Whilst it's a bold move, this is a great way to introduce pattern to wall space and perfect for achieving more proportion in high ceilinged rooms. Just ensure you choose wall paper with a pale coloured base to avoid making your space feel heavy.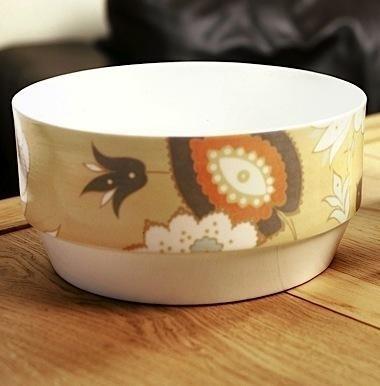 Accessories
We love the use of paisley in the Off the Wall Paisley Flower vase and bowl collection from Designed in England. Making a refreshing change from polka dotted or striped tableware, the collection was designed to celebrate the wallcoverings of Cole & Son and the use of oranges and browns gives the whole collection a delightful retro appeal. Shortlisted for the Homes and Gardens award, each piece is part of a limited collection of just 250 units per style – so be quick!
Sofas and beds look fantastic scattered with a coordinating mixture of solid coloured and paisley cushions; we love this Cream & Taupe Paisley Cushion from Primrose & Plum. Embroidered with taupe stitching and silver beading with a fluffy feather pad, this cushion is a luxurious take on paisley.
These cute set of 4 Fairtrade Paisley Boxes from Plumo are perfect as gift boxes or to store knick knacks and jewellery. With embroidered lids and opulent jewel colours they lend an exotic, well-travelled look to your dressing table.
So whether you want traditional and masculine or opulent and exotic, paisley could be just the thing.