Pick Of The Sales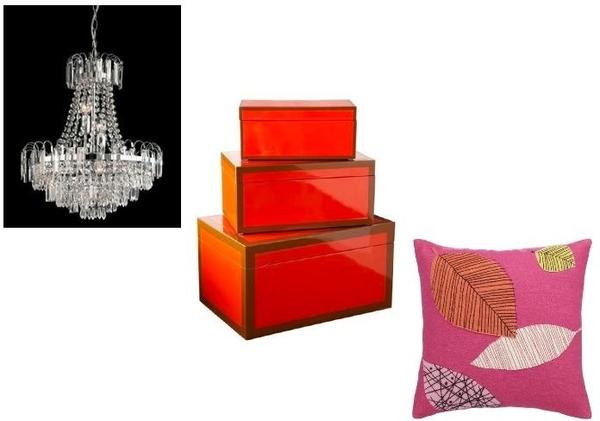 Find the latest bargains with our Pick Of The Sales, bringing you some of our most fabulous items now for less
Everyone knows times are tough but that doesn't mean you can't have a a beautiful home. So forget scrabbling around in the high street sales and do some home shopping instead. With our guide to the sales on Furnish, there's no need to even get changed out of your jim jams.
The Light
Deco Light, Was £277, Now £249.30, from Decolight
If you want to bring a touch of glamour to your home, then look no further. Straight from the golden age of glamour and opulence, this spectacular clear glass droplet light from Deco Light is fabulous and guaranteed to bring a touch of that Ritz sparkle to your room.
Try using it in hallway to create a grand entrance or a bedroom to add a touch of glamour.
The Cushion
Appliqué Leaves Cushion, Was £30, Now £14-£15, from John Lewis
Cushions are a easy an affordable update and even more affordable when they're half price. Our pick comes courtesy of this Appliqué Leaves Cushion from John Lewis. It offers the perfect way to tap into the craft trend which is so popular at the moment and is ideal for cosying up a sofa, chair or bed. Even better is that at this price, you can afford to buy more than one.
The Storage Solution
Lacquer Boxes Rectangular Set Of 3, Was £95, Now £57, from OKA
Storage boxes are a godsend if you're a hoarder and a necessity if you're a neat freak but who wants boring, brown boxes when you can have something as stylish as these Lacquer Boxes from OKA?
Three differently sized boxes mean you can stash away everything from out of season clothes to magazines and paperwork plus the red will bring a splash of colour to your space. What's more at nearly half price, you can afford to splash out on more than one set which means your clutter can be sorted in every room.
Something For The Kids
White Eden Play Table, Was £195, Now £175.50, from Great Little Trading Company
With the summer holidays in full swing, you'll need to ways to keep your little ones entertained. Here at Furnish we believe that furniture should not only look good, but be functional, quirky and above all fun too.
The White Eden play table provides fantastic play and storage solution for your little ones, with fabulous oversized drawers ideal for toys and a large table top for painting, drawing and crafting. Suitable for tots or juniors, it gives you piece of mind that's it's totally durable and safe against any spills and mess.
The Coffee Maker
Stelton Press Coffee Maker, Was £39.95, Now £35.96, from Utility
If you can't get going in the morning before you've had a cup of Java, we've found a great way to make coffee all the more stylish. The Stelton Press Coffee Maker from Utility is ultra cool and comes in three colours; red, black and white.
And with just over four quid off, you can still afford a latte on the go.