Benchmark founder Sean Sutcliffe shows us around
Find out what Furnish got up to on a tour of the workshops at Benchmark
On a bright spring day last week, Furnish travelled to Berkshire to be shown round the workshops at Benchmark. The welcome was as warm as the weather, and after a quick cup of tea (the builders' variety), we set off to take a look around. Despite being in the middle of hectic preparations for April's Milan Furniture Fair, Sean Sutcliffe (Benchmark's founder, along with Terence Conran) took the time to act as our guide. Set in beautiful countryside Benchmark's home is a collection of converted, formerly derelict, farm buildings. First stop was the showroom, or 'what I like to call the farm shop', says Sean: 'we're on a farm, we make everything here…it just happens that it's furniture and not food.' And it's just as tantalising to the senses. You want to run your hand along tables and chairs, open up elegant desks and dressing tables and sink into plump sofas. A log fire burns away one end of the light filled and calm showroom, and miniature scale models of Benchmark designs stand on a Singer shelving unit in the window. Dotted around amongst furniture of different timbers, hues and textures are tactile duck-egg blue ceramics by Garath Mason and chunky great burr-oak and elm bowls.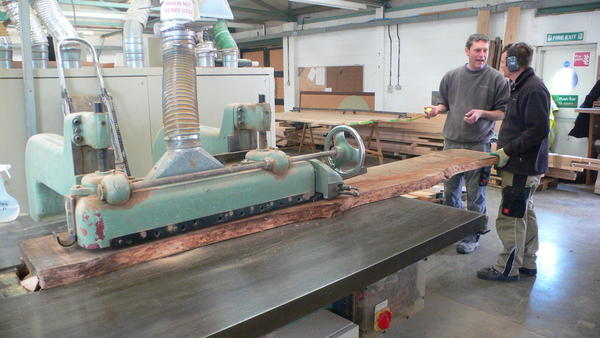 'I'm passionate about wood', says Sean, confessing to being a bit of a hoarder and collecting unusual specimens. When we visit the timber barn, he clambers over the stacks to show us a recent acquisition that he's had his eye on for a year: a single piece of timber that must be at least six metres long, sourced from a forest in Scotland. 'This is what visiting Benchmark is all about,' he says – 'to see the raw wood at one end and the finished product at the other'. Witnessing the workshops in action, you get a feel for how these raw materials become expertly finished pieces of furniture, and the precision craftsmanship involved in their production. Huge slices of tree trunk are first processed and assessed to see which pieces of furniture they might be used for. Then it's on to the former cowshed, a hive of activity with all sorts of projects in progress at any one time: from tables for Carluccio's restaurants, fittings for King's College Library and bespoke commissions for private houses to Benchmark furniture you'll see on Furnish. In the upholstery studio a rainbow of colourful leathers hang from the old oak beams and in the metalworking room one of Benchmark's famous zinc bars is under construction for the London Bridge Hotel.
Everyone downs tools at the same time each day to enjoy a communal lunch (gorgonzola, leek and onion tart on the day we visited) prepared by Roux-trained chef, Jo. It's an inclusive, almost family atmosphere, and the dedication that goes into the making of each piece of furniture really shows through. Most of the craftsmen come from the local area and many of them have been trained through Benchmark's award-winning apprenticeship scheme. Sustainability, in terms of both materials and skills, is at the heart of Benchmark. Only certified timbers are used and the company invests in the rural community, turning apprentices into experts and employing the latest technology while also preserving traditional craft skills. Pointing out the cheeky little Puck side table by Simen Aareseth that'll be showcased in Milan, Sean says, 'It just made me smile'. It's this kind thing – a sense of the personal and of personality – that makes Benchmark furniture so appealing.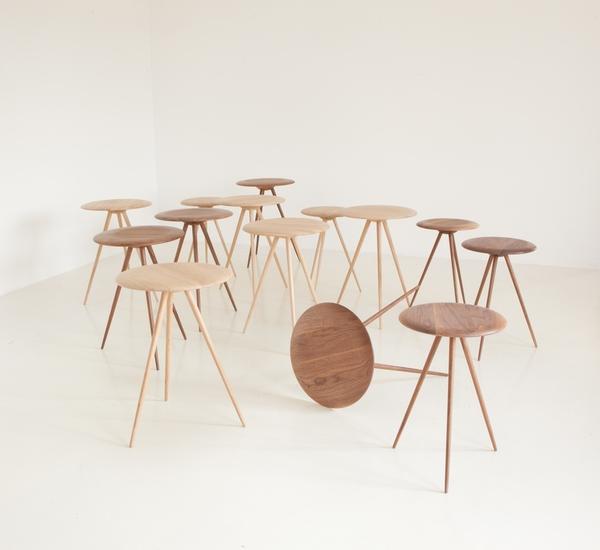 The ethos of Benchmark and its dedication to British manufacturing reminds me a lot of the Arts and Crafts Movement. From the apprenticeship scheme, to the emphasis on quality, expert craftsmanship and respect for natural materials, Benchmark seems to be continuing the legacy of the movement. So it's not surprising when Sean explains over lunch that in fact there's a direct link with the movement. He was trained by furniture designer Alan Peters, who in turn was an apprentice under one of the key figures in the Cotswold Arts and Crafts group, Edward Barnsley. The Cotswold group formed around Rodmarton Manor, not far from where Benchmark stands now.
Just like arts and crafts designers, it's clear to see that Benchmark understands the impact of environment on wellbeing and that good design improves quality of life. Sean gestures to the daffodils bobbing their heads in the breeze and the fig trees climbing the side of one of the workshops: 'We want customers to experience Benchmark and to understand what we're about.' And pointing to the hundred year old oak at the centre of the site, 'it presides over us', he says, 'with its arms outstretched, and stands as a symbol for what we do.'
Well we'd definitely recommend a visit. And about that amazing lunch: anyone on site is invited so make sure you're there around one.